According to reports, Dani Carvajal will need three weeks to return from the thigh injury he picked up during the Champions League Final. It will mean that the full-back will miss the Euro 2016 and Vicente del Bosque will have to decide who will replace him in the squad.
Carvajal having a tough season
The Spaniard has only started in 50% of Real Madrid's league games and summer signing Danilo has been giving Carvajal some competition for the right-back role too. Danilo has played more minutes than Carvajal this season as the the latter has been out with a few injuries this season. Carvajal has missed 20 games in all competition which has given Danilo more game time.
Carvajal took a test on Monday at the hospital, the result read out: "the player Daniel Carvajal has been diagnosed with a grade-two injury to the right ilipsoas. His recovery will continue to be assessed." With Carvajal learning his fate recently, he will surely come back from the injury stronger and be making sure the right-back role at Real Madrid is his, not Danilo's.
What Carvajal's injury means for Spain
With Carvajal having zero chance of making it for the Euros, it would seem more or less certain that Arsenal's Hector Bellerin will replace him. The youngster made his senior debut for Spain on Sunday playing in a friendly against Bosnia-Herzegovina and he played the whole match. On the same day of the friendly, Del Bosque mentioned: "What I wish is for Carvajal to recover in time, but I'm prepared for everything." Unfortunately for him, Dani Carvajal won't be able to recover in time for the Euros.
Spain's first-choice in the right-back role has been Atletico Madrid's Juanfran in recent years, so if Bellerin does get picked for the final selection he will only be the backup cover from the bench. The Arsenal full-back has been a key player for the North London side this season, only missing two leagues games from the whole campaign. The 21-year-old has made 44 appearances for Arsenal during the 2015-16, which is quite impressive for someone who is very young and was also picked in the Professional Footballers' Association team of the year.
Carvajal's third year at the club
Carvajal has now been at Real Madrid senior level for three years, not forgetting the fact he played for Real Madrid B team from 2010 till 2012 and then signed for Bayer Leverkusen on a five-year deal. During his time at Real Madrid he has won the Champions League twice, Copa del Rey, FIFA Club world Cup and UEFA Super Cup.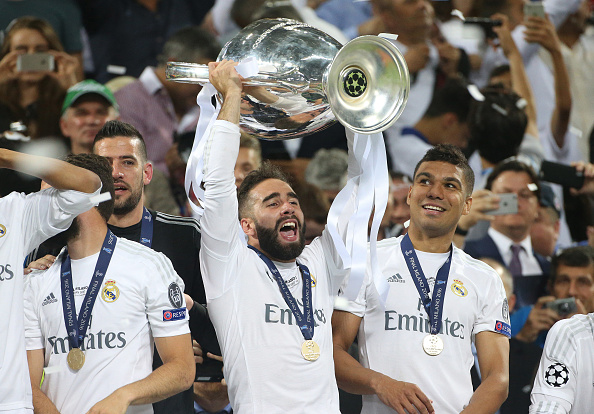 The 24-year-old has made over 100 appearances in all competitions for Real Madrid, will be looking forward to enjoy another season at Los Blancos. He currently has a contract which keeps him at the Bernabeu until 2020 and he doesn't intend on leaving the club anytime soon. Carvajal will surely relish another season competing with Danilo for the right-back position and will want to pick up more honours at Real Madrid.