Atletico Madrid went from possibly capturing two trophies this season to capturing none in the span of three weeks. Their win against Bayern Munich to propel them to the Champions League Final should've lifted the spirits, but instead it took a toll on them emotionally.
Atletico's first game following that win was a 2-1 defeat to last place Levante that eliminated them from the La Liga title race, then when they came up against Real Madrid in the Champions League Final, they were beaten by their old foes once again. In fact, the last time a team not named Real Madrid knocked Atletico out of the Champions League was when Porto advanced on away goals back in 2009.
As a result, manager Diego Simeone must surely feel as though he is to blame for their end-of-season slide. By all accounts, this was a successful season for Atletico Madrid, but they have nothing to show for it, and as a competitor, that's all he cares about.
Simeone admitted that he would consider his future with Atletico following another finals loss, while reports have suggested that Paris Saint-Germain have reached out for his services, with the primary selling point likely being their desires to seek out a first Champions League win. But while that may sound enticing, Diego Simeone must remain at Atletico Madrid next season. There are a myriad of reasons as to why, but here are the most important ones.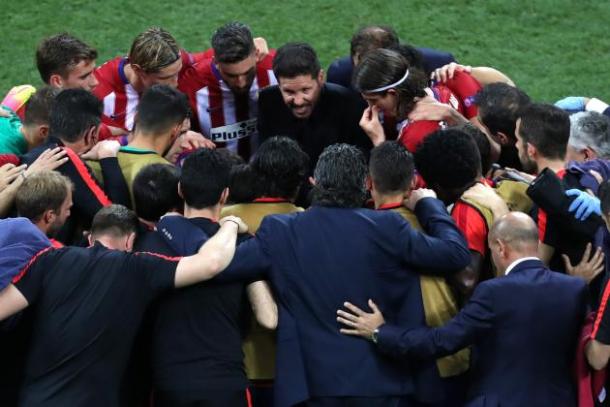 He has forged the team's identity
The winning culture that Atletico Madrid has in place is the result of Simeone's hard work. The impact he has had on the team has been immediate. Before he arrived, Atletico's identity was that of a mid-table team and one that hadn't been to the Champions League twice since its re-branding. Since his arrival, they have won the Europa League, a Copa del Rey, La Liga, and have reached the Champions League Final twice in the last three years.
It could be argued that it doesn't matter if you can't sustain that success, but Atletico Madrid have been one of the most consistent teams in Europe. Simeone called losing two Champions League Finals a failure, but it shouldn't be. Losing out on two competitions at the end of the season may hurt, but there's not a single Atletico fan that would trade this for what they had before Simeone arrived.
Simeone does so much with so little
Atletico's turnaround is punctuated by the fact that they can replace the production of their star players almost immediately. Atletico have become something of a factory with strikers, having churned out the likes of Fernando Torres, Diego Forlan, Sergio Aguero, Falcao, Diego Costa, and now Antoine Griezmann. They also replaced the outgoing David de Gea with Thibaut Courtois and now Jan Oblak.
Simeone is able to recognize young talent and recruit them among his ranks. Playing under his tutelage is what turns them into the world-class players that they later become. Simeone is like a stock trader - he always buys low and sells high, which is how he's able to reload on talent the following season. He also has full control over transfers at Atletico, which is a privilege he may not afford at Paris Saint-Germain.
Having money almost always directly translates to silverware. Atletico's win in 2014 and Leicester City's title win in 2016 have proved to be the exception rather than the rule, which is why people embrace their underdog stories so much.
While we have yet to see how Leicester will fare in the Champions League next season, Atletico hardly look out of place when faced against Europe's elite teams. PSG may be a stronger team than Atletico, but it's the latter team that has had more success in the Champions League. That's because Atletico's success is characterized by a full team effort while PSG is a collection of individual talent. He may have a hard time keeping everyone's egos in check at Paris.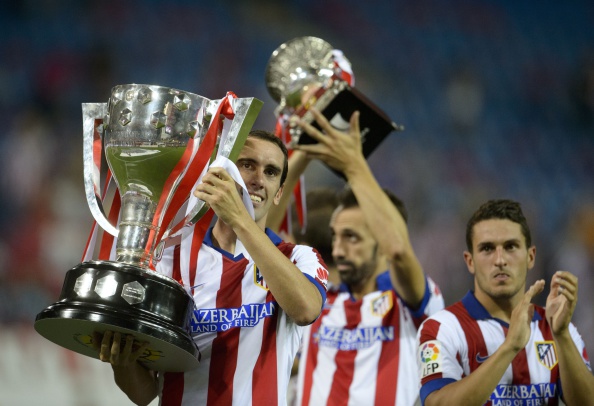 It keeps La Liga interesting
Before Atletico's rise, La Liga was considered a two-horse race. It can be argued that it still is, since Atletico haven't been able to repeat their 2014 title triumph, but they've made it much more competitive than it used to be, and Simeone has been at the forefront of that.
La Liga is regarded as a showcase for the best players and best teams in the world, but even though he's up against dominant powerhouses in Real Madrid and Barcelona, Atletico were able to stay in the title race until the second-to-last week, which is why he receives all the plaudits. PSG winning Ligue 1 has become such a foregone conclusion by now that nobody bats an eye when they do it. All people care about is whether they win the Champions League, and if they don't, their season is considered a failure.
Players make the game interesting, but so too do managers. Think of how fun the Premier League is going to be next year when Pep Guardiola, Antonio Conte, Jose Mourinho, Jurgen Klopp, and Arsene Wenger will all be competing for the same prize. It's one of many reasons why they are singled out as the best league in the world. If Simeone leaves La Liga, it will lose much of its competitive nature.
All the players want him to stay
Both Griezmann and Saul have publicly stated their desires in wanting Simeone to stay. Saul spoke on behalf of the team when he said that everyone was hurt by the Champions League loss, but that "we all want him to stay." He also offered a glimpse into the undying loyalty that Atleti's fans show when he described fans buying Juanfran's kit even after missing their crucial penalty in the Final.
Atletico knows that if Simeone leaves, they won't be able to find an adequate replacement. The Premier League took all of the managers that are on his level. If they want to find someone from within Spain, the best options may be Ernesto Valverde of Athletic Bilbao, or Marcelino Garcia Toral of Villarreal. Both are tactically similar to Simeone – they all play 4-4-2 – and they achieve so much with so little. Just this season, Bilbao captured their first trophy in over 30 years, while Villarreal clinched a spot back in the Champions League.
But neither of them has the self-confidence or brash personality that Simeone has, and they aren't built for the Champions League. Diego Simeone is the only logical choice for the manager of Atleti, as he has built the camaraderie surrounding the Atletico Madrid dressing room, and has the team on a path towards something great. It'll be hard to duplicate all he has achieved at Atletico Madrid in just one season at Paris Saint-Germain, which is something they expect him to do.
They may have lost in two Champions League finals with him, but as they say, the third time's the charm.