Eleven are the forwards that Atletico de Madrid has signed since 2011, such as Falcao, Jackson Martínez, Griezmann or Torres, who came back to Madrid seven years later. The most succesful one has been Griezmann, but without forgetting Falcao.
Problems with forwards
It seems to be the hardest position for Atletico de Madrid at the time of reinforced. Simeone, Atletico de Madrid's coach has not been right signing forwards. Jackson Martínez, David Villa, Lucas Vietto or Angel Correa have not played as expected; so it seems to be his headache. But not all the players have been a failure.
Forwards such as Griezmann or Falcao have became some of the best of the world (it is not Falcao's case nowadays, but Griezmann's for sure). The Frenchman was selected as the best player of the Euro 2016, and scored 32 goals during the season. Without a doubt, Griezmann is one of big the sensations of the year.
Icardi's time
Mauro Icardi is one of the best young forwards. Currently, he plays for Inter Milan which is not the best places to showcase his talent. So, in order to make a major impact, he should leave Italy for a more competitive league, such as La Liga. His big qualities make him one of the wishes of 'Cholo' Simeone for the new season that will begin on the 21st of August. Atletico de Madrid's coach knows very well Icardi, as they are both from Argentina, and he expects to find his new forward in Icardi. His 16 goals and 4 assists during this season, make him one of the most wished signings for the club from Manzanares.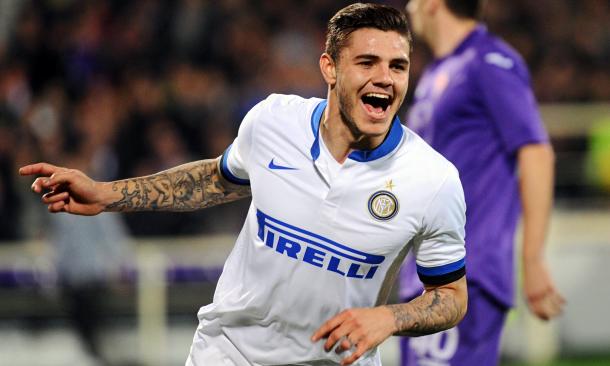 How plays Icardi?
Playing far away from the area is what he is best at, and having really good technical abilities helps him to get on well within those positions. But that does not mean that he does not know how to play in the area. As well as being good playing with his feet, he can also be dangerous hitting the ball with his head, so that means that he is a dangerous player in the area. His corpulence helps him restrain the ball in case of being very far away from goal. Restraining the ball helps his teammates create second options, which is usually risky for the oponent, because they may have their defense placed in poor places.
But if there is something that we can not fault Icardi is his offering towards the team. That is what Simeone has been asking for to all his players during these years, and it is also one of the things Icardi does best.
If Atletico de Madrid gets Icardi's signature, he will be the 12th forward signed since 2011.