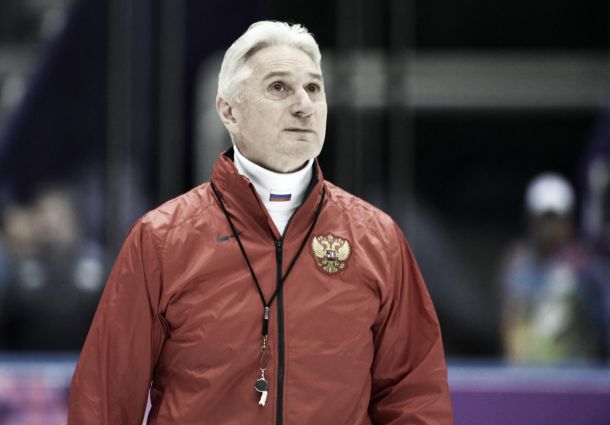 The Russian national team is quickly becoming the Mexico of hockey. They can always look pretty and can score plenty of goals--or their skillset says they can--but the inability to adjust and come through in the high pressure knockout tournament of the Olympics has become a chronic problem for a nation that prides itself on its hockey tradition, and had an era of dominance.
So what happened?
1) The Russian teams have not considered chemistry.
The old Soviet teams used to be a sort of "Team America," or modern-day FC Barcelona, of hockey, or a precursor to this year's Dinamo Riga/Latvia team. They played together all the time, they lived together, and had the advantages of coming up together and trusting each other in a unique system with roots unfamiliar to anyone except for a small few countries.
The old Soviets may have been pressured to win, but they also knew each other intimately and were kind-of-professional but not really professional. They were veterans, while Canada, USA, and others were sending U-21-U-23 sides. The Soviets' advantages were both in chemistry and experience, as well as the unique roots that could not be stopped.
These later Russian teams never really gained the team chemistry that the old Soviets had. The Russia-based leagues became professional--and identified to their team philosophies, whether abroad or in the SuperLeague or KHL.
Chemistry could have been had if Coach Zinetula Bilyaletdinov had judged how and whom their players worked together. Chemistry could have been a major issue between Alex Ovechkin and Evgeni Malkin, who had a once-public feud stemming from a bar fight years ago, and could still be feuding as players very much entrenched in rival clubs. Adding Alexander Popov to the mix later did not add anything positive to the chemistry.
Alexander Syomin and Alex Ovechkin were longtime Washington Capitals teammates until the 2013-14 season, and a two-man unit, who could have been centered by Datsyuk, or Malkin, or soon-to-be-Washington-Capital and current Traktor Chelyabinsk captain Evgeny Kuznetsov. Likewise, a logical defensive pairing could have put Blue Jackets blue-liners Fedor Tyutin and Nikita Nikitin together, and used teams and familiarity as a way to build chemistry. Putting teammates on the same line or defensive pairing was an approach Canada coach Mike Babcock and USA coach Dan Bylsma both used.
2) Bilyaletdinov = Chepo de la Torre.
If Russian president Vladimir Putin wants to see his country win Ice Hockey gold, and some of its great stars to finally medal at the Olympics, he would be advising the Russian Hockey Federation to gather game film on El Tri from 2012 to around September 2013. This seems like an odd combination, but there are similarities. Bilyaletdinov never made any serious in-game tactical adjustment when faced against the USA, or Norway, or anyone else. And with Mexico, once coaches saw how a not-even-close-to-full-strength USA men's national soccer team managed to frustrate Mexico's ability to play with width, or use their passing to break down the USA defense in Mexico's once impenetrable fortress--the Estadio Azteca, other coaches managed to use this strategy to not only take points at the Azteca, but take full points at home in qualifiers and in the 2013 CONCACAF Gold Cup.
Although Mexico had won the gold medal at the 2012 Olympics and thought it had a "much heralded golden generation" coming through the ranks, and players who had sustained success in club play in Europe. But poor results coming against Panama, Honduras, and others both at home and away (or on neutral ground) exemplified that Chepo's system and how Mexico's players functioned within that system were at fault. Like Bilyaletdinov did at the 2012 IIHF World Championships, Chepo had recent success--a gold medal at the Olympic games that could have foreshadowed big things for the national team. Although the Russian team continued to have success at the annual Euro Hockey Tour, 2013, and now in the 2014 Olympics, those dreams were dashed.
At his press conference after Russia's 3-1 loss against Finland, Binyaletdinov blamed everyone and everything but himself for the lost, including talismanic superstars Alexander Ovechkin, Ilya Kovalchuk, and Alex Radulov. He also made a comment about young Dallas Stars phenom Valeri Nichuskin making a difference for Russia, when he limited Nichuskin's ice time severely in the critical third period. It showed his inconsistent and hypocritical judgment on the bench.
In many ways, it's the Russian Hockey Federation not adjusting to the changing realities of international play. The Finland team, which actually featured fewer NHL players than did Russia's team, outworked the Russians and frequently packed the Russians into their own end. The players are faster, they can both counter-attack, forecheck and pressure at the bluelines to retain possession of the puck, and they can pass, shoot, break down defenses, and score. Foreign managers from North America and Europe are having increasing success in the KHL--this is a group that most famously includes "Iron" Mike Keenan, the former Rangers coach that brought to Madison Square Garden the team's first Stanley Cup in 50 years in 1994.
The Russian Hockey Federation, if they cannot find a Russian coach that can adjust to the changing international game and realize they have to integrate players playing a more North American game (regardless of location), will likely need to look to a foreign coach--and accept that they have been completely jaded about what they could do and have done for the last few cycles.
If the Russian national team can find a Piojo Herrera, who can provide some immediate chemistry at the 2014 World Championship, and manage to build chemistry in the team regardless of league, Russia can look optimistically again to the 2018 Winter Games. However, in looking optimistically, Russian hockey fans, players, coaches, and officials will need to not underestimate the enormity of their task.
Or else, like Mexico, they might aim high, but they do not want to admit they need to adjust their thinking to achieve the international success they so crave.