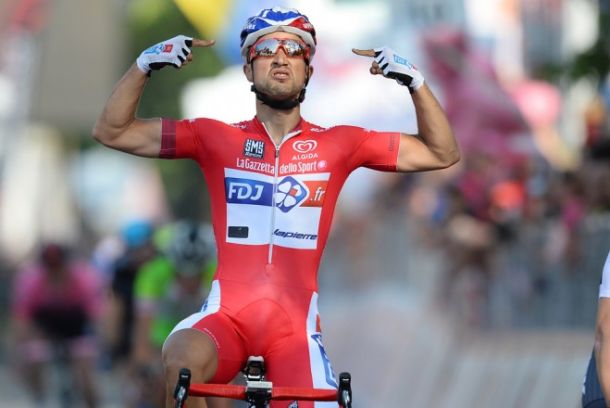 Nacer Bouhanni has announced his intention to pursue a career in boxing once his cycling career comes to an end.
The Frenchman, who recently made the switch from FDJ to Cofidis, was a keen boxer as a youth before cycling took over.
And the sprinter regularly takes to the ring at Nouzonville Boxing Club as part of his pre-season training regime.
He told l'Equipe: "I'll stop cycling around 32 years of age and that will leave me at least two years to go as high as I can in boxing.
"Just like as a cyclist, I'll be 100 percent invested in it."
Hakim Chioui, who will challenge for the European middleweight title in early 2015 and spent some time training with Bouhanni in November, said: "Nacer was at all of my preparations for the French Championships.
"He's a very good boxer, diligent. He's a sparring partner who I consider like a member of our club."
Bouhanni, who has freely admitted in the past that his first love is the ring rather than the road, added: "Boxing is my passion and cycling is my job."
The 24-year-old, who won the red jersey at the 2014 Giro d'Italia, was quick to point out that his unorthodox winter training regime held significant benefits.
"In boxing, your heart-rate gets up to 180 beats per minute very quickly, like in a sprint.
"It's ideal for the transmission of energy, for strengthening your upper body and for strengthening your core.
"On the mental side of things, it helps me to master my emotions before unleashing all of my rage in the final 200 metres."
Despite his evident passion for boxing, Bouhanni has now returned to the bike as his preparations for the 2015 road season step up a gear.
He is reported to be racing in the early-season Tours of Qatar and Oman as he prepares to target Milan-San Remo and Gent-Wevelgem.