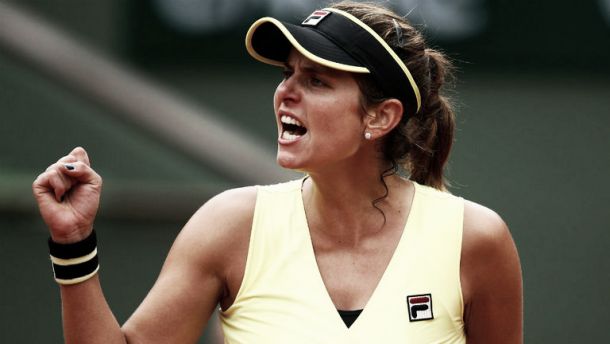 Caroline Wozniacki became the third major casualty in the woman's draw of this year's French Open, as she was beaten 6-4, 7-6 (7-4) by German opponent Julia Goerges earlier, in an intriguing encounter where the Dane faltered late on despite having numerous chances to grab a foothold in the match itself.
It was an action-packed affair which started around 10.20am this morning on Court Philippe Chatrier, and fans watching on were in for a real treat. Caro was the favourite, not only because of her ranking, but because she was the stronger on paper. Wozniacki was the early pacesetter, leading by three games to one in the first set, but a few debatable calls by the umpire, coupled with Goerges taking advantage of the situation at hand, ensured the German got herself back on-track, winning FOUR games in a row to add to Caro's frustrations early on.
A few entertaining rallies ended the first set, as Goerges hit a few powerful forehand winners, to which Caroline had no answer. She was inconsistent with her shot selection, overhitting a few returns, and it eventually cost her in a set she should have wrapped up in truth. Goerges used her powerful serve to her advantage, trying to dictate the flow of the match as the games continued into the second set, and from the first set alone she racked up 18 winners, to Wozniacki's lowly eight.
With that being said, Caroline put up more of a battle to stay in the match. She kept the scores relatively level at one-each, before it was two-a-piece, and then she went ahead. A few neat returns and a perfectly-weighted drop shot ensured that the World number five was back in the tie, at least for the meantime. Goerges hit back with an emphatic forehand smash and made it three-each, before the German's quick reflexes came to the rescue as she did well to react quickly to whatever Caro threw her way. This was emphasised after she hit a well-struck return to Wozniacki's serve and wrongfooted the Dane on a number of occasions.
Caroline got herself back into proceedings again, making it five-four (second-set) in her favour after the frustration of overhitting a few strokes, but the damage was already done as Goerges continued to pester her with smart moves in an attempt to rustle the former number one seed. Despite being ill, it did not affect the German's performance too much as she managed to fight back and get in-front again, this time for good.
It was soon six-six in the second, and down to a tie break. Goerges continued to fight ahead and powered her way past the number five seed, who was unable to maintain a steady run of games in her favour. The epitomy of this, was when Woz somehow managed to hit a double-fault from her serve, with the second attempt a real surprise as she was unable to even get the ball up and it bounced before the net... her opponent was happy to take advantage, and did so in style with a few well-struck volley winners and a power stroke sending the Dane the wrong way to finish off the match.
Post-match interview:
"It means a lot to beat someone like Caroline in a Grand Slam, but I have already beaten her three times already; two when she was number one so those wins meant a lot to me but today is very special as I haven't beaten a top ten player in a long time, it's even better on a court like this in-front of a great crowd. It's never over when you play Caroline, regardless of whether you're five-love up... she's a big fighter, a competitor and I just told myself to be aggressive, play my game, and it paid off." - Julia Goerges
"I think especially on clay she has a way to make me feel like I'm not playing very well. I think there are just some players that it's a tough match-up for you no matter the rankings, and some of them are easy match-ups no matter the rankings. Obviously she has given me trouble in the past and she gave me trouble again today so that kind of sucks. I would have liked to have been through to the next round, but I'm not." - Caroline Wozniacki