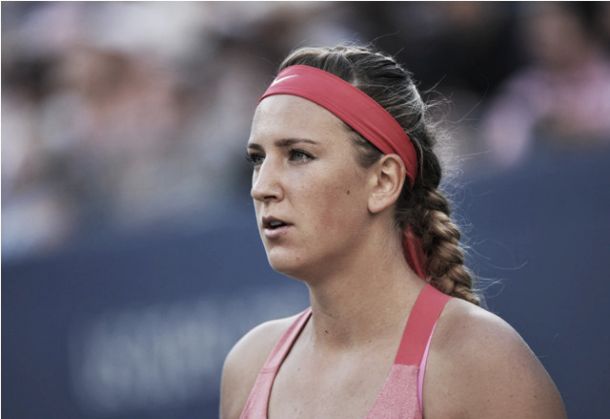 On a beautifu summer's day in the Midlands, a packed field took to the courts, spearheaded by the former world number one, Victoria Azarenka. Now ranked twenty-sixth in the world after an injury ravaged 2014, she battled through to the second round after defeating America's Varvarar Lepchenko.
First Time in Birmingham
Playing in her first AEGON Classic, Azarenka will be hoping to secure her first title of 2015 and her first ever title on grass. Still struggling to find her best form, the proposition of facing the former top twenty ranked Lepchenko may have been a daunting one. Despite boasting the better head-to-head record, this was their first ever meeting on grass.
And it was the Uzbek-born American who shocked Azarenka, as she raced into a comfortable 4-1 lead in the first set. Hitting the ball sharper and harder than her opponent, Lepchenko looked on course to take the first set and her first off of Azarenka since 2006.
However, the lead proved short lived, with Azarenka powering back to take the first set on a tight tie-break and subsequently race into a comfortable lead in the second.
Topsy-turvy tennis
But the match was real up-and-down affair, with both players trading breaks in abundance. Therefore, it was only right that the match would be decided in such a manner with Lepchenko gifting Azarenka three break points at 4-5 in the second. Despite claiming one back with a thunderous winner and an elated cheer, Lepchenko pushed a ball into the net on the next point and the match was Azarenka's.
It may not have been pretty, but at least it was effective tennis and Azarenka's post-match interview seemed to surmise this. Azarenka will now face either qualifier Kateryna Bondarenko of Ukraine or Zarina Dyas of Kazakhstan.
Elsewhere, Jelena Jankovic, the fifteenth seed and wild card entry, defeated Tereza Smitkov in straight sets.
Results
V Azarenka (12) d V Lepchenko 76(7) 64
J Jankovic (15) (WC) d T Smitkov 64 64