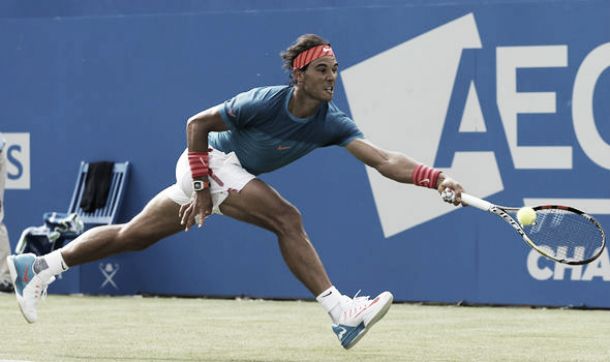 Following his disappointing 6-3, 7-7 (6-8), 6-4 defeat at the hands of unseeded opponent Alexandr Dolgopolov, Rafael Nadal has vowed to take positives from his surprising loss.
This defeat comes just a few weeks before the start of Wimbledon, a Grand Slam that Rafa is not looking to win, but perform well in and give a good account of himself. He's been a shadow of his former self over the past two years due to persistent injury problems, and this loss comes just two days after securing his ATP Tour trophy win in Stuttgart, Germany.
Nadal stated: "The good thing is that I am positive mentally, I'm playing well and I hope to have some good days of practice here and then some good days at home. I'm going to come back strong and get a good week of training before Wimbledon and I hope to be 100 per cent fit to play [at Wimbledon]. Today was a good motivation for me."
The 29-year-old was the fifth seed in the tournament, and although it was a shock defeat at the hands of the Ukranian, Nadal has lost to lesser opposition previously. He continued: "Dolgopolov's serve was huge today and his second serve was so difficult to return. I was not able to read much but I was fighting every point. I played with the right concentration and the right motivation. I never gave up when I had tough moments and I'm not happy. I lost today when I had the chance to win, but that's it, that's tennis on grass."
Having been comprehensively beaten in straight-sets by Novak Djokovic, the world number one, at Roland Garros two weeks back, Nadal will be hoping to up his game as he goes into another Grand Slam, where he'll be desperate not to tarnish his reputation by losing in an early round, which has been the case a few times over the past three years.
The fact that Nadal has already stated to the media he'd much rather end 2015 injury-free, as opposed to winning a Grand Slam, confirms that the experienced Spaniard has got his priorities in check. With that being said, he needs to improve his tennis. At 29, he's not going to get much younger and having won a fantastic 66 career titles since his first ATP match back in April 2002. The manner in which he has lost against Dolgopolov just reiterates the fact that Rafa needs to rediscover his impressive form, for which he is known and adored by millions across the world.