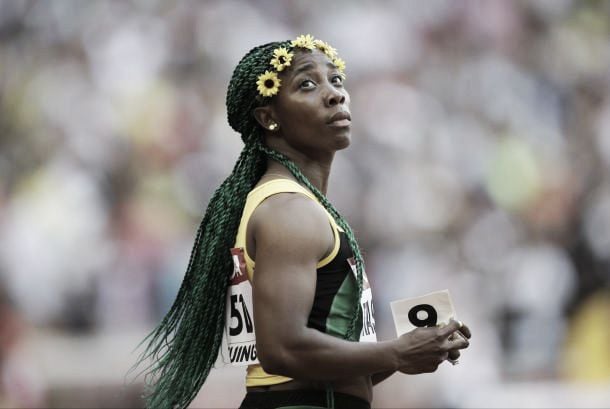 Favourite Shelly-Ann Fraser-Pryce has reached the final of the women's 100m final at the World Championships after recording a time of 10.82 seconds in her heat. Joining her will be Blessing Okagbare, Tori Bowie, Kelly-Ann Baptiste, Dafne Schippers, Veronica Campbell-Brown, Natasha Morrison and Michelle-Lee Ahye.
A comfortable race in the first semi-final heat at the Bird's Nest Stadium in China saw the Jamaican take a huge step in defending her World Championship titles, attained in 2013 and 2009, as she saw off Commonwealth champion Blessing Okagbare by 0.7 seconds.
Fraser-Pryce seals victory as rivals also impress
Looking to make it a 100m double for her nation following Usain Bolt's phenomenal victory on Sunday, the now famed green hair of Fraser-Pryce was seen crossing the finish line just ahead of her Nigerian counterpart. The duo encountered difficult races in the previous round but there was little to rival them on this occasion, despite Great Britain's Asha Phillip's strong start.
American Tori Bowie also made it through to the final taking place at 14:35pm BST, finishing first in a competitive heat. Tipped to rival Fraser-Pryce for the gold medal, Bowie started poorly but managed to secure qualification and record a respectable time of 10.87. Just behind her finished Kelly-Ann Baptiste at a time of 10.90 while third placed Natasha Morrison recorded a personal best of 10.96, that ultimately saw her through due to the 'faster loser' ruling.
One of the few European representatives in the semi-finals achieved a place in the final eight as Dafne Schippers finished first whilst recorded a season and national best. The Dutchwoman edged the victory over Veronica Campbell-Brown in what was the closest race of all three heats, running 10.83 as she consistently powered past the former world champion and 2013 silver medalist, Murielle Ahoure. The latter finished fourth behind Michelle-Lee Ahye of Trinidad and Tobago, who did qualify for the final with a time of 10.97 seconds.
In what is destined to be an eye catching final inside the venue of the 2008 Olympic games, Kelly-Ann Baptiste looks set to add yet another medal to her impressive collection but will face stiff competition from all involved.