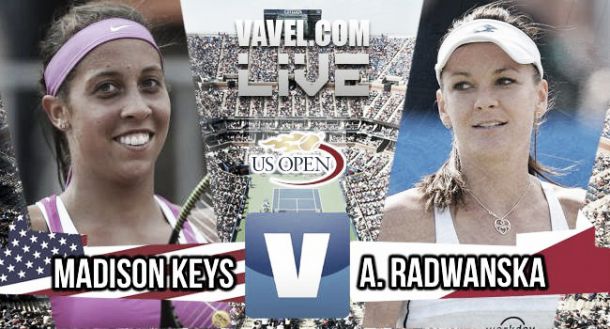 Unfortunately, that's all we have time for tonight. I would have loved to stay and commentate even more, but, the match wasn't long enough! I've been Mosope Ominiyi, thanks for joining me with this evening's US Open action. There's still plenty of matches, interesting encounters and some eyecatching reports to keep a look out for, and on VAVEL - sports never stop! Whether that be football, tennis, or otherwise, we've got you covered! Thanks again, have a goodnight!
That's Madison's first victory over Radwanska, and that'll be sure to fill her with confidence that she can take on more of the higher seeded players and more importantly, compete with them. As for Agnieszka though, it'll be back to the drawing board. She played against someone with ultimately nothing to lose, and it was always going to be a challenge even without the crowd in Keys' favour. Add to that, the fact she didn't start particularly well, as well as the sheer arsenal that Madison boasts, it was tough for her. Question will be though, can she bounce back and respond in the best possible way? We'll see.
Keys herself admits she made mistakes, which she'll rectify with age and maturity - being more able to control her powerful shots and avoid making too many unforced errors. Radwanska was good at times, but those times were infrequent and frustrating to see as a neutral hoping for a three-set thriller, which they've played in the past.
In the post-match interview on court, Keys had this to say: "Agnieszka is a great player, I'm just glad I won - at home. I knew I was making mistakes but I was just trying to control the point, and with this awesome crowd behind me, it was a good feeling."
GAME, SET, MATCH - MADISON KEYS IS VICTORIOUS!
MATCH POINT, Madison Keys...
40-0: Well, that's the epitome of what I've been saying over the past twenty minutes. Radwanska is a very good player, she just hasn't shown that tonight. Missing a seemingly simple volley, a few yards away from the net? When it rains, it pours..
30-0: Wow. Just wow. What a shot by Keys there! She powers one right into the corner near the baseline, and Radwanska is helpless.
It's probably too little, too late, for Radwanska. If she'd started the way she's ending, she'd definitely not be in the position she currently finds herself in - not because she's not good enough, or the occasion. Not even the partisan crowd. Just the way she's been playing... normally you'd expect her to take advantage of Keys' mistakes, and they've not been few and far between either.
GAME, Radwanska. 5-2, second set.
15-40: Radwanska tries to play offensive, seeing as she has nothing to lose - and in the end, she leaves herself open with spaces to exploit. Madison spots those holes with precision, and the Polish international can only look on with the hope she can sustain some form of consistency.
0-40: That's better, although you wonder how long she'll keep this up for... Keys makes another mistake, this time it goes punished.
Well, I'm not sure what that serve was. She basically gifted the ball into Keys' path, and the customary slam came with the territory.
GAME, Keys. 5-1, second set. MADISON KEYS, SERVING FOR THE MATCH.
40-15: A more consistent, powerful serve will do the trick.
40-0: Radwanska looks down at the hard court ground, wondering where she can summon the strength to get back into this one.
30-0: Keys has a two-point cushion as Radwanska miscues her return under pressure, another unforced error. Frustration isn't quite the word.
Would this be a bad time to suggest this match goes to three sets? Match time has been little over an hour, and it's most probably coming to a swift end too.
Radwanska to serve, next.
I struggled to commentate there, why? Well because, it flashed before my eyes. Two powerful, accurate serves within seconds sees Keys take a rather comfortable four-one lead in the second set, and you have to feel for Radwanska now. She's trying, but it's just not enough. Madison's making mistakes, but she's not taking advantage of them..
GAME, Keys. 4-1, second set.
This is all going too quickly, Radwanska simply just doesn't have a sufficient response either..
GAME, Keys. 3-1, second set.
40-30: That's certainly not the way to do that, either... She squanders a golden opportunity to level the scoring in the game itself, slicing her return wildly out.
GAME, Keys. 2-1, second set. The talented youngster is winning, and Radwanska needs a response - quickly.
40-30: I'm not keeping count here, but if I was, this wouldn't be good reading for Madison. She's playing well but making far too many mistakes, Radwanska wins another point after an unforced error sees Keys' shot hit the net on the far side.
GAME, Keys. The crowd burst into another roar as Madison levels the second set, deservedly so. Radwanska was a point away from doubling her lead in the set, though.
Adv-40: She was two points ahead, again... Now she's behind and seemingly in trouble once more... Keys slams a powerful winner after turning Agnieszka inside-out with the combination of changing direction at speed and responding quickly to the types of shots she's playing.
30-40: Radwanska challenges the call, but the ball is narrowly in. Literally, the ball was flirting in-and-around the line markings there, so close!
0-30: An uncharacteristically powerful serve from Radwanska, who gives Keys some of the trouble she's been having this evening.
0-15: Radwanska wins the first point of the second game, albeit with a stroke of luck as her forehand return narrowly skims over the net, leaving Keys helpless. An apologetic lift of her hand, and the match continues.
GAME, Radwanska. She looks slightly jaded but also relieved that she won that game, at least. It would have been a surprise if she didn't though, saying that. This is the perfect time to use the momentum on her side now..
0-40: Those unforced errors starting to creep in again, from Keys...
Here we go, second set now. Keys leading, (6-3).
Second set, coming up next. Radwanska jogs down the tunnel, for what we can only assume is a brief toilet break - whilst Madison is having a medical time-out of her own.
She has, like I've said, shown that already tonight. Even so though, they've been infrequent. Keys has taken the sting out of Radwanska's bow, and her power cannot be replied.
It may seem like nothing, but being 30-love up, and losing the same game, isn't something that she'll look back on with much happiness. Mainly frustration, if anything - given the flashes of brilliance she shows.
Radwanska has not played particularly bad, no. But at the same time, Madison has utilised her power to good effect and Agnieszka has not taken full advantage of areas where she could have stolen a game, or even three early on.
GAME, first set, Keys. She's been instrumental from the start, and although she has also made a plethora of frustrating unforced errors too, she's responded with some excellent winners also.
40-0: Three set points for Keys, as she replicates the same winning return to devastating effect, Radwanska has no reply for it in truth.
15-0: The crowd roar with delight as Keys wins a point, probably the best of the match so far! Radwanska accelerates forward towards the net, but Madison slides the ball past her into the empty space she'd left behind moments beforehand...
GAME, Keys. 5-3; having made another few un-needed errors, she fought back with an excellent winner to take the game to deuce before slamming narrowly towards the baseline and taking the advantage too.
Keys to serve, after a brief interval.
GAME, Radwanska. She does, indeed. A deft flick, wrongfooting the youngster in the process. 4-3, this is definitely shaping up to be an intriguing clash.
0-40: Agnieszka has got to take this, surely? Keys' effort once again, hits the net..
0-30: Radwanska on her service game, two points in-front courtesy of an unforced error - two in quick succession.
GAME, Keys. Yes, she can! Radwanska's forehand return effort crashes off the net, and it's now 4-2 to the American. First set, it's already back-and-forth.
Adv-40: The crowd cheer wildly as Keys wins another point, can she take this opportunity for much-needed leverage though?
40-40: Okay then, maybe not. The powerful return from Madison this time is slightly wayward and veers away from the court itself, as Radwanska finds a way back into the game once again.
40-30: Power. Sheer, raw power. Keys has the chance to make it four-two now...
30-30: Keys wins the point, at the end of a fast-paced rally with both women stretching for the ball at particular returns too.
Keys has thus far dominated the early going, using her powerful serve to her advantage and trying to dictate as expected too. Radwanska is not a pushover, by any means, but she's finding it difficult to deal with the American on her service games in particular.
Due to some technical difficulties, we've missed the first few games on commentary, unfortunately. The score is currently 3-2 to Keys, first set.
Madison Keys - Agnieszka Radwanska, and it's LIVE on VAVEL!
Anyways, here we go then!
Bethanie Mattek-Sands is up against the world number one, Serena, now! The match has quite literally just started in the past few moments, the 30-year-old will be hoping to frustrate her American counterpart - Serena did well to comeback from a losing position last time out against Kiki Bertens on Wednesday evening.
The odds are against Madison tonight, but the crowd certainly love an underdog. Speaking of an underdog..
Radwanska has won ALL of their previous four meetings to-date, twice at Wimbledon, once in Beijing and also another during the Miami Masters three years ago.
Keys has won 26 matches in the year of 2015 thus far, losing twelve less with fourteen. Meanwhile, Radwanska has won 33 to 17 losses. The latter has played more games over the past nine months, will that hinder or help her chances of victory? Time will tell.
Stats going into this evening's clash:
TIME UPDATE: This match WILL start after the conclusion of the match between Jeremy Chardy and David Ferrer in the Louis Armstrong Stadium. Eugenie Bouchard has taken the first set (7-6) against Cibulkova, so Chardy-Ferrer will proceed after the women's match has concluded. Meaning that, time has been moved back another two hours, at least. Stay with us, folks.
With that in mind, all of the signs are suggesting we're in for a real treat tonight. Djokovic-Seppi is in the third set now, the former is on the verge of another straight-sets victory, although he's been toying with the Italian for the majority of the match in fairness without playing at 100%.
Radwanska admitted she was "happy" to have got through the challenge, because ultimately it was a test of her character to avoid defeat against a younger, more inexperienced player in Keys - who also had nothing to lose against a player eager to reignite her career against the bigger, and better opponents.
However, Keys was left wondering what would have happened if she'd gone on to win in the final set of the grass court encounter - saying: "I want to be in finals of grand slams and winning grand slams, winning WTA titles and things like that, that's my motivator every day to get out of bed and get out on the court. They will surely come."
PREVIOUS MEETING: In their most recent encounter, at this year's Wimbledon tournament, Radwanska was challenged left, right and centre - but prevailed after three enthralling sets at SW19.
The defending champion is victorious! A rather emphatic scoreline in the final set, six games to one in the end over Kukushkin. A tireless effort from the non-seed, but Marin's quality shone through in the latter stages despite a slow start to proceedings. Meanwhile, Novak's ahead against Italian opponent Andreas Seppi. 6-3, he won the first set, he's also leading the second set too.
UPDATE: Cilic into round four, Djokovic leading currently!
One of those big guns, unfortunately for the Polish international, is young Madison. Her serve is powerful and forces opponents into making mistakes, so in this way, she can exploit their movement in-and-around the baseline to good effect by dictating the rally, before picking her eventual spot on the court.
Back to Keys-Radwanska now, and this promises to be intriguing to say the least. Radwanska is known for her tactical nous, being able to suss out her opponents and trick them with deft returns and stunning winners. That being taken into account, her serve is not as powerful as plenty of the big guns.
Ekaterina Makarova was victorious over Elina Svitolina in straight-sets, although the final few games were a nervy spell to say the least. Finally, the aforementioned Venus is also into Round Four.
Eugenie Bouchard will be hoping she can do the same later on, the talented youngster has endured a tough spell over the past few months, but has a good chance of going deep in this tournament with beatable opponents to face. Her next opponent in Dominika Cibulkova tonight, could prove a tough test for her though.
Kristina Mladenovic only dropped five games in total, as she blasted past Daria Kasatkina earlier to progress into the fourth round.
Women's Singles:
US Open defending champion Marin Cilic, has gone into a five-set thriller against non-seed Mikhail Kukushkin. He's leading three-love in the final set, but there's still plenty of tennis to play there.
Another Frenchman has sealed his place in the fourth round of this year's competition, Jo-Wilfried Tsonga! The 19th seed came through with an impressive, hard-fought victory against Sergiy Stakhovsky of Ukraine earlier.
Benoit Paire beat Tommy Robredo in straight-sets, with a 7-6 (7-3), 6-1, 6-1 victory.
Men's Singles:
There are plenty of more matches to come tonight, but here is a quick recap of the main action from across the courts today...
UPDATE: Speaking of Serena, her sister Venus has just won her match! She had a tough encounter up against rising star Belinda Bencic, who burst onto the scene with some remarkable performances over the past few months - knocking off big seeds along the way, and she's cemented herself as one of the world's best. However, there comes a time when a player is suffering from fatigue, and the 18-year-old looks tired. Despite a valiant display today, she lost in straight-sets (6-3, 6-4) to Venus, who is almost double her age!
Saying that though, her qualities alone, as well as the flashes of individual brilliance she does display, emphasise the fact that she CAN achieve success. It's just a question of whether she can replicate that time, and time again. Something that Serena Williams, a possible opponent for either woman in the quarters, does with seeming ease.
Radwanska meanwhile, will be hoping she can prevail. It will not be an easy test, she'll be aware of that though. At 26, she's still got plenty of fire in her belly and she's ready to win big. Her breakout year, in 2012, was her closest to glory - but through injuries and inconsistent form, she's been unable to get to achieve the level of intensity and get an impressive string of results under her belt.
Keys, who is one of the best in the women's game when it comes to power, is still only 20-years-old and has plenty of potential to fulfill. Having seen off Klára Koukalova and Tereza Smitkova in the previous two rounds, she is yet to drop a set thus far in the tournament and has impressed along the way.
My name is Mosope Ominiyi, and I'll be taking you all through proceedings in what promises to be an exciting match-up between two players with plenty of strengths to their respective games.
Good evening everyone! A warm welcome to VAVEL's live commentary of the US Open Third Round encounter between Madison Keys and Agnieszka Radwanska - the victor will progress into this year's Fourth Round at Flushing Meadows.