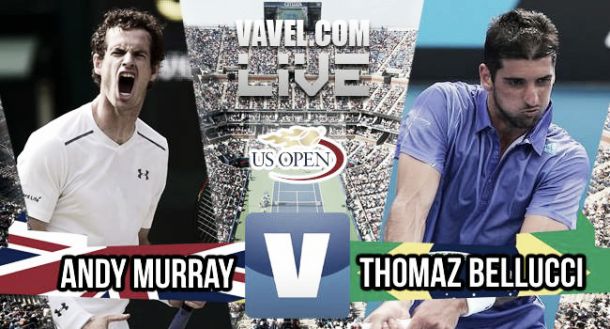 I've been Mosope Ominiyi, thanks for joining me tonight! Hopefully you enjoyed following along, as I certainly did commentating! Goodnight, everyone.
If those matches do not get you excited for what's ahead over the next week, I'm not sure what will! Plenty of mouthwatering action still to be played at Flushing Meadows - the US Open continues to hot up with 32 singles' players all hoping to secure glory in their respective ties.
John Isner - Roger Federer
Tomas Berdych - Richard Gasquet
Kevin Anderson - Andy Murray
Stan Wawrinka - Donald Young
Marin Cilic - Jeremy Chardy
Benoit Paire - Jo-Wilfried Tsonga
Feliciano Lopes - Fabio Fognini
Novak Djokovic - Roberto Bautista Agut
Sabine Lisicki - Simona Halep
Varvara Lepchenko - Victoria Azarenka
Samantha Stosur - Flavia Pennetta
Petra Kvitova - Johanna Konta
Roberta Vinci - Eugenie Bouchard
Kristina Mladenovic - Ekaterina Makarova
Venus Williams - Anett Kontaveit
Serena Williams - Madison Keys
To say that's an intriguing encounter, is an understatement. Before I bid you all farewell, here is the FULL Last 16 draw for the Men and Women's Singles...
Next up for Andy, he has another tough test on the horizons.. 15th seed, South Africa's Kevin Anderson. A big hitter, the 6ft 7inch player will be hoping to create all sorts of problems for Murray, as he's done with plenty of the better players in recent years.
The question remains though - how will his fatigue affect his performance against the bigger seeds? Roger Federer, Novak Djokovic and Stan Wawrinka are all still in the competition, so it'd be interesting to see how he fares against one of them..
Bellucci played well, challenged Andy, but his flashes of brilliance were few and far between as he was unable to take the momentum when he had the opportunities to do so. Murray, who's asserted himself as one of the best players on Tour having had an inconsistent run of form leading up to the year of 2015, is now easily one of the favourites to go all the way in the final Grand Slam tournament of the year.
STAT: Murray has a 153-36 record in Grand Slam tournaments to date; this is his 11th consecutive year featuring at the US Open..
In the post-match interview on Court, he said: "He[Bellucci] played well, but it was important for me (to conserve energy) and a straight-sets victory, that'll help me to recover better."
GAME, SET, MATCH - ANDY MURRAY! He saves one match point, but he's unable to save the other! Murray is victorious, in his first straight-sets victory of the tournament!
40-30: Not yet, no. He overhits his forehand return and Bellucci saves one match point!
40-15: Murray, to win the match now then..
30-15: Bellucci with another unforced error, the ball floats out of play.
15-15: Ooooh! Bellucci was never going to give up without a fight, and he's putting Murray to the test now...
SERVING FOR THE MATCH, ANDY MURRAY. FOUR POINTS AWAY, POTENTIALLY, FROM THE SECOND WEEK OF THE TOURNAMENT.
GAME, Murray. 6-5, only one game away from a place in this year's Last 16!
40-0: Beautiful strike there! Murray with another forehand winner, Bellucci has no reply quite frankly.
30-0: Murray prevails in yet another rally! This time, the longest of the match - 22 shots.
GAME, Murray. 5-5.
40-0: Oooh! Belluci with an acrobatic attempt to keep the ball in play, but to no avail after Murray is forced to approach the net!
30-0: Yeah, I was right. Bellucci makes another mistake.
15-0: A part of me is thinking, Andy will be relying on Bellucci's unforced errors to give him a hand here - he's not at 100%, and is tiring quickly.
Murray serving, to stay in the set.
If it wasn't obvious already, this is the near-perfect opportunity for Bellucci to capitalize now. It's now or never.
GAME, Belluci. Murray grimaces in pain, fatigue is really starting to settle in now. 5-4.
15-40: Ooooh! Murray's shot curls inches away from the baseline, but it's out..
15-30: Andy challenges the call on the right-hand side... OUT!
0-30: Here we go.. An unforced error from Andy, then an ace!
GAME, Murray. All to play for now, Bellucci NEEDS to get something and soon if he's going to get back into this one.... 4-4.
Adv-40: Murray to level again, moments after an emphatic volley...
40-40: Deuce, as Andy was too close to the net to react to a low return..
40-30: EXCELLENT! Murray with another fantastic return, winning the point!
30-30: Murray shakes his head with disappointment, but it was a powerful return by Bellucci there! Something we haven't seen enough of though, admittedly.
15-15: Two unforced errors in quick succession, I'm honestly not joking. Are you keeping count yet?
Murray to serve now.
GAME, Bellucci! He wins it at the end of another fast-paced rally, which ends rather swiftly too with both players trying to be too subtle with their shot-selection. Didn't pay off this time, for Andy though.
0-40: Unforced error, again. Are you keeping count? I've lost count.
0-30: A stroke of luck for the Brazilian, as Murray's fearsome effort is thwarted by the net - tossing and teasing as Andy goes further behind in the game.
Bellucci to serve up next.
GAME, MURRAY! IN SOME STYLE! A perfectly-weighted drop shot, and we're all square again at 3-3.
40-0: Bellucci is his own worst enemy, exhibit A. Murray leaves space for him to target - but his shot crashes off the net.
30-0: Controlling your power, Bellucci...
15-0: Power serve! Murray slams one past Thomaz, who doesn't even attempt to try and respond - it flashed before his eyes then!
A quick drink, short rest with the towel in hand, and we're ready to proceed again! 3-2 to Bellucci, third set. Murray to serve. 1 hour, 43 minutes on the clock.
It does seem as though fatigue is starting to kick in now, though...
GAME, Bellucci. Murray jogs over swiftly at the change-over, as his powerful forehand return veers past the baseline and out. 3-2.
15-30: Oh... wow. After a plethora of drop shots, Bellucci has the chance to finish off the rally but instead his effort hits the net instead. Disappointing.
0-30: Bellucci with a overhead volley! After his powerful serve forces Murray back, he wrongfoots the Brit too!
GAME, Murray. One after the other then, it seems! 2-2, level again.
GAME, Bellucci. That was a quick game! 1-2.
40-0: Oooooh, that was close! Playing on the edge, Bellucci is. Murray is forced wide, and Thomaz instinctively jumps to meet the ball in mid-air and smashes it past Andy. The ball bounces right on the baseline..
GAME, Murray. Not for long, though! Bellucci murmurs to himself as he is handed his towel from the ballboy, it's now 1-1.
15-30: Uncharacteristically for Andy, he hits a double fault from his serve... Bellucci ahead in the game now.
GAME, Bellucci. The Brazilian may be two sets down, but he's not going down without some sort of fight! 1-0.
40-Adv: Excellent shot from Bellucci! That's the type of shots you'd naturally expect from him, but on a more consistent basis! A deft touch to wrongfoot Murray, and he's on the verge of going ahead in what could (possibly..) be his final set of the tournament.
40-40: Deuce! Can't remember the last time I said that, actually.
40-15: Bellucci will be kicking himself, watching the footage back of this match at a later date. Had a perfect chance to slice a shot into the centre, but instead, manages to fire well wide of the mark.
30-15: Murray hits a forehand winner, his 22nd in total this evening! Power and precision, a deadly combination there.
Bellucci needs some sort of miracle if he's going to get back into this match now, and quickly. Murray's in the ascendancy, and that spells bad news for his opponent this evening. Two sets up, the Brit can almost see himself in the Last 16 already.
STAT - 16 unforced errors combined between the two men during that second set, there.
Bellucci is sat looking morose in his chair, wondering how he's managed to go two sets behind. Murray's been a class above, without going into top gear yet. Manages an impressive return out of the blue, curling across the court as Thomaz approaches the net (once again..)
GAME, SET, MURRAY. WHAT A SHOT! WHAT A WAY TO WIN THE SET!
40-30: Murray to seal the second set...
30-15: Frustration is a word I've over-used tonight already, so I'll try and refrain from it. Saying that though, Bellucci is undoubtedly beyond that now. Playing badly, he's not. Consistency, lacking. You cannot afford that at this level, especially against the big guns.
15-15: It's not Christmas, is it? Bellucci decides to repay the favour and gifts Andy a point for himself, as he powers high and wildly out of play. Gift of giving, and all..
0-15: Bellucci is gifted the game's first point as Andy makes an unforced error, hitting the net after Thomaz' return from his serve.
GAME, Murray. Andy will now serve to see out the second set, 5-2 up.
40-30: A stroke of luck, almost goes Bellucci's way. Instead, Murray is quick to react and responds effectively with another drop shot! Bellucci sprints to return, but the ball bounces twice before he can get any proper contact with it.
30-30: My point, reiterated. When he does go forward towards the net, Bellucci leaves a lot of space to be exploited behind him - something that Andy's just pulling apart now.
15-30: He has a tendency to accelerate forward when he can smell blood, so to speak, but Murray's got his number. Brilliantly-weighted return from the Brit, and a well-earned point on the board.
Bellucci to serve, now.
The most frustrating thing, not the fact he lost the point, or even the game itself. Murray was virtually out of the point, all he had to do was keep the ball in play. Oversimplifying things..
GAME, Murray. A real gift from Thomaz, who miscues his drop shot at the net and can only watch on with even more annoyance as it trickles out of play. 4-2, Murray leads.
30-30: Bellucci lets out a cry of irritation as his attempted cross-court backhand hits the net, and Murray wins the rally to level the scoring in the second set's sixth game.
GAME, Bellucci. Yes, yes he does! Murray looks on with annoyance as his attempted return, at 30-40, hits the net.
40-15: An ace, an unforced error and a backhand winner gift Bellucci a perfect opportunity to win his service game - will he take it though?
GAME, Murray. Andy makes it two in quick succession - this time his approach shot is met by power as opposed to precision, and Bellucci is again helpless to try and react. 3-1.
40-30: Murray with a well-taken approach shot as he accelerates towards the net, before flicking a drop shot in towards Bellucci, who has no chance of reaching it in time.
30-0: Brilliant tennis! At the end of yet another fascinating rally, Murray comes through in emphatic fashion with a powerful forehand winner after his attempted lob was met by an audacious half-volley return under pressure from Thomaz in the middle of the court..
15-0: Bellucci's worst enemy it seems, is himself. He reacts with disappointment at the end of a rally that he could have easily won, but for patience. An overhit shot, floats past the baseline and out. I'm not sure how many times I've said that, tonight.
GAME, Bellucci. His first game won in the past FIVE, can Thomaz now take this glimpse of momentum into his favour?
15-40: He's got a golden chance to halve the deficit now though, after making Murray sprint from one end of the court to another within seconds - forcing him into playing a wayward shot in the process.
TIME KLAXON: We've been going for an hour now, Murray leading 6-3, 2-0 in the second set. Bellucci has not been playing poorly by any stretch of the imagination, but at the same time, his flashes of skill and improvisation have been plagued by spells of inconsistency and frustratingly, shots being missed when they shouldn't really.
40-15: Collective gasps of amazement from the crowd as Bellucci's attempted slice deceives Murray in the process as it flicks off the top of the net, bouncing prematurely too. An apologetic hand from the Brazilian, with Andy just a point away from doubling the lead inside this second set now.
STAT - Bellucci has won 59% of his first serves, to Murray's 74% thus far.
GAME, Murray. Andy wins the first game of the second set, having charged into a 40-love lead, only for Bellucci to peg him back and save two break points. Admirable, but a double fault (again) hurts the Brazilian as Murray takes the lead.
GAME, SET, Murray. 6-3, the first set goes the Brit's way.
30-30: Bellucci wins the point with a sweetly-struck finish, having made Murray run for the majority of the point itself.
15-15: Ooooh! Murray tries an audacious lob to slow down Bellucci's assault towards the net, but the big Brazilian leans back and hits an overhead volley. In the end, after a few quick returns, Thomaz wins the point too.
GAME, Murray. Bellucci is playing some great tennis, but Andy has the momentum on his side now. 5-3.
40-30: Yeah, this is quite something. 30-love down, Murray digs deep within himself and fights for points like you've never seen before - he wants to get this finished quicker than the rest of his matches have been recently.
0-30: Better from Bellucci, who needs to be more patient when it comes to the rallies - all of which, Murray is dominating. Andy's return is too powerful and the ball flashes wide of the mark, out.
Bellucci to serve, next.
GAME, Murray. 4-3 now, it's definitely proving a tough time for Andy at the moment.. but he's leading, albeit narrowly for the time-being.
Adv-40: Well. The commentator's curse strikes again, as Bellucci quite literally had Andy on the ropes in that point - but instead of finish him off, his return crashes off the net. Frustrating.
40-40: Murray challenging the call.... it's out! He was comfortably ahead in the game, but Bellucci just refuses to give up..
GAME, Bellucci. Credit to the Brazillian there, although Murray produced a few moments of magic in his own right too.
40-Adv: That power!! Bellucci fires one hard and low towards Andy's left, and the Brit has no reply. Another chance to level the scoring...
40-40: What a return! Murray is seemingly down and out of the point, but comes out of nowhere with a backhand return which floates narrowly over the net and forces Bellucci into a mistake.
Adv-40: Andy reacts with frustration as he sees another chance squandered to close out the game, he knows it.
​Deuce, number six! Murray wins the point with a neatly-weighted drop shot, teasing his opponent to rush towards the net, but enough spin to make him miss the attempt at a return.
40-40: Back-and-forth, once more! Andy with another fist-pump as he manages to spot a gap in space for a perfectly-executed forehand winner. Beautiful.
40-Adv: How did he miss that? Murray falters at the net with a seemingly simple return, but to no avail as Bellucci has another opportunity to level the scoring.
40-40: Deuce, again..
40-Adv: Bellucci comes back with an effective reply of his own, two consecutive drop shots give him the platform for an overhead slam!
Adv-40: Murray with a fist-pump, he knows how important that point was!
40-40: Okay, maybe not yet... Murray hits the net after attempting to return Bellucci's fierce serve.
Adv-40: But, his backhand return hits the net, and gifts Murray the chance to go two games up in the opening set now...
40-40: Credit to Bellucci, he's doing his best to frustrate Andy at the moment - another of the perfectly-weighted drop shots, there.
30-30: OOOH! A deft drop shot by Bellucci leaves Murray helpless as the ball trickles over the net and drops at a near-impossible height for Andy to try and reply.
30-15: He needs to do more of that - stay in the point for as long as possible! He forces Murray into a mistake, after another unpredictable rally. You can't really call which way they're going to go.
30-0: Bellucci's service game, he's already losing it before his own eyes.. A challenge by the Brazilian turns out to be pointless in the end, as Hawkeye shows the ball was clearly out.
GAME, Murray. He's in-front! 3-2, first set - it's been a fast-paced affair already, just what the fans love to see.
40-15: What a return! Bellucci almost seals the point with a flick towards the back of the court, but Murray has other ideas. His outstretched arm slices the ball perfectly over the net, and it bounces IN!
30-15: Murray's not bad at serving either(!), and Bellucci looks flustered upon occasion.
0-15: Bellucci's serve is one of his best weapons, and he's using it to good effect too. Murray hits the net with an attempted forehand return, struggling to get any real elevation on it.
GAME, Murray. Level again - an important break of serve! Andy does well to recover from a compromising position, and it's back level once more after an enthralling rally goes Murray's way! 2-2.
30-40: Another shot, hits the net from Murray's perspective. He's facing the prospect of going three-one down now...
30-30: An important winner for Andy! He fires one into the gap past Bellucci, who left himself exposed on the left-hand side, and was punished for it.
15-30: The power on that serve! Thomaz watches on, safe in the knowledge that Murray's return is out and doesn't trouble him - having pushed him behind the baseline just to reach it.
15-0: Why did he do that? Bellucci, too enthuasiastic in wanting to win the point, races towards the net and overhits his return as it veers past Murray and out of play.
GAME, Bellucci. Despite Murray winning another point, the game goes the way of the Brazilian as his forehand return kisses the bottom of the net. 2-1, first set.
15-40: The first exciting rally of the match so far, goes the way of Bellucci. He continued to hammer shots Andy's way, and in the end, wrongfooted the Brit in emphatic style. The crowd, they absolutely love this. A roar erupts.
15-30: You either get it right, or you don't. That was inch perfect from Andy, Thomaz had no chance of reaching that powerful serve!
0-30: Murray looks frustrated, and rightly so. His service game, he hits the first double fault of the match.
GAME, Bellucci. The Brazilian levels proceedings in the first set, as Murray is forced behind the baseline and also makes a few too many unforced errors too. 1-1.
GAME, Murray. After two excellent shots by Bellucci, Murray manages to fight back with precision and a relative calmness to his game. A sign of things to come, perhaps? 1-0.
Here we go then - Andy Murray - Thomaz Bellucci, and it's live and exclusive on VAVEL UK tonight!
Now, they're out and warming up. A neat, welcoming cheer from the crowd inside the stadium this evening..
Murray and Bellucci are just minutes away from entering the court now, but before that, they'll have brief pre-match interviews in the tunnel.
GAME, SET, MATCH! Halep is victorious, unsurprisingly too. Dropping five games in total tonight, the Romanian was not at her best, but more importantly, got the job done.
Simona, who's seeded second in the world, is currently a set up and just a few games' away from victory now.
TIME UPDATE: This match will proceed, after the conclusion of the Women's Singles encounter between Simona Halep and Shelby Rodgers in the Arthur Ashe Stadium...
UPDATE: With the partisan crowd in his favour, Donald Young has managed to come back in emphatic fashion - he's beaten Troicki in a five-set finale! After an understandably passionate reaction and celebration, he is met by a roar from the supporters inside the stadium, they love themselves an American, especially an underdog such as himself. A joy to see.
PREVIOUS MEETING: In their one and only previous encounter, Bellucci was victorious with a 6-4, 6-2 win on clay. However, he's been eager to avoid speculation suggesting things would go his way again this time around, though..
So, predictions for tonight's match? Murray will obviously be the favourite, but Bellucci has spent far less time on court over the past few days, and he knows if he does start well, it will be even harder for the 28-year-old Brit to come back - which he's had to do in the previous round. Tweet me at @Football365Mo throughout the night with your views!
Samantha Stosur dug deep and delivered when it mattered, to prevail with a 7-5, 2-6, 6-1 win over Italy's Sara Errani.
Petra Kvitova only dropped a mere three games as she seemingly waltzed past Anna Schmiedlova, the Czech advancing towards her assault on this year's title in the process.
Johanna Konta continues her impressive vein of form, coming through with a 7-6, 6-3 win over Andrea Petkovic.
Women's Singles
John Isner also progressed, at the unfortunate expense of Jiri Vesely - who retired after the second set was concluded due to injury.
Tomas Berdych dropped a set, but still managed to avoid defeat with a 6-7, 7-6, 6-3, 6-3 victory over 31st seed Guillermo García Lopez.
Richard Gasquet was ruthless and unstoppable as he blitzed his way past Bernard Tomic to seal his place in the Last 16 of this year's tournament, winning in straight-sets.
Men's Singles
Ahead of tonight's clash, here are a round-up of today's main results from both the Men and Women's side of the Open itself...
UPDATE: A shock on the cards, perhaps? Viktor Troicki has a tough time on his hands now, as he looks to quell Donald Young's attacks - but he's dropped the third set!
Murray admitted after his five-set victory over Mannarino that he was struggling with a bout of illness, and fatigue could easily settle into his game if he goes the distance tonight.
With a later start than usual tonight, tennis fans will be hoping they've stayed up for an entertaining match in truth, because Murray has the ability to excite fans with flashes of brilliance. Bellucci, ultimately comes into this match with nothing to lose, but with a place in the second week up for grabs, you'd be naïve to think the Brazilian isn't going to give this game his all.
Next up, he was forced into a tensely-fought five-set match with France's Adrian Mannarino. Having lost the opening two sets 7-5, 6-4, Andy fought back valiantly and managed to seal his place in the third round of this year's Grand Slam - although it was tough and gruelling.
For the sake of his health and overall endurance, Murray will be hoping for an easier ride against the Brazillian, in left-handed Bellucci. His first round encounter, with young Australian talent Nick Kyrgios, was a four-set thriller. End-to-end tennis, a joy to behold.
That contest is the night encounter, with play scheduled to start anywhere between 12pm BST onwards. Could start later, around 1AM also. Viktor Troicki is currently two sets up against Donald Young, whilst Kevin Anderson is to play Dominic Thiem and Stan Wawrinka will be desperately hoping to avoid an upset against Ruben Bemelans too.
Good evening everyone! My name is Mosope Ominiyi, and I'll be taking you through tonight's action as Andy Murray goes head-to-head with Thomaz Bellucci; with a place in the second week of this year's tournament up for grabs.