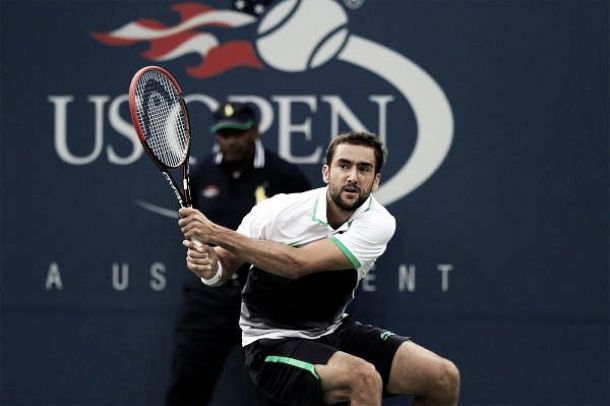 Defending champion Marin Cilic became the first man into the last eight at the US Open, as he battled past Jeremy Chardy in an entrhalling match to open play on day seven of the US Open.
Standing in his way was the 29th seeded Frenchman, who defeated David Ferrer on route to the fourth round. The ninth seed made the better start as he broke the Frenchman early on in the set. Despite having two break point chances in the set Chardy was unable to convert them, and although the 27th seed was serving better he was not able to hold the vital service game, giving the defending champion the first 6-3.
Chardy fights back
The Frenchman started the second set in a much better frame of mind. The 27th seed converted both the break point chances he created whereas the defending champion was unable to convert the one chance he created. Cilic service level also dropped to just 55% first serves in, with 82% of points behind the serve. For the second match in a row the defending champion dropped a set, and started to look in trouble as he rolled his ankle. Chardy took advantage and levelled the match as he took the set 6-2.
Third set
In the third set, the players were staying with each other, and neither were able to create any break point opportunities. Cilic had re-discovered his first serve as 70% landed in and scoring 88% of points behind the serve. As the set headed to a tiebreak, it was going to be a fight to see who would win the vital third set. The defending champion stepped up and dominated the tiebreak bearly allowing the Frenchman to achieve any points. In fact Cilic took the tiebreak 7-2. The defending champion was one set away from the last 16.
Fourth set
Moving to the fourth set and the defending champion began to dominate the games, although the first serve percentage had dropped to 47% though 79% of points behind the serve were won. The Frenchman did create three break point chances, however was unable to convert any. Whereas the defending champion created two chances and converted both. The Croatian took full advantage of the Frenchman's lapses as he sealed his place in the last 16 by serving the Frenchman with a baguette.
Cilic's 6-3 2-6 7-6 (2) 6-1 win takes him into the quarter finals where he will face Jo Wilfried Tsonga, the Frenchman who easily dispatched Benoit Paire in straight sets late in the day, for a place in the quarter finals.