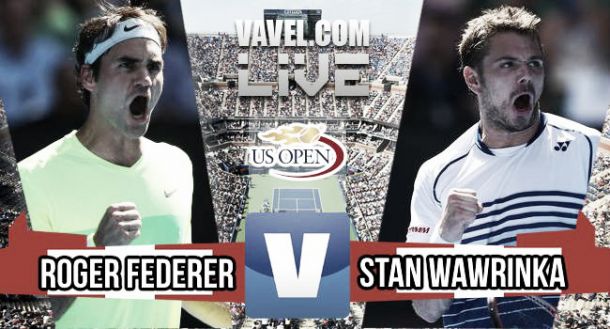 Thanks for joining me this evening, but unfortunately that's all we have time for. I've been Mosope, I hope you enjoyed following the night's action with me! Make sure you stay tuned to the latest on VAVEL, have a good night folks.
Even though the scoreline finished 6-4, 6-3, 6-1, it felt much more distant as a spectacle to look at in itself. Not to reiterate how lacklustre Stan was, but also just how good Federer was. Composed, dominant and eager to prove himself, as well as his critics, that he's far from thinking about retiring now!
Wawrinka is a great player in his own right, and deserves his spot amongst the best in the world currently. He's his own worst enemy though, because of his lack of composure and tendency to make crucial mistakes which hurt his chances of winning matches. If you're 40-love up, you really shouldn't be losing the same game.
Djokovic was the deserving winner at Wimbledon in the final back in July, but Federer did win the previous meeting in Cincinnati.. so he'll be hoping for another efficient display like this one tonight on Sunday. I wonder why I have a good feeling they'll not be half as many unforced errors, though..?
Federer was simply too good, too composed for Stan to fight off this evening. A plethora of mistakes in the wrong positions, hurt Wawrinka again. Questions will be asked, whether he can actually produce the goods against the bigger seeds, so to speak. Especially now that, from Monday he'll be ranked as the number four seed - leap-frogging Kei Nishikori, who pulled out ahead of this year's tournament through injury.
CONFIRMED: Novak Djokovic - Roger Federer, US Open Final LIVE on Sunday afternoon, time to be scheduled.
On Serena's shock loss earlier today and the pressures to win: "It's a good burden, to be honest. I'd rather be under good pressure than a ten-match losing streak. She's done unbelievably well, it just wasn't meant to be for her, maybe. Not a lot of people were expecting her to be playing this long, so I think she was unfortunate today."
On Djokovic: "He's had a tremendous year - he could get his third Slam of the year, it'd be my first. He's pretty tough to beat and strong mentally, I like that challenge and I'll be ready for it."
Roger Federer's on-court interview: "I've tried very hard, for the last six years, to get back into another final [at the US Open, here]. My play is definitely very good at the moment, I'm not sure if I'd say the best! I'd love it to work one more time this year.. I still enjoy it, the competition, playing tennis - it's wonderful to play in-front of so many people, I'm not going to throw it away just like that."
A good run for Wawrinka, getting into the semis.. but he'll know he could have done better to challenge his compatriot tonight.
GAME, SET, MATCH: 6-4, 6-3, 6-1 Federer - He's played some truly sublime tennis tonight, and deservedly finds himself into Sunday's final with Djokovic awaiting him! Wawrinka did well, but in patches. To even challenge, let alone beat, Roger, you have to do it consistently across the whole match, not in five-ten minute spells.
6-4, 6-3, 5-1 Federer - 30-love up, Wawrinka sees his lead fall to pieces momentarily as Federer's class oozes through. Stan's understandably frustrated, especially after the encouraging start he made, but with Roger holding a break point, he had to do something... What did he do, you ask? Unforced error low into the net, after a fast-paced rally.
6-4, 6-3, 4-1 Federer - This is rampant, now. Roger wins his service game, despite an overzealous forehand return flying behind the baseline, he only dropped (that) one point in the game itself. Wawrinka is edging closer towards the exit door, I'm afraid. Of his first serves, Federer's won 100%. Wawrinka, 57%...
6-4, 6-3, 3-1 Federer - Ahhhh! Wawrinka was doing well to keep himself in the rally, but then his resulting shot? Wayward. 40-30 down, he falters with a powerful forehand return.. Three games away from Sunday's final, Roger.
UPDATE: Sunday's Men's final, as it stands, will be played mid-way through the evening most probably. Earliest start - 5pm UK time. Novak Djokovic - Roger Federer, unless we have a miracle on our hands..
6-4, 6-3, 2-1 Federer - The answer is, well no. Stan's running out of options, and more importantly out of time, to get himself back on-track. Otherwise he's going home.
6-4, 6-3, 1-1. Not much to report, to be honest. Apart from an excellently-weighted drop shot from Roger, this game has been filled with unforced errors, faults, a stop-start motion. You'd hope, for the sake of the contest that Stan does something meaningful with this possible opening carved out for him, give Federer something to ponder... Will he though?
6-4, 6-3, 1-0 - Stan starts the game off well, but typically against the bigger opponents, he's unable to use it to his advantage and get himself slightly in-front. A double-fault from Roger, isn't enough to throw the 34-year-old off his game as he waits for the perfect moment to strike... just before Stan makes (yet another) an unforced error.
SET: 6-4, 6-3 Federer - This is quite honestly, vintage Federer. Stan continues to try and respond but, point by point, the scoreline is getting more comprehensive and it's obvious now. Roger's in the ascendancy.
6-4, 5-3 Federer - To be fair to Stan, he's trying at least. But at the moment, he needs to find something, or do something that'll weather the storm. Federer is relentless, at the minute. Vintage tennis is being played here.
6-4, 4-3 Federer - Wow. Just, wow. Stan's grip hold on this match is definitely starting to loosen, by each and every unforced error - Roger just goes from strength-to-strength and looks eager to finish this off quickly with relatively no fuss.
6-4, 3-3 - Wawrinka is most probably thinking, what do I have to do in order to beat this man tonight? The momentum isn't on his side, especially when he doesn't have a service game. Less than a minute-and-a-half, this game has lasted. Pace, power, within a flash and everything is flowing for Roger at the moment. That spells trouble for Stan, unless he can respond...
6-4, 2-3 Wawrinka - Probably the best rally of the match thus far, sees Roger prevail with a sweetly-struck forehand winner. The crowd roar and rightly so, at the end of a blistering rally where either man could have won in truth, before Stan challenges a baseline call to no avail. The momentum is zapped from Stan momentarily, but his sheer power is enough to help stabilize a tough duel as he keeps Federer running. Somehow though, he misses a volley attempt at the net, with the majority of the court gaping at his disposal. The crowd react with surprise, and rightly so - but he manages to save an eyewatering FIVE break points in the duration of the game itself, to poke himself ahead again.
6-4, 2-2 - Roger trying to waste no time at all, now. A power serve, an unforced error and a volley winner give him a comfortable cushion, with the possibility of levelling the set becoming a reality after Stan is unable to respond when handed a fearsome serve!
6-4, 1-2 Wawrinka - Stan races into a two-point lead, where the camera focuses on his bag at the side with his infamous shorts in miniature form hanging out, from his excellent Roland Garros triumph. Just seconds later, coincidence or not, he slams a backhand down-the-line and Roger has no answer. 40-love up, he naturally drops a point, but still wins the game. Ahead again in the second set.
6-4, 1-1 - Federer continues to frustrate Wawrinka with his tactical movements towards the net, deciding when to try and mislead him with some sweet volleys too. As it's his service game, Stan's technically already at a disadvantage. Roger hits the spot perfectly - not once, twice but THREE times in a row to level the scoreline in the second set.
6-4, 0-1 Wawrinka - Roger uses his venomous forehand strikes to good effect, wrongfooting Stan whenever he can. With the crowd on his side, it's already becoming apparent that the scoreline could turn ugly, very swiftly - something that Wawrinka knows he must try to quell. In doing so, he manages to save a break point, as well as winning the game itself with his powerful serve proving handing once more.
SET, 6-4 Federer - The first set, goes the way of the more experienced maestro. Wawrinka's biggest downfall, at least in my opinion, is the amount of unforced errors he records in a game, and he just had two consecutively... Roger was gifted with two set points; the first of which was squandered with a double-fault. Then the second, was handed on a silver platter as Stan fails to control his power once more and drops his second set of the tournament in the process.
5-4 Federer - Unforced errors, galore. Federer cannot deal with Wawrinka's first serve, if it's consistently at high speeds. We know this, and he's struggling to return well enough to be in a good position to stay "alive" in a point, so to speak. Now, he's serving for the set.
5-3 Federer - This match is unpredictable, in the highest order! Roger fights back despite two sublime strikes from Stan, backhand and then forehand winners - but he's unable to take advantage of the little momentum he was building, courtesy of another frustrating error... which Federer naturally sweeps up for fun.
4-3 Federer - Naturally, you'd expect Wawrinka not to give up without a fight. That's exactly what he's doing now. A well-recovered return from Roger, when he was seemingly unable to get the ball, but Stan had other ideas. A deft flick towards the other side of the line, gently bounces in and the lead is halved again.
4-2 Federer - Wawrinka wastes his big chance to level! He raced into a 40-love lead, but a serve by Federer was challenged after being called out. It was in-fact IN, much to the crowd's delight. Then, his approach play was excellent as he twisted his way past Stan, wrongfooted him, and won five STRAIGHT points with a powerful serve to dictate the way in which he wanted the point to go.
3-2 Federer - Roger's lead is halved, as Wawrinka forces his compatriot into some avoidable errors as well as utilising his trademark backhand too.
GAME, Federer; 3-1. Well, that was swift. Roger wins his service game!
Wawrinka looks on, with a face filled with displeasure already...
GAME, Federer. 2-1.
Federer manages to pull it back, much to the encouragement of the fans inside the stadium - Stan failing to convert from his early break point, but Roger makes no mistake with his!
They must know, I don't like a lot of unforced errors by now?! Federer encroaches before Wawrinka serves, instant point loss. Then, hits the net with a forehand return. 30-love, to Wawrinka.
A tough, fast-paced start - but Roger levels the scoring in the early going as Wawrinka fires a powerful forehand return way out of bounds, flying towards the ball boys in the distance.
GAME, Federer.
Adv-Wawrinka, to Adv-Federer! An unforced error as well as a neatly-taken ace give the fan favourite a chance to level, seven minutes played.
There you go! The first, (and probably not the last) trademark backhand from Stan, as Federer mis-times his shot and feeds straight into his path, where Wawrinka cannot help but bite.
Wawrinka's power paying dividends, as he forces Federer into making a mistake - having tried to come forward once again, his resulting return is behind the baseline and called out.
Good approach play by Federer, who accelerates towards the net and suckers Wawrinka in, playing the ball right where he wants... he returns with style and wins the point with an accurate forehand.
He'll gladly take that, after two unforced errors in quick succession by Roger - first an audacious volley skims the net, then his return from a powerful serve bounces off the netting too.
GAME, Wawrinka.
15-15: Two points in and you already get the feeling this could have all the makings of a five-set thriller, now. Federer packs a punch with a forehand winner before Stan replicates the same, with precision as he advances towards the net.
Roger, unsurprisingly, got the loudest cheer from the crowd as he walked out from the tunnel down below. The battle of the Swiss - who will prevail? Wawrinka serves to start off proceedings.
Here we go then! Roger Federer - Stan Wawrinka, and it's LIVE on VAVEL with minute-by-minute commentary!
The two players are expected out on court any minute now, so the match will begin shortly after an introduction to the crowd and five-minute warm-up.
HEAD-TO-HEAD: In 19 meetings, Wawrinka has only won an underwhelming three. However, he won the previous encounter of 6-4, 6-3, 7-6.
RESULT! Djokovic dominated from start-to-finish, and the result has not been in any doubt for a long time now. In just less than an hour-and-a-half, Novak seals his place in the US Open, against a lacklustre Cilic - who struggled to cope with the Serbian's fast start.
Djokovic most probably wants to finish his match off as quickly as possible, so he can rest ahead of the upcoming final - where he'd be playing against a familiar opponent... Federer beat him in Cincinnati, whilst Wawrinka took advantage of a fatigued Novak back at Roland Garros! Interesting..
TIME UPDATE: Well, Wawrinka-Federer is probably starting much earlier than planned, then... Novak Djokovic is currently steamrolling his way past the tournament's current holder, Marin Cilic... 6-0, and he's 4-0 up in the second as well...
Stan's route into tonight's semis, has been much more of a challenging one. Despite three convincing wins over non-seeds in the opening three rounds, he was involved in a four-set thriller with Darren Young, who was bouncing after a five-set drama of his own in the previous round. Kevin Anderson, who beat Andy Murray to seal his place in the last eight, gave the 30-year-old a tough test in the opening two sets. But after that though, Wawrinka got himself in the "zone", and the third set was a six-love blitz.
Wawrinka's route to the semis:
Quarters - Lastly, but not least. Richard Gasquet of France, who (just like everyone else so far) failed to take a set off the elegant Swiss legend, losing with a scoreline of 6-3, 6-3, 6-1 in the end.
Fourth Round - 7-6, 7-6, 7-5 fight, another straight-sets win but a tougher test against America's John Isner.
Third Round - 6-3, 6-4, 6-4 victory with German opponent Philipp Kolhschreiber standing in his way
Second Round - 6-1, 6-2, 6-1 win against Belgium's Steve Darcis.
First Round - 6-1, 6-2, 6-2 victory over Leonardo Mayer.
Federer's route to the semis:
Back onto tonight's match now, away from the drama from earlier.. just highlights how unpredictable and unforgiving this sport is, especially if you make a string of mistakes in the wrong place!
Vinci did well tactically to frustrate the American, who was annoyed and got a court violation for smashing her racket during the changeover. Despite a succession of aces and powerful winners from Serena, her unforced errors count was far too high for a player of her quality. Vinci stumbled once or twice, but she also held her nerve to comeback and prevail in three-sets, to stunned silence around the stadium.
It was a completely different story for Williams and Vinci, though. With one upset already confirmed, Serena came out onto court to a hero's welcome for a determined player eager to cement herself in tennis history. Alas, it wasn't meant to be. Despite taking the first set, by six games to two, she struggled from then on in.
Halep looked emotionally drained and although she showed flashes of asserting her dominance in the second set, Pennetta settled her understandable nerves to finish the job in straight-sets, just under an hour's time.
So with that being taken into account, we've already got the Women's Singles final confirmed. It's an all Italian affair, between Vinci and Pennetta tomorrow evening. With all due respect to the two players, it'll be underwhelming considering what COULD have been, but in truth, both played spectacular tennis and managed to prevail in the face of adversity.
Today's RECAP, as follows:
Plenty of the big seeds in the top twenty have already been knocked out by lesser opponents, but Serena Williams AND Simona Halep - who are ranked number one and two in the world respectively, lost to Roberta Vinci and Flavia Pennetta!
In the Women's Singles' semi-finals, which were supposed to be played on Thursday but were postponed due to severe rain trouble, no-one could have predicted what was seen in truth.
Ahead of what promises to be an excellent encounter, here is a round-up of a breathtaking day of action upon Flushing Meadows today..
Stan has a reputation for being a big-hitter, his power and deadly backhand down-the-line shots are simply unbelievable. Hit that shot, and his opponent, no matter who, has no reply for it.
Federer, who has established himself as a tennis great amongst mortals since he turned professional back in 1998, looks to silence his critics once again - coming up against his compatriot in Wawrinka, which is easier said than done.
My name is Mosope Ominiyi, and I'll be taking you through all of tonight's proceedings in an all Swiss encounter between Federer and Wawrinka; number two against number five in the world.
Good evening everyone! Another warm welcome to VAVEL's live commentary from this year's US Open - things continue to hot up, and we're firmly in the business end of the competition now with glory within touching distance of this high-class athletes. Roger Federer - Stan Wawrinka, with the winner progressing through into the Men's Singles Final.