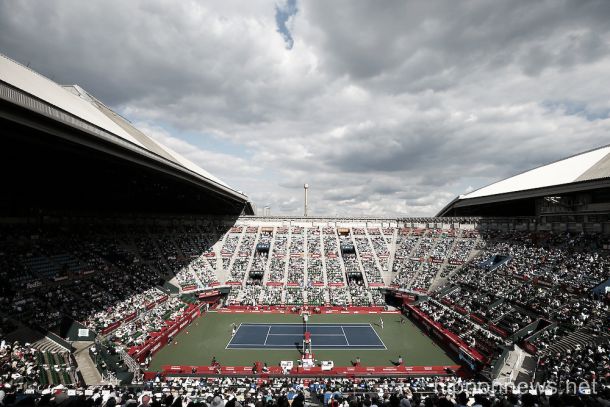 The 43rd Japan Open tennis final will be fought out between two players vying for their maiden title on Japan's shores as world number 4 Stan Wawrinka and Benoit Paire of France clash in Sunday's final. But will the trophy be heading home to Avignon of Paire or to St Barthelemy in Switzerland?
Road to the final
Much was expected of Stan Wawrinka in the build up to the tournament in Japan. The wildcard and number one seed headed into the tournament on the back of a bumper season as he claimed yet another grand slam and cemented his place within the elite of tennis.
The enigmatic Paire, on the other hand, has endured another inconsistent season as his undoubted talent continues to be defeated by his own mind. A fourth round appearance at the US Open, where he defeated Kei Nishikori in the first round, was matched by winning the Swedish Bastad Open.
But opening round defeats to Filippo Volandri on the challenger tour and the embarrasment of a bagel in the first round of qualifying for the Australian Open as he crashed out to Elias Ymer the Swede, and it is clear that for as brilliant as he is, Paire often flatters to deceive.
However Paire has produced one of his best weeks of the tennis year to claw his way to the final, with every one of his matches going to three sets and he even found himself a set down in the quarter and semi finals. An opening round victory over Grigor Dimitrov, whose career has stumbled so far that no one was really shocked, and a win over the experienced Marcos Baghdatis put Paire well on his way.
Up next, he had to battle past the Nick Kyrgios, the Australian outcast, in a thrilling match as Paire continued to defy expectations. His only previous appearance in Tokyo was in 2012 where he lost to Tomas Berdych in the first round but now he looked a different beast altogether. But if he were to reach his first ever Japan Open final, he would have to beat its sweetheart as he faced off against Kei Nishikori in another exciting encounter in the semi finals.
Having defeated his opponent in the US Open first round only weeks before, Paire must have fancied his chances and despite going a set down, the Frenchman used all of his talent to squeeze through in three sets and reach his second final of the year.
Wawrinka, meanwhile, has enjoyed a slightly easier run to the final in a manner befitting the number one seed. Having only dropped a set to Tatsuma Ito in round two, he has strolled to victories over Radek Stepanek, Austin Krajicek and then he produced his best performance of the tournament in one of his toughest matches against Giles Muller in a two set thriller to reach the final.
Previous meetings
Whilst it may not be up to the billing of a Roger Federer against Rafa Nadal or Novak Djokovic and Andy Murray, the Wawrinka and Paire rivalry is one which has provided several thrilling contests over recent seasons. Although Wawrinka may dominate the head-to-head by four wins to Paire's sole victory, three of Wawrinka's wins have been in three sets.
The most notable match between the two was perhaps the 2014 Canadian Masters where Wawrinka came from a set down to defeat Paire in a thrilling match. Paire's sole win came back in 2013, when he defeated Wawrinka at the very same tournament.
But the two have played once this year already, with Wawrinka swatting Paire aside in Marseille in straight sets and the Swiss will be hoping for a similar match in Sunday's final.
Whatever happens between the two talented Europeans they are sure to provide a memorable match and Japan will have a maiden champion.
And finally...
The Japan Open has become one of the premier ATP 500 events in recent years, ever since it was promoted to this level back in 2009. But, until 2008, the tournament was a combined ATP and WTA tournament with Caroline Wozniacki winning the final WTA Tokyo Open.