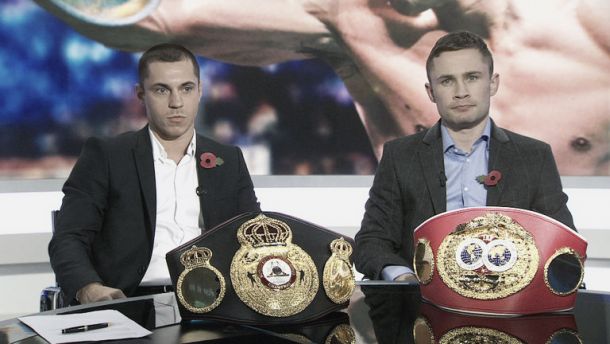 It was announced on Sky Sports News HQ earlier this evening that the domestic bout boxing fans have been clamouring for for some years will now happen. Belfast's Carl 'The Jackal' Frampton (21-0) versus Bury's Scott Quigg (31-0-2).
After years of posturing, negotiating and public spats between the two fighters respective camps, the two will meet in Manchester's Manchester Arena on the 27th February 2016, and it is sure to be a cracking fight and atmosphere.
Unbeaten records, IBF and WBA Super-Bantamweight titles, getting one over a long-term foe are all on the line for these two men. With both men trying to out-do each other over the span of the stop-start negotiations, only one man will walk away on top now.
Recent bouts
As the negotiations have dragged on and on over a few years, the boxers have continued to add notches to their respective records. However, quite interestingly, it is their last fights which started to change some minds of those sat on the fence.
It was a night in which both fighters were fighting. Frampton was making his bow in the US in a thrilling fight against Mexico's Alejandro Gonzalez Jr (25-2), whilst Quigg was matching up against the man Frampton had won his IBF belt from in Kiko Martinez (33-6).
Frampton had his fans worried as he found himself on the canvas twice within the first round, only to pull off a remarkable comeback winning via UD. Gonzalez didn't help himself, as he was deducted points for low-blows, but the resilience Frampton showed was dogged.
Whilst Frampton had to dig deep to hold onto his belt and to put his name out on the other side of the pond, Quigg dispatched of Martinez in style with a TKO win in the second round. Quigg looked sharper than he had done previously and was impressive in getting his job done so quickly.
It was the way that Quigg boxed on that night, that made those on the fence start to take notice of the direction Quigg was going in. Those using this as a marker for the pairs bout, should however remember that Frampton has beaten Martinez twice; once by UD, once by TKO. If those are the pairs last bouts, it's hard to say who holds an edge - Frampton now knows he can come back from what seemed a perilous situation, whereas Quigg knows he has just fought better than he ever has in his bout.
The truth is neither can be discredited on the back of one fight. Both men are quick and, carry power at this weight.
What both camps said
With both camps sat around a table for the live announcement, here are some quotes from Sky Sports News HQ...
Carl Frampton was definitely confident with the announcement; "This is the fight everyone has wanted for years, none more so than myself. I'm the legitimate champion and I'm going to his backyard to defend my title because that's what champions do...the fans will find out who the real champion is, I'm going to win this fight in style."
Frampton's manager, the iconic, Barry McGuigan noted; "It will be a momentous occasion for British and Irish boxing. This is the fight the fans have craved and the one we have wanted all along. The atmosphere will no doubt be electric,"
Scott Quigg seemed equally as conifident as the bout was announced; "I've dedicated my life to this sport and I have never been more confident going into a fight, I know I will beat him in every department. This is a great fight for the sport and I'm delighted to bring it to Manchester and unify the division."
Quigg's promoter Eddie Hearn was quick to build upon the hype for the event itself; "Two World champions, two fantastic fighters collide at the Manchester Arena. Can you even imagine the atmosphere, the tension, the drama? This is what it's all about, roll on fight night!"