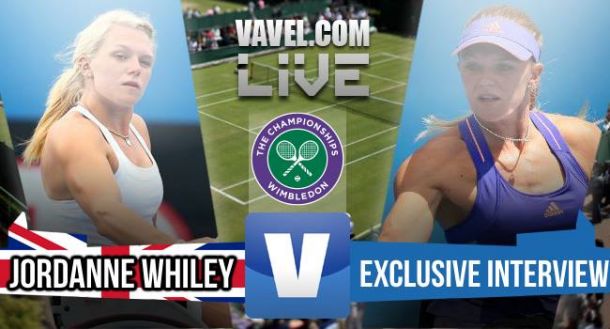 Having begun to play tennis at the age of three, Jordanne Joyce Whiley's rise to becoming the British number one and Britain's youngest ever National Women's Singles Champion is something quite remarkable. Now the holder of seven grand slam winner's medals, an MBE from the Queen and recently named The Sunday Times and Sky Sports Disability Sportswoman of the Year, Whiley took some time out to chat about all things tennis.
'I wanted to follow what Dad did...'
Coming from an incredibly sporting family with her Dad also a Paralympian who shares Whiley's Osteogenesis Imperfecta, she sites him as her inspiration for picking up a racket. 'He was a Paralympian and when he retired he took up wheelchair tennis as a hobby, so I grew up around it and wanted to follow what dad did.' Her Dad, Keith, won a bronze medal at the 1984 Paralympics in New York and will no doubt be delighted with the success of his daughter.
Whiley has tried her hand at a number of sports over the years, although she claims that darts is her only other real interest. 'Tried racing, but I found that boring (Glenys Furness: Hannah (Cockcroft) will love you for that!), also tried wheelchair basketball, and although I was pretty good at it I didn't like working as a team, so tennis was the way to go...but I watch the darts, I'm a big darts fan.' But it is clear that tennis is the closest sport to her heart, having first picked up a racket with her Dad in Israel when she was three.
Success is found in tennis
And her tennis success has certainly snowballed in recent years as the Birmingham born Whiley has become a household name. With her partner Yui Kamiji she romped to the grand slam in 2014 a success which describes as 'Pretty amazing,' and made all the sweeter that she is the ...'only British tennis player to ever do it. It won't be taken away from me.'
But the success hasn't stopped there for Whiley as in 2015 she won two more grand slam doubles titles before winning her first ever grand slam singles title in New York where she defeated her own partner, Yui Kamiji.
"I would love to win two (Paralympic) Golds" - Whiley
And to top 2015, she was awarded an MBE in the Queen's Birthday Honours to cement her place amongst the British greats. 'It was a good experience, had my family there for the day. I'd known months before that I was to receive the MBE but it really didn't feel real until I actually got it.'
However Whiley is showing no signs of resting on her laurels as she is already busy getting her preparations for 2016 underway, a year in which she will be hoping to mirror her Father's success at the Paralympic Games.
Having already had two cracks at Paralympic Gold where she was defeated in the first round in 2008 but won the Bronze in 2012, she is determined to put it right. 'Very much so, I will try the best I can to win gold medals. I would love to win two (Paralympic) Golds.' Due to their being no Mixed Doubles at the Paralympics, she will have to settle for only the two.
Preparation already underway
To prepare for this she is currently on a training block and will play in California - where as of Saturday the 7th she had reached the final - before heading back to London for the Singles Masters which is effectively the Tour Finals.
But what would her advice be for those who are interested in following her into the sport? 'People who want to try Wheelchair tennis should look up "Tennis Foundation" (@tennisfndation on twitter), they have loads of information on local events.' And even for those who are maybe nervous about taking part, 'It doesn't matter if you want to try it, do it for fun etc. They run beginner camps too which are fun, and also where talent can be spotted if you want to go that far.'
'Overwhelmed by the love.. Thanks guys! #SWOTY' @jordannejoyce92 in reaction to her SWOTY
She ends 2015 in London but even before she returns to British shores she is celebrating a triumph on them as she was named the Sunday Times and Sky Sports Disability Sportswoman of the Year in their prestigious Sports Woman of the Year Awards. Her maiden award at the ceremony, she will be hoping to celebrate it with success in California.
Jordanne Whiley is a champion of British Sport and her success is sure to inspire the next generation of Paralympic greats. Gold in Rio would cement her place in tennis folklore and on current form she has as good a chance as any.