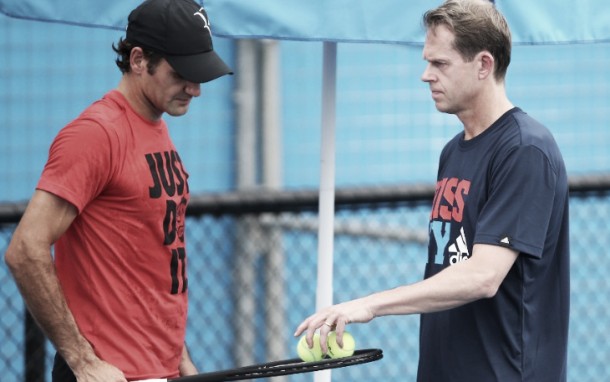 Roger Federer has parted ways with coach Stefan Edberg after two years, confirmed the world No.3.
After succeeding Paul Annacone as the Swiss' mentor in December 2013, Edberg has presided over a fruitful period in the world No.3's career, adding 11 ATP titles to his resume.
Edberg will be replaced by Croatian coach Ivan Ljubicic.
A fond farewell
Federer confirmed the split via Facebook, offering his gratitude to Edberg -- "my childhood idol" -- for the successful two years.
"Although it was only supposed to be for 2014, Stefan was great and agreed to extend the partnership through this year which I really appreciated," noted the Swiss No.1.
Federer also confirmed that Severin Luthi, who has been a member of the Swiss' staff since 2008, would assume the role of "main coach", joined by, as previously stated, Ivan Ljubicic.
Edberg cited the commitment as the reason for his departure, adding graciously that the 34-year-old "still has a lot left to give to the sport of tennis and is capable of winning the big events."
Federer has not registered a Grand Slam title since his Wimbledon 2012 victory over Andy Murray.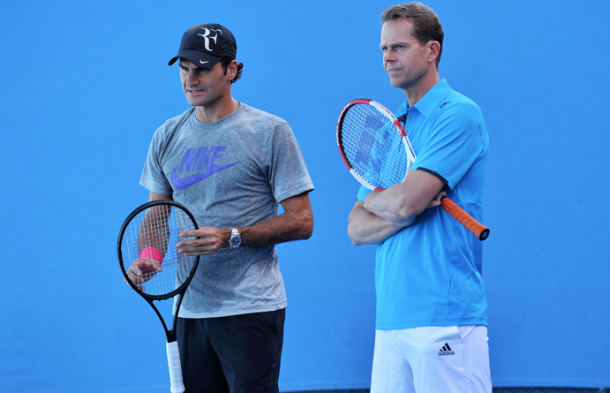 A fruitful period
Appointed after the 34-year-old endured his worst calendar year to date, Edberg has presided over 11 ATP title triumphs.
After a switch of racket at the beginning of the 2014 season, Federer claimed victory in Dubai after swatting aside Tomas Berdych in the final, before atoning for his Monte Carlo loss to compatriot Stan Wawrinka with a win on the grass of Halle.
Bitterness would soon follow as Federer was defeated by world No.1 Novak Djokovic at Wimbledon but, even after claiming the Cincinnati crown a month later, fell to eventual champion Marin Cilic at Flushing Meadows.
But he would conclude the year on a high note, triumphing at the Shanghai Masters before guiding his country to Davis Cup success over France.
2015 began spritely for the then world No.2, defending his Dubai crown over Djokovic before arresting his barren run on red clay with a win in Istanbul.
After dominating Murray en route to the Wimbledon final, the Swiss was, for the second year running, beaten by Djokovic. Victory, though, would follow in Cincinnati.
Federer was unremitting at the US Open, beating Stan Wawrinka in the semi-final but, despite a raucous partisan support, was unable to navigate his way past Djokovic, who claimed his third Grand Slam of the year.