 Nick Kyrgios was defeated in four sets, crashing out of this year's Australian Open at the Third Round stage, after a 6-3, 6-4, 1-6, 6-4 defeat by world number six, Tomas Berdych.
However, controversy masked the encounter in itself - which was a fast-paced affair, on day five of this year's first Grand Slam tournament. The talented 20-year-old, who was not particularly expected to prevail but gave a good account of his tennis ability despite the defeat, also showed why he divides opinion amongst tennis enthusiasts everywhere.
Noise frustrates talented Aussie
Although it could be heard in the stands, Kyrgios was evidently disrupted by music being played somewhere in the crowd - and he paused momentarily, gesticulating that the sound should have been turned off. After British umpire, James Keothavong, asked him why he stopped - he began asking, "can you not hear that?"
It seemed slightly ironic that these two would be, involved in another confrontation - considering the history between the two men.
During Wimbledon last year, Nick clearly stopped trying to win a point against Richard Gasquet - and was also heavily animated on the changeover when told to change his socks.
Kyrgios continues to divide opinion
Some people love him, others frankly hate him, but his talent is undeniable. There was a good spell, at least of 30 minutes at the Rod Laver Arena where, Nick was showcasing his talent and promising potential as one of the sport's rising stars. Other areas of his game obviously need work if he's to establish himself as a Grand Slam champion in the not-too-distant future, definitely.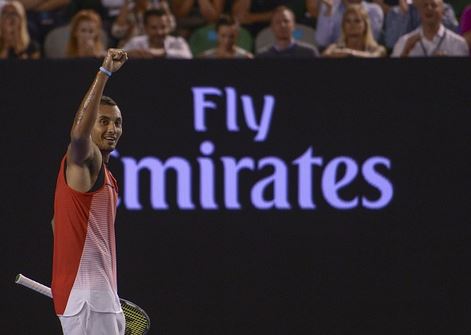 Berdych on this occasion was just too strong for the 20-year-old though, utilising his powerful serve and plenty of forehand winners to devastating effect on the scoreboard.
"I just told him [the umpire] what I thought. I don't think he controlled the mach well - music playing during points, first time I've ever seen it happen."