 For a few years now British boxer Amir Khan (31-3) has come under consistent critique from boxing fans and media alike due to his inactivity, but he has this week announced he will fight Saul 'Canelo' Alvarez (46-1-1) for his WBC World Middleweight Title in Las Vegas on May 7.
Many thought Khan's next fight was a toss up between his mandatory challenge, and shot at revenge, against Danny Garcia's (32-0) WBC World Welterweight Title, or, to begrudgingly accept a huge domestic dust-up with Kell Brook (35-0) for the IBF World Welterweight Title. Khan had come under severe criticism for his reluctance to fight Brook, but, it's time to eat humble pie for many.
The majority of the social media reaction also took quickly to damn Khan's choice, not for 'ducking' Brook now, but because many don't give him a chance at the 'Canelo special' of the 155lbs catch-weight bout for the 160lb Title. Khan has already confirmed though that he will easily walk into the ring at around 165lbs - so this is not necessarily the billed 'jump in two weight divisions' for Khan. Yes, Canelo will most likely still come in heavier than Khan by a handful of pounds, but, it will be by no means be anything more than that. It perhaps, also paves way to the partial reasoning behind his lack of activity at Welterweight?
Khan; The Underdog
For the first time in his career, Khan is undeniably coming into this bout as the underdog. Perhaps that will work in his favour, considering so many have already written him off, as there is little pressure at all going into this. A complete juxtaposition to his last bout in May last year against Chris Algieri (21-2) which was supposed to be an 'easy' win before going on to fight Floyd Mayweather Jr. (49-0) later that year, which ended up not materialising.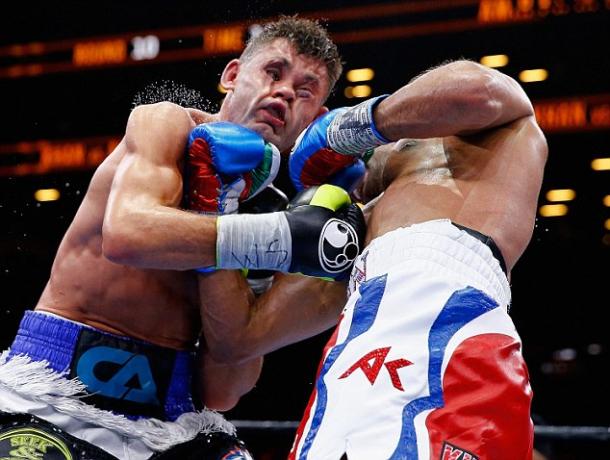 Something Khan has always stated (mostly in the third person!) is that Amir Khan has always wanted the best fighters in the biggest fights he can get. Having had his time wasted by Mayweather and Manny Pacquiao (57-6-2) respectively, it does seem as though Khan has got the rub of the green he has so desperately craved over the years.
Many fans have been quick to commend Khan's bravery in terms of going for a super-fight against a man who has won his 32 of his 46 wins via KO. However, that's where the compliments end for Khan, with not many giving him a chance against the bigger man, who, is also the bigger hitter. What Khan has always possessed in the ring though is sheer hand and foot speed. He will undoubtedly be focusing a lot on how Mayweather inflicted Canelo's only loss, with a MD win by utilising the speed and work on the outside.
That tactic seems to be already what Khan will look to utilise. Despite not being as technically gifted as Mayweather, he does possess the speed required to trouble Canelo, and the most important thing is that Khan believes it too: "I know I have the speed and ability to beat him and will give my fans what they deserve."
The stage is set for Khan to really make a name for himself. Many fans and critics of his have bemoaned his lack of activity in the ring, despite him doing an awful lot of good outside the ring, it seems he is now chomping at the bit. Speaking to Sky Sports on the announcement, he said: "It's a good time for me to prove myself and show everyone how good Amir Khan is. I want to give the British fight fans a huge fight and you can't get bigger than this." If Khan can indeed pull off an unexpected win, you would be hard-pressed to find anyone criticising him anymore.
Canelo; The Bigger Man
Canelo won the WBC World Middleweight Title against Miguel Cotto (40-5) in November of last year, and, this will be his first defence of the title, something his promoter Oscar De La Hoya has praised. With the talk of Khan's own fight choices being critiqued, many would have thought that Canelo would want to ease himself into the holding of the WBC Title and chosen a 'lesser' opponent. Instead, he and his team have agreed what will be a "blockbuster" of a fight in the words of De La Hoya. De La Hoya has really spelt out his praise for Khan too; stating "When has Amir Khan ever disappointed us?" or "been in a boring fight?" before ending on a final compliment simply saying, "I tip my hat to Amir Khan."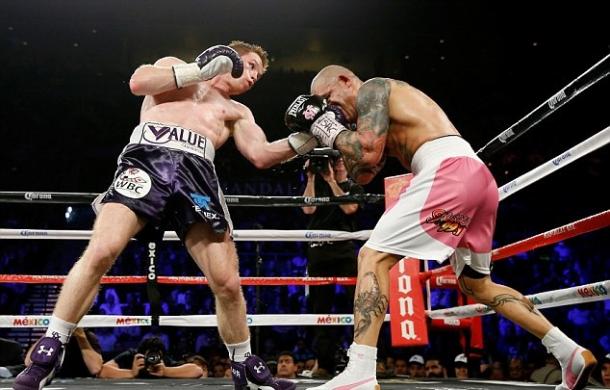 Canelo himself has had praise for Khan too for taking the fight, saying he will "take on the best fighters in the sport" as well as coming across very wary of Khan, touching on his successes in the ring as an amateur and a professional. Styles make fights and Canelo believes, as his promoter does, that the "fans are in for a great fight on May 7."
Considering the criticism that Khan has come in for recently, he will now go up against one of the best active pound for pound fighters in the world. This cannot be knocked. Plus, if he makes everyone eat more humble pie, and defeats Canelo - there's a certain Gennady Golovkin (34-0) whose looking to unify all the belts within the Middleweight division.