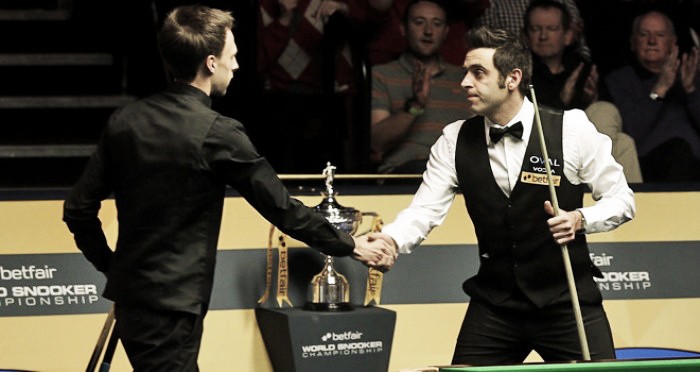 Five time World Champion Ronnie O'Sullivan and world ranked number six Judd Trump will take part in a series of exhibition tours in England and Ireland later this year.
The exhibition's are part of the Snooker Legends tour, set up by Jason Francis which has seen professional and former professional's compete in front of hundreds of fans.
Legends tour holds popular eents
The Snooker Legends tour has seen the likes of Dennis Taylor, John Parrott, Ken Doherty and 10 time World Ladies Champion Reanne Evans entertain fans with the help of John Virgo.
Rather than the traditional format used in snooker, there will be a 30 second shot clock in a best of 11 frames (tour dates can be found below).
It is not the only time a shot clock has been used in snooker, a 30 second shot clock is used in the World Senior Championship and in the Snooker Shoot-out ,where for the first five minutes of the match players have 15 seconds to take a shot and then for the last five minutes of the 10 minute frame that time is reduced to 10 seconds per shot, which has been a success on the professional tour.
Rocket prefers the shorter format
The Rocket appears to be a fan of shorter and quicker snooker matches after he said that the World Championship should be cut down by half.
The tour will see O'Sullivan and Trump travel to six different venues and cities in June, August and September, with fans having the opportunity of meeting the professionals.
It is expected to be a tour of great snooker with Trump revealing to the Daily Express that he doesn't 'fear' the six times Masters champion.
2016 Tour Dates:
Friday 3 June, Lakeside Frimley Green
Saturday 11 June, Belfast
Saturday 20 August, Goffs
Saturday 3 September, Peterborough
Saturday 10 September, Bradford
Sunday 11 September, Preston