 Anthony Joshua (15-0) will face undefeated American Heavyweight Charles Martin (23-0-1) for the IBF World Heavyweight Title in April at London's O2 Arena.
This will be Joshua's third consecutive fight against an undefeated opponent, but, his first challenging for a World Title.
Timing is everything
The announcement comes as the media and boxing fans alike were speculating on the possible match-ups that could have come to fruition for Joshua's April 9th date. Many thought it was better for Joshua to keep slowly progressing, taking 'baby steps', but, this step will now see Joshua challenge for a World title in only his 16th professional bout.
It comes as something as a small shock considering the slow and steady progression promoter Eddie Hearn has favoured with Joshua, but, it's obviously a fight he and Joshua's team feel is too good an opportunity to turn down. Something which Hearn all but confirmed by saying that when Joshua was made aware of the opportunity "there was no holding Anthony back".
Current WBA, IBO and WBO World Heavyweight Champion Tyson Fury believes it could be a case of the American crossing the pond coming back to haunt a Brit. Citing Frank Bruno and David Price's own experiences, Fury said "It's a difficult fight and this could be a banana skin" for Joshua.
The flipside
This isn't a case of Hearn looking for a fight for Joshua and agreeing terms with Martin. Martin and his promoter Al Haymon have sought out the fight. Why? Because they feel it is a good move financially, and, that it will be a winnable first defence of Martin's IBF World Title which he won in January against Vyacheslav Glazkov (21-1-1) due to Tyson Fury being stripped of the title. Martin has made it clear of his intentions, commenting to Sky Sports, "I'm coming to the UK to make a statement that I am the best heavyweight in the world and no-one is taking my title."
There isn't a plethora of southpaw Heavyweights out there, and, it's something awkward which Joshua has not had to deal with yet. Joshua's last opponent, Dillian Whyte, presented the problem of more power, but, not nearly as much as Martin will present.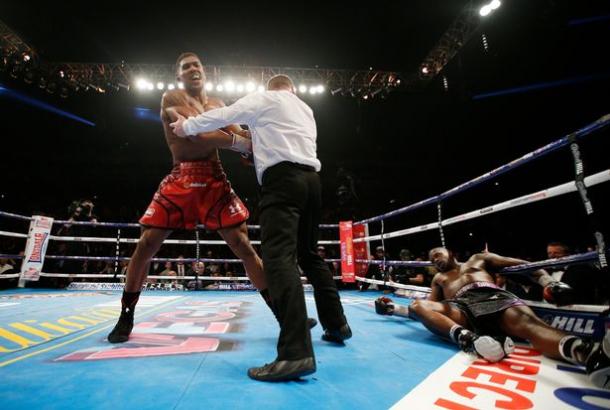 Haymon may see Joshua as a solid first defence for his man, who will present a lot of box office money for him and his client in the UK - as well as rising his own mans stock for beating the UK's promising talent. Hearn, meanwhile, will be hoping his man can be the better of the two unfinished articles in the ring in April, and see his man catapult himself to a whole new level.
Criticism
There have been some murmurs of discontent about the fact Joshua has got a World Title shot so early, and, through doing so little in terms of fighting 'worthy' opponents. Surely all that has to be said there is, if you're a British Boxing fan, why bemoan the fact our promising Heavyweight is looking for a World Title?
One thing is for sure though, Joshua will need to be better than he was against Dillian Whyte. If he gets hit with the ease we saw in that fight, he could well be in trouble. Box as his potential has shown, and, he could well win himself a World Title.
As always, Joshua is saying remaining sensible, and humble; "I am going to have to produce the performance of my career to claim that belt." Here's hoping he is at his best on April 9th, because it would be truly brilliant to see this young man win a World Title and then go on to really fufill his potential.