 Juan Martin Del Potro, remember him? The man stunned Roger Federer to win the US Open back in 2009, and participated in a five set epic with Novak Djokovic at Wimbledon three years ago.
Well the giant Argentine is back and, after missing over a year with a serious wrist injury for the second time in his hampered career, the likeable figure is showing promising signs that he could be a major threat in the up and coming grass court season - which got underway in Stuttgart this week.
Still only 27, Del Potro has one of the most explosive games on the tour with his booming serve ,which comes down from a huge 6ft 6 frame, and his striking groundstrokes which can blow anyone away when the man from Buenos Aires is on song.
Who knows what he would have gone to achieve had he remained healthy, but if he stays injury free for the remainder of his career he will surely have a part to play in the latter stages of Grand Slam's to come.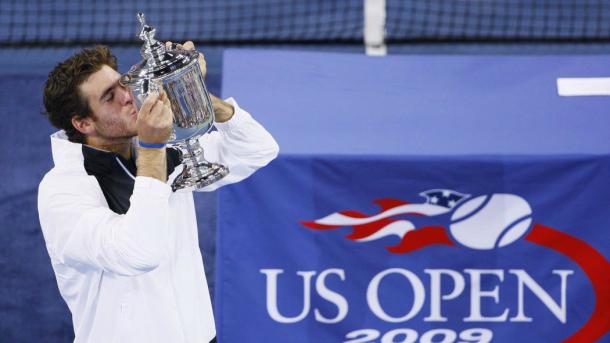 Del Potro Will Be Dangerous While His Ranking Is Low
Del Potro is currently playing with a protected ranking, but his current status as the world number 223 is unlikely to remain a three digit figure for long.
He will certainly be a threat in the next few months, not least to the higher ranked players, who could face Del Potro in the first or second rounds of upcoming competitions.
He'll definitely be a name to look out for at Wimbledon in three weeks' time, and you can't imagine Djokovic or Andy Murray wanting to face the Argentine on the opening day at SW19.
More Misery For Dimitrov
Preparations for his first major since 2014 appear to be in full swing again, and Del Potro was in devastating form as he compounded on Grigor Dimitrov's misery in the opening round in Stuttgart.
The Bulgarian's promising career has gone astray in the last year and the 25-year-old is a shadow of the player reached the last four at Wimbledon two years ago.
Del Potro was comfortable in recording a 6-4 6-2 victory, which lasted little over an hour. He will now face Australian John Millman in the second round after he defeated eighth seed Lucas Pouille in three sets.
After this week Del Potro will head to London to compete in the Aegon Championships at the renowned Queen's Club.
That should give him more matches before the big one at Wimbledon and there will be plenty of players hoping to avoid him when the draw is released.