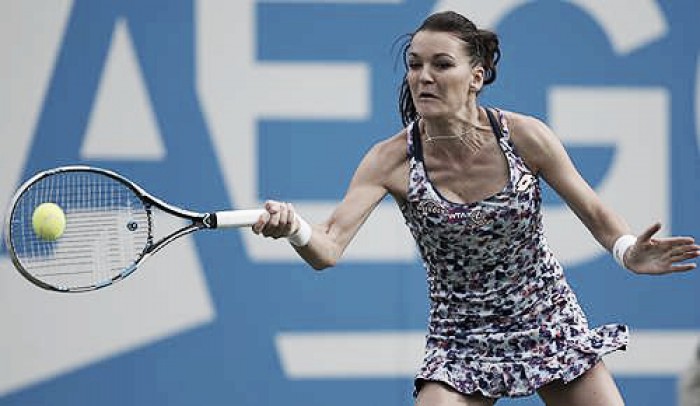 Many thought Agnieszka Radwanska was the favourite to win the AEGON International at Eastbourne this week but as sport so often does Dominika Cibulkova surprised the no.1 seed to reach the semi-finals.
Because rain halted play on the Thursday evening it meant whoever won between Radwanska and Cibulkova would have had to play twice; but for Cibulkova it was a superb Friday as she then went onto beat Monica Puig in straight sets to reach her fourth final of the year.
But for Radwanska it is onto Wimbledon where she should be confident about her chances of maybe winning her first Grand Slam; she played some marvellous tennis over the course of the week – but the stoppage in play certainly affect the Polish player more than the Slovakian dynamo.
Radwanska says she can 'still improve' as she looks to take her first Grand Slam title
Although it was a disappointing outcome for Radwanska losing after winning the first set 6-4, and then leading the second 3-2; she felt her serving let her down on the Friday morning as Cibulkova took victory.
Speaking about her game, the world no.3 said: "Well, it's always a good match, but I don't think I was playing good enough. I think I step backwards a little bit too much, that wasn't helping."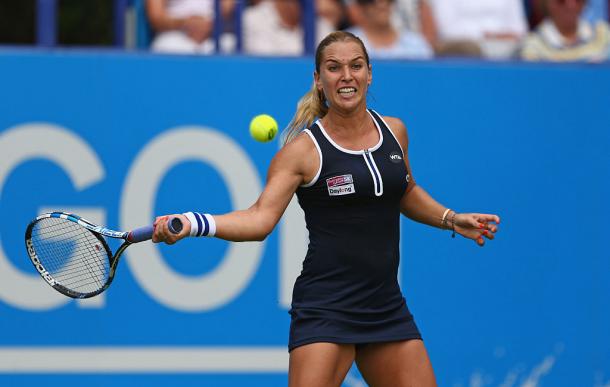 She also mentioned how she thought her tennis was 'too defensive' at times and playing against an opponent like Cibulkova that is not the way to approach it.
Much of the focus now turns to Wimbledon, in 2012 the 27-year-old was one set away from victory in the final against Serena Williams; but she failed to take advantage.
But when asked about if she has improved from that experience, she said: "For sure more experience than a few years ago, and, well, it's always something to improve."
The game of tennis of rapidly changed over the years and that is something Radwanska eluded to her in her press conference, saying: "Tennis has changed, as well. Different opponents, tennis is stronger and faster than before, so you always try to catch it up and be able to still win even if there is no more easy matches, as before."