 Usain Bolt created history on Sunday evening as he defeated American rival Justin Gatlin to win his seventh Olympic gold with another successful defence of his 100m title.
Bolt left in the blocks by Gatlin
The final was billed as 'Bolt versus Gatlin' before the preliminary races had even seen the starter's gun. With seven Olympic medals between them, the pair have dominated the 100m in recent years, despite Gatlin serving two doping offences.
Bolt had described his performances as "sluggish" earlier in the sprint programme but still kept his energetic persona, although perhaps toned down a notch after a season plagued by injuries. It is difficult to really pick many faults in the man who has been the "fastest in the world" for 12 years, though one area of development that the Jamaican has been working on is his start.
Yet Bolt may describe this part of his race as sluggish oncemore, as Gatlin left him looking like he was stuck in treacle in the opening stages. Bolt had left himself plenty to do, a deficit that not many other people in the world could have made up, despite Gatlin's aging 34-year-old legs.
The champion accelerates into the record books
Though the champion began to pick off his competitors one by one in his quest to chase down his great rival. Spectators sometimes do not get to witness his top speed due to the ease of his races against the majority of the rest of the world.
Yet Bolt had to dig deep to find fifth gear in Rio and eventually stormed passed Gatlin in the final 20 metres to cross the line in 9.80 seconds after incredible acceleration in the middle 40 metres of the race. With his World Record standing at 9.58, this was actually his slowest 100m major competition victory, but the undisputed champion did what he had to do oncemore.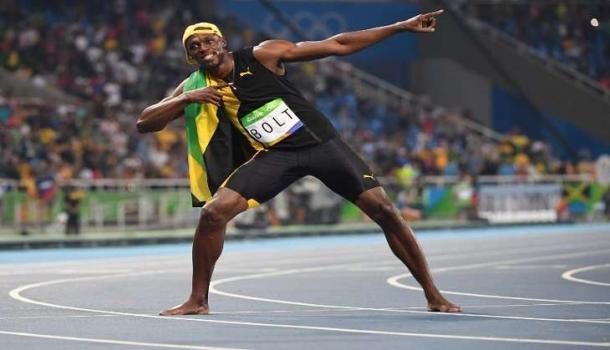 Bolt will now go in search of 200m and relay success as he looks to sign off with nine Olympic gold medals. He explained "somebody said I can become immortal. Two more medals to go and I can sign off. Immortal". He also claimed that he "expected to go faster but there was such a short turnaround after the semi-finals".
Gatlin came so close to gold but had to settle for silver, despite Canada's Andre de Grasse closing him down in the final stages. The American admitted "at the age of 34 to race these young guys and still make the podium feels so good". Gatlin was booed into the stadium after his previous doping bans, a move Bolt was disappointed to hear, describing it as "shocking".
It was heartbreak for Bolt's Jamiacan teammate Yohann Blake who just missed out on a medal in fourth, but the night belonged to Usain as he became the first man to win three successive Olympic golds in the 100m.