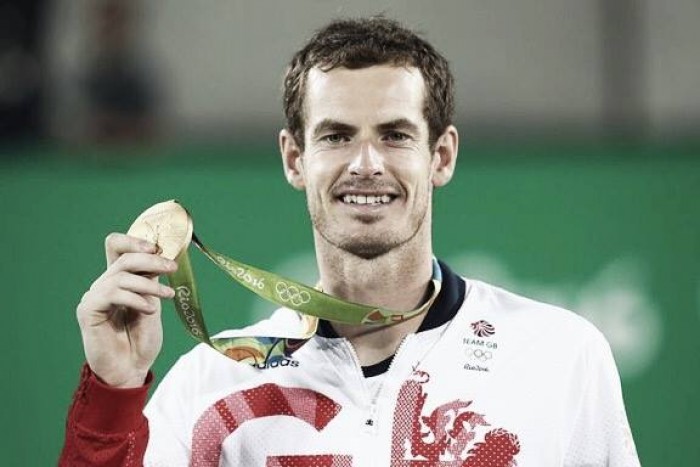 Who ever said that tennis shouldn't be an Olympic sport?
A week ago Andy Murray said it was the proudest moment of his career when he was chosen to be Great Britain's flag bearer at the opening ceremony, he spoke about his inspiration when playing for his country and the pressures which came with such a burden. But boy did he deliver.
His victory to win an unprecedented second singles gold medal last night will surely go down as one of his greatest ever, a four-hour marathon with giant Argentine Juan Martin Del Potro in a match which reduced both men to tears.
In that time, we saw all of the tenacity, willpower and grit which has made the steely Scot such a remarkable champion. In the end he couldn't hold back his overwhelmed emotions following an epic 7-5 4-6 6-2 7-5 triumph.
Neither could Del Potro, a man who 12 months ago was considering quitting the game following a series of career-threatening wrist injuries.
His comeback has been steady but in this tournament he has been revitalised. The giant Argentine powered past world number one Novak Djokovic in the opening round and then toppled Rafael Nadal to reach the final on Saturday night.
He threw everything at Murray with his booming serve and devastating forehand, not to mention the boisterous Argentinean fans who have been with him every step of the way and created an outstanding atmosphere. Yet Murray withstood it all.
"When my daughter is old enough I will try to explain what I did,' said the exhausted Brit after the match. "It means a lot, getting to carry the flag was amazing. I found that quite emotional and had to regroup and get my mind back. To finish it like that, I was emotional at the end as well and and very happy."
Murray heaped praise on his opponents too, whose incredible story was so close to a perfect ending: "It's amazing. Juan Martin has come back to this level and he deserves a lot of credit because it's not an easy thing to do."
The Argentine certainly played his part in the terrific final, which Murray was quick to point out too: "I don't know if this is my biggest achievement, tonight is one of the hardest I've had to play for a big title. The US Open in 2012 was very hard. Physically this was hard with so many ups and downs, and mentally. I am very tired."
Murray had faced some troublesome hurdles before the final and was a break of serve down in the deciding set against both Fabio Fognini and Steve Johnson.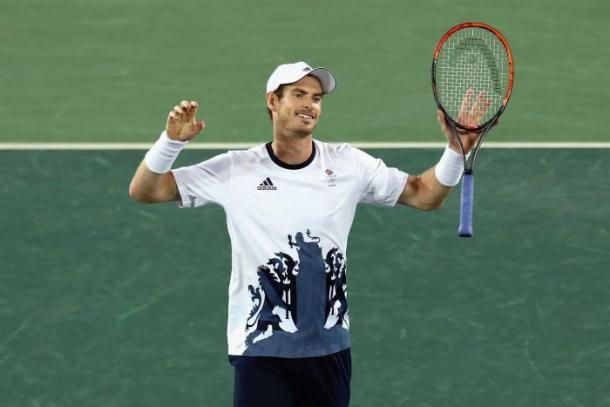 Murray starts on the front foot
Even so he had swept past world number seven Kei Nishikori in the semi-finals and made the perfect start in the gold medal match.
The British number one began on the front foot and broke his 6 ft 6 opponent in the second game. He made regular forays to net and did an efficient job of keeping the ball away from Del Potro's potent forehand, as he raced to a 4-1 lead.
However, for all his assets Murray does have a tendency to become a little passive when he is ahead. The Brit's first serve percentage also dropped to below 50 per cent, as he allowed Del Potro back into the set and Argentine drew level at 5-5.
One of Murray's better traits is the way that he often plays his best tennis when he has just suffered a setback. He did so again here, and when Del Potro was serving to force a tie break, the British number one played an inspiring game before sealing the set with a spectacular backhand down the line.
Del Potro comes roaring back
Once again Del Potro came roaring back and he broke the Murray serve in the opening game of the second. The towering Argentine was regularly landing his thundering serve; however, Murray was chipping a lot of them back just like he did against Milos Raonic in the Wimbledon final last month.
Yet unlike the Canadian, Del Potro was able to get a set on the scoreboard and he carried his early advantage to level the match at a set apiece.
The pendulum continued to swing one way and then the other, but it was Murray who made a decisive breakthrough in the sixth game of the third. After two and a half sets, Del Potro served his first two double faults in the same game and subsequently fell 4-2 behind.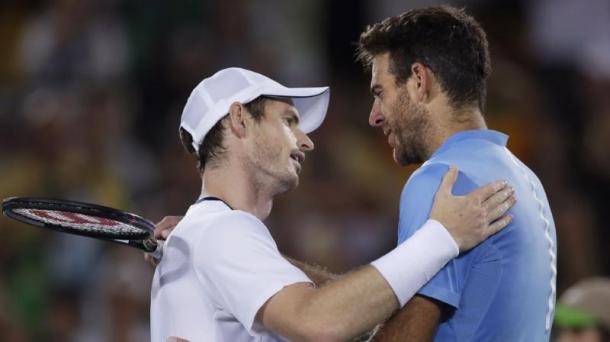 Competitive until the very end
After holding his own serve, the Brit broke Del Potro again when he crushed a forehand return cross court and ensured that he would serve first in the fourth set.
At that stage Del Potro had the look of a man who was running on adrenaline alone and Murray found success with some acute drop shots and his skimming slice.
Yet Del Potro continued to rally, and every time it looked like Murray had him on the ropes he struck another crushing forehand.
The first four games of the fourth set all went against the serve and at 5-4 Del Potro served to take the match into a decider.
However, Murray continued to withstand the relentless pressure and after saving two more break points in the next game he finally sealed an enthralling contest.
Both will surely remember this week for the rest of their lives.