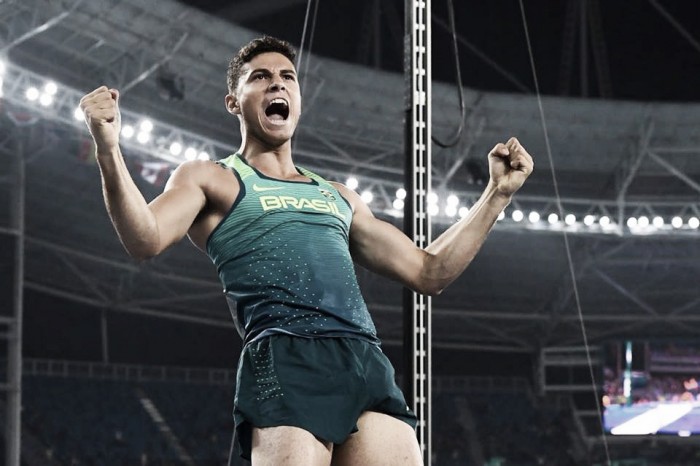 After a thrilling weekend of track and field which started with 'Super Saturday II' and ended with Usain Bolt's third 100metre title being eclipsed by Wayde Van Niekerk's world record 400metres, Monday's schedule didn't have the same alure.
However, three stunning finals, which ended with a Brazilian gold medal, made sure that the Rio crowd were thoroughly entertained on an evening which threatened to be dominated by the horrendous weather conditions.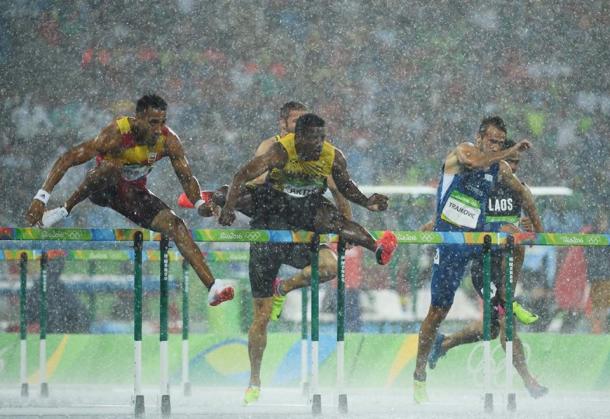 Da Silva topples favourite Lavillenie to claim Pole Vault gold
In the final event to finish on Monday evening, what was left of the Rio crowd were treated to yet another excellent field final.
After Michelle Carter (shot put), Jeffrey Henderson (long jump) and Christoph Harting (discus) had all won their events with final round efforts this week, there was yet more late drama in the men's pole vault.
With heavy favourite Renaud Lavillenie clearing heights at will, the Frenchman looked set to add to his 2012 gold before a Brazilian by the name of Thiago Braz da Silva announced himself on the world stage with some electrifying vaulting.
America's Sam Kendricks had claimed bronze after bowing out at 5.85metres, leaving just two men to battle for gold and once Lavillenie had cleared 5.98 with his first attempt it looked like he was to become a two-time champion.
Da Silva then did the unthinkable, and after realising that a 5.98 clearance would still see him claim silver on countback, the 22-year-old from Marilia in Sao Paulo passed at that height and moved on to what would-be a new Olympic Record of 6.03.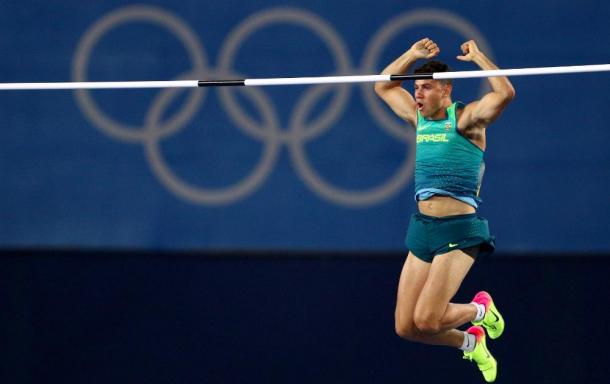 After coming nowhere near on his first attempt, da Silva then produced one of the moments of these Games and cleared the 6.03 height with some distance to spare pinning all the pressure back on the world number one.
With two failures at 6.03, Lavillenie had no choice himself but to move the bar up another 5cm's and to a chorus of boo's he duly failed to hand Brazil their second gold medal of these Olympic Games.
Rudisha retains Olympic 800m title
One of the stars of London 2012, David Rudisha, added to his Olympic story with another gold medal after successfully defending his 800metre title.
After watching his young teammate Alfred Kipketer take the race out at a ridiculous pace, Rudisha waited to strike and on the back straight in the second lap he went for home.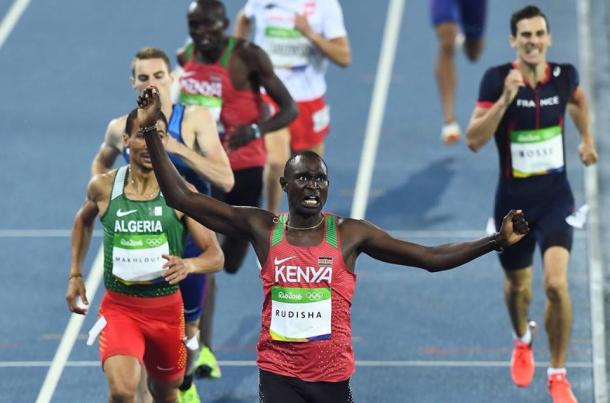 Turing the screw on his opponents, the Kenyan was not quite as dominant as his 2012-self, but he still never looked like being overtaken to become double Olympic champion in a time of 1:42.15.
Another 2012 champion Taoufik Makhloufi (Algeria), who favours the 1500, claimed silver, with 21-year-old American Clayton Murphy taking bronze in a personal best time of 1:42.93.
Miller dives over line to beat Felix in 400m final
In the tighest race of the evening, Shaunae Miller of the Bahamas held off a late surge from American favourite Allyson Felix to take gold in the women's 400metres.
In lane seven outside of the quick-starting Natasha Hastings (USA), Miller made a fast start and at the half-way stage she was just about in first place thanks to the pressure she was under from Hastings.
Going into the home straight, Miller maintained her lead but was starting to feel the pace and as she faded Felix continued to close in from her position in lane four.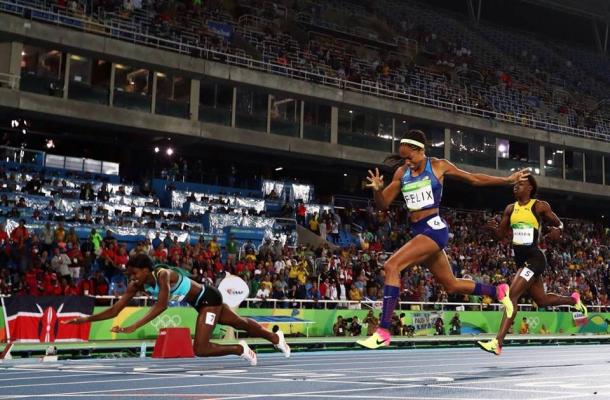 The race was still up for grabs over the final 10metres, and just as it looked as though Felix was going to snatch gold, Miller stumbled/dived for the line, propelling her to victory in a personal best time of 49.44seconds.
Felix had to make do with silver, while Jamaica's Shericka Jackson's late surge was enough for her to claim bronze at the expense of Hastings.