 Sprint sensation Usain Bolt described himself as "lazy" despite producing a season's best to qualify fastest for Thursday's 200m Olympic final in Rio.
Team GB's Gemili follows Bolt through
As we have become accustomed to, Bolt dominated the race, despite coming under late pressure from 100m bronze medalist Andre De Grasse. The Canadian seemed to be looking to play mind games as he hunted a slowing Bolt down in the final 20 metres, with the pair joking with each other as they crossed the line. Bolt later explained, "I said to him what are you doing, it's only the semi-finals."
That fast semi-final saw Bolt clock 19.78 seconds, with De Grasse just two hundredths behind. It also allowed Team GB's Adam Gemili and Turkey's Ramil Guliyev to secure the two fastest losers positions as they hung onto the tails of Bolt and De Grasse.
Just moments before that, LaShawn Merritt laid down a marker by winning the first semi-final in 19.94 seconds, with the American expected to challenge Bolt and De Grasse for medals in the final. France's Christophe Lemaitre followed in second, whilst 20.25 for Team GB's third place Daniel Talbot was not enough to qualify.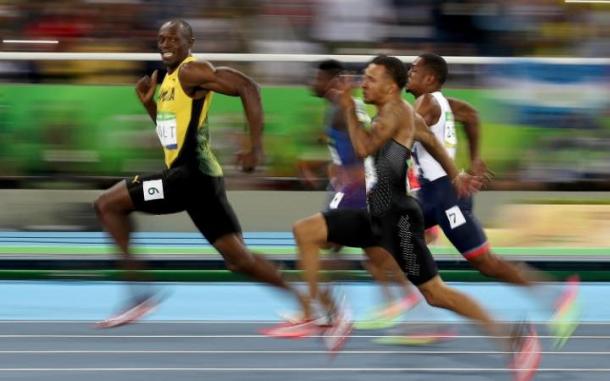 Gatlin and Blake stunned
The biggest shock of the evening came in the final semi-final, as Justin Gatlin and Yohann Blake were expected to qualify. The pair came third and sixth respectively, with the former missing out on a fastest loser's spot by four hundredths of a second. Gatlin explained that his "ankle had been causing problems", as Panama's Alonso Edward and Netherlands' European Champion Churandy Martina qualified ahead of the American. Great Britain's Nethaneel Mitchell-Blake could only manage fifth.
Bolt will certainly be the man to catch in the final. He suggested, "I definitely think I can try for the world record, I definitely feel that. I need to run efficiently and get into the straight and run the perfect race." However he also described his semi-final as, "A bit lazy, I don't know why, but I executed it."