 What defines a legend? A man with the capabilities of being the fastest ever person to be recorded is a pretty good start.
For Usain Bolt, his 100m win the other day in the Olympic Stadium was just another day at the office, and after tonight's 200m final, one which won't include Justin Gatlin, the same will probably be said for an athlete that justifies the title; bigger than a legend.
Bolt has been the poster boy for his sport for a very long time now, and ever since his heroics in Beijing, and his world record times in Berlin in 2011, he's been an athlete that has consistently outperformed his fellow competitors on the biggest of stages.
For the Jamaican, there are no superlatives, he is more than a legend, and with a likely victory in the 200m final tonight, he will further his case as one of the greatest sportsman to have ever lived.
The 200m is his favourite event, but behind him it could be a close run thing. With no Gatlin and Yohan Blake to contest, the likes of Christophe Lemaitre, Andre De Grasse and LaShawn Merritt will be vying for the remaining medals.
Bolt the main man
Bolt is a man that no one can ever doubt, he proved that at the World Championships last year when his 100m crown looked to be under threat from the controversial Gatlin. However he came through that, and he came through the challenge once more in Rio this year.
The 200m though has always been his best event, if he even has one, and it's the event that no one has even come remotely close to beating him in on the world stage. Surely another gold medal is on the horizon for the sprint king.
His world record time of 19.19 doesn't look like being beaten but he's always showing signs that he's streaks ahead of the field, strolling across the line in a casual fashion, as Bolt does, in his heats and semi-finals.
He ran 19.78 in his semi, a very quick time considering what the rest of the semi-finalists ran, a marker which displayed the temperament of the great man going into tonight's final.
His fellow Jamaican, new sprint queen Elaine Thompson created a shock in the women's 200m final last night by beating Dafne Schippers, but it would create something massive for Bolt to be beaten in his favourite event.
You could say no pressure, but Bolt is someone that doesn't even know what pressure is.
Can De Grasse challenge?
With no Gatlin, who was knocked out after surprisingly finishing third in his heat and not qualifying with a fastest losers spot, and no Blake who has struggled for a while now, Canada's De Grasse could be Bolt's biggest challenger.
The pair of them went head to head in the semi-final, with De Grasse achieving a new personal best and national record of 19.80 as they both crossed the line laughing as he showed no signs of slowing down to push Bolt all the way.
It's likely that the 21-year-old will claim silver, with him having to run a personal best just to keep up with Bolt in the semis as he once again strolled to victory.
For the Jamaican, the challenge of De Grasse shouldn't be much of a threat come the final, but if there is to be one then the Canadian will be the most likely to be up there alongside the great man after his bronze medal in the 100m earlier in the week.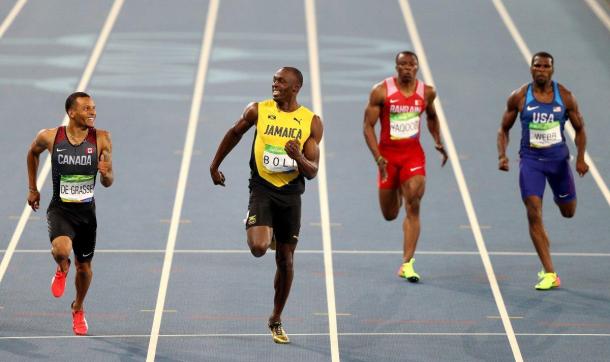 British interest
Team GB's athletics captain at Rio 2016 Adam Gemili will be going in the 200m final, four years after just missing out on a place in the 100m final at London 2012. Gemili has recovered well from a horrible hamstring injury that ruled him out for much of the 2015 season, but despite not being back to his complete best is gaining some form.
The Brit qualified as one of the fastest losers in what was a very quick semi which also included Bolt and De Grasse. He finished third behind them in that race in a time of 20.08, close to his season's best. The 22-year-old Londoner was originally disappointed with the time but will be delighted to have bounced back from injury to reach an Olympic final.
Anything could happen behind Bolt so a medal isn't out of the realms of possibility but it will be an incredibly tough race and he'll have to run the final stretch a lot better than he did in the semi.
He ran a brilliant bend but then fell off the pace a little with 60m to go. His speed endurance will have to be significantly better then if he is to challenge in his favoured event.
He didn't go in the 100m so he could concentrate on this discipline and with his energy reserves probably fresher than some of the competitors around him, he could well spring a surprise to claim a potential bronze behind the two that finished ahead of him in his semi-final. Gemili has run under 20 seconds before, but this final may have come just too soon following his injury last season.
Anyone's race behind Bolt
Behind the clear favourite, it could be anyone's silver and bronze medal, especially with no Gatlin and Blake. Jamaica made a clean sweep of the medals in this event in London with Blake and Warren Weir claiming silver and bronze respectively.
However this time it will be a lot different with a whole host of nations vying to be on the medal rostra. Gemili as mentioned above, will have to run the race of his life to get a medal with some strong athletes lining up alongside him.
Even without some of the big names, the final will still be a high class field with American 400m specialist Merritt, who won bronze in that event earlier in the week, also contesting the 200m. He was one of the few men to go under 20 seconds in the semi's, with a time of 19.94 and could well be one of the athletes claiming a medal behind Bolt if he runs like that.
One of the most surprising and impressive runs in the semi-final came from Lemaitre who has seemingly been in in the wilderness recently but will be overjoyed at making an Olympic final. Since bursting onto the scene at a young age to win European gold in 2010 and 2012, the Frenchman has gone downhill and hasn't reached his potential.
He made up ground brilliantly down the home straight in his semi-final to finish in a time of 20.01 which could stand him in very good stead going into the final. If he can replicate that sort of performance tonight and run a cleaner bend, then we could well see Lemaitre back on the medal podium.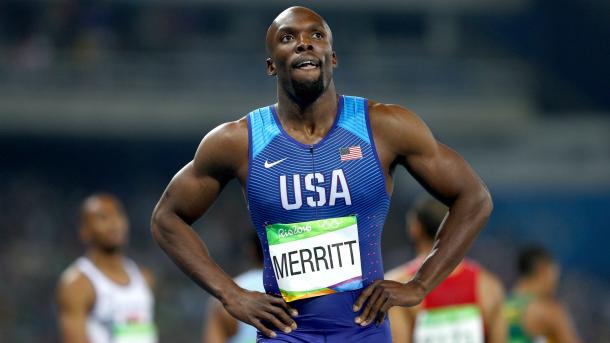 Fellow contenders
The two men to come out of the semi-final involving Gatlin and Blake were Panama's Alonso Edward, who won in a time of 20.07, and the veteran Dutchman Churandy Martina who finished as runner-up in 20.10 seconds. As said, it could be anyone's race behind Bolt, and Edward could be one of those that springs a surprise in the final and wins a medal.
He boasts several South American and Central American medals but he hasn't ran a personal best in the 200m since 2009. That time was 19.81 so we know he can run under 20 seconds, but he'll have to replicate something near to that if he is to come away with his first Olympic medal.
As for Martina, this final will surely come as a bit of a surprise considering some of the athletes he knocked out to reach this stage. He has been in good form this year though, winning the 100m European crown in his own country before also winning the 200m title before being unfortunately disqualified because he stepped over his lane line.
The final man to contest the 200m final will be Turkey's Ramil Guliyev who also came through as a fastest loser behind Gemili in a time of 20.09 seconds.
The tall figure of Guliyev ran his personal best last year, ducking under 20 seconds so again he could be a man capable of producing a surprise. However it is more than likely that it will be a bridge too far despite his silver medal at the European Championships earlier this year.