 Gold medal favourites Jamaica and the USA safely made it through today's heats of the men's 4x100m relay, as Japan smashed their own national record to make a massive statement going into tomorrow night's final.
Great Britain struggled in heat two but made it through, whilst Trinidad & Tobago safely negotiated their heat, along with China, Canada and hosts Brazil.
Japan heavily impressive as they beat Jamaica
The Japanese quartet have been rumoured to be doing special things in training, and they fully showed what they were capable of in the heats, displaying their credentials for a possible medal come the final on Friday night.
They smashed their own national record as they flew through each change-over to finish with an incredibly quick time of 37.68 seconds, which meant they beat Jamaica in what was a very competitive second heat.
Jamaica were missing the legendary Usain Bolt, but still had a very good quartet containing Asafa Powell, Nickel Ashmeade, Kemar Bailey-Cole and Olympic debutant Jevaughn Minzie on the first leg. Work will have to done as their baton changes didn't look as smooth, but being off the pace of Japan in their heat won't worry them too much, with Blake to possibly come in and of course, Bolt.
Great Britain need to improve
Great Britain struggled through to the final as one of the fastest losers, but their team of four for the final is likely to change with no Adam Gemili or James Dasaolu racing in the heats, and hopefully they will get a better lane draw than what they got today.
They finished fourth in heat two in a time of 38.06, behind Trinidad & Tobago who also qualified. The British team's time was quite slow despite a good start from Richard Kilty and Harry Aikines-Aryeetey but their baton changes lost them some ground around the back stages of the race. Meanwhile if CJ Ujah runs the final leg again, he'll have to find an extra yard of pace if they're to win a medal.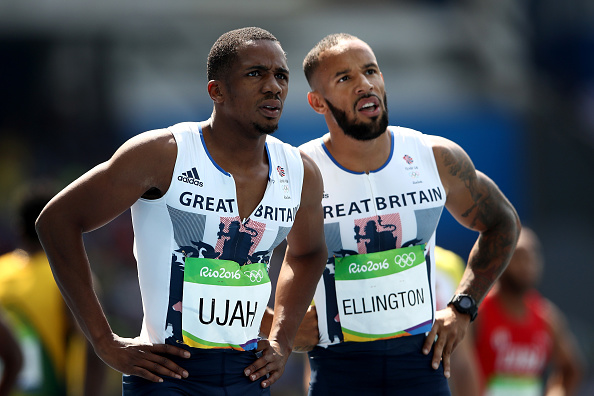 USA the quickest
The Americans, even without Justin Gatlin who missed out on a place in the 200m final, managed to come out with the fastest time as they won heat one. Their women's 4x100m relay team managed to drop the baton earlier but have been granted a re-run after it looked as though one of the Brazilian runners obstructed their third change-over. However their men's team looked a lot more convincing.
Mike Rodgers got the US quartet off to a brilliant start on the first leg, before handing over safely to Christian Coleman down the back straight. Tyson Gay then ran a fantastic bend at the 200m mark before handing over to Jarrion Lawson as they coasted home in a time of 37.65, the fastest in the world this year.
However before their race commenced, the Dominican Republic were unfortunately disqualified after Mayobanex de Oleo false started.
Nonetheless it was the Americans who safely negotiated their heat in first place, ahead of a strong Chinese team who did very well to stay with them for most of the race until Gay took the baton for USA. They finished with a new national record of 37.82 to qualify for the final in third place overall.
Canada, lacking Andre De Grasse who goes in the final of the 200m later on, also made it through in a time of 37.89. They were off the pace for the majority of the race before they pulled it back a little through Mobolade Ajomale on the final leg, but he couldn't quite catch up to China and the USA.