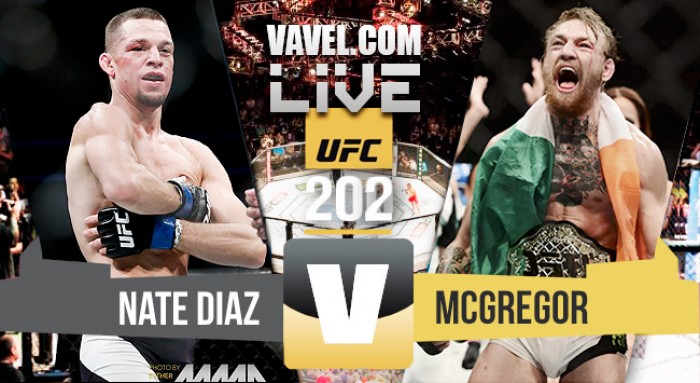 Thank you all so much for tuning in, I hope you enjoyed UFC202 as much as I did. Goodnight/morning to where-ever you are in the world and don't forget to stay tuned to the VAVEL website for more top quality content. I have been Ayden Hussain. See you all soon!
After a truly remarkable night of fighting, it's unfortunately the end. We saw Cowboy Cerrone produce a tremendous performance to knockout Rick Story. We also saw a ridiculous knockout from Anthony Johnson which has surely set up a title fight with Daniel Cormier and for the main event, we weren't let down. Conor McGregor got his revenge against Nate Diaz, which so far, has to be fight of the year.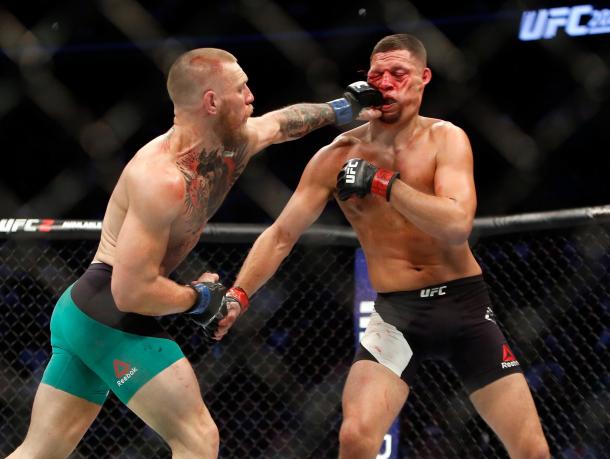 Nate Diaz has already called for the trilogy to be booked! I'm sure all fight fans, including myself want that to happen!
After the fight, Conor McGregor answered Joe Rogan in classic McGregor style, "Surprise, surprise mother******, the king is back!"
Conor McGregor also showed incredible takedown defence tonight, as we know Diaz is trained in Cesar Gracie Jiu-Jitsu, so ground game is one of, if not his strongest asset. So for McGregor to be only taken down once, is truly remarkable.
Nate Diaz showed tremendous resilience in Rounds 3, 4 and 5. But like previously mentioned, the first two rounds were so one sided, it was a thoroughly deserved win for The Notorious Conor McGregor.
The first two rounds; three knockdowns, tremendous leg kicks and combinations to Diaz's face proved vital in the victory.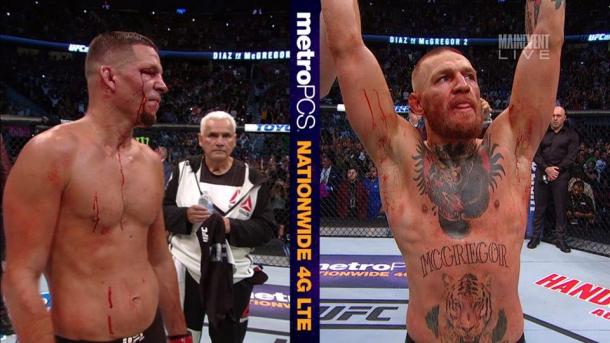 THE NOTORIOUS CONOR MCGREGOR! WINS BY MAJORITY DECISION!
Respect shown between the two fighters, which is something that probably wouldn't have been expected. But after a war like this, you always earn your opponents respect.
Diaz was knocked down three times which could prove massive on the judges scorecards. Diaz completed one takedown and had his moments where the fight could've been stopped. Let's see what the judges say.
Round 5: What a fight we have been treated to here! All the hype and it has not been disappointing! A lot of clinching in the final round as expected with both fighters suffering from severe fatigue.
Round 5: Not long to go here! What a fight this has been so far!
Round 5: Diaz is looking for the takedown! But McGregor stuffs the attempts.
FINAL ROUND!
Round 4: Conor McGregor has definitely caught a second wind here. He regained himself to assert dominance, a couple of leg kicks and quick combinations put Diaz in a couple bad situations.
Round 4: Diaz is so bloodied up he is struggling to see, so he is slowing down and that is allowing McGregor is regroup.
Round 3: Diaz almost stopped McGregor! Fatigue is a real issue for the Irishman here.
Round 3: A lot of clinching going on this round.
Round 3: Diaz is so resilient it's almost godlike. He is praying on the tiring McGregor.
Round 2: The final minute of round two was dominant from Diaz. He sensed McGregor slowing and started his own onslaught. What a fight we have on our hands here.
Round 2: Another knockdown! Thats three!
Round 2: Early on in this second round, McGregor has scored another knockdown!
Round 1: Absolutely fantastic opening round for the Irishman, he has been very patient, working that front leg of Diaz. McGregor is looking very sharp with his punches and kicks.
Round 1: McGregor targeting the front leg of Diaz. Nate has also been dropped early on here.
HERE WE GO!
Diaz will have a four inch height and two inch reach advantage.
And here comes Nate Diaz!
The Notorious Conor McGregor is making his way to the Octagon!
Next is the moment all fight fans have been waiting for, Nate Diaz - Conor McGregor 2!
Surely Rumble will now take on Daniel Cormier for the title!
Rumble landed a vicious uppercut which ended Glover Teixeira's night! Unreal!
IT IS ALL OVER! RUMBLE WITH THE KO AFTER 12 SECONDS!
HERE WE GO!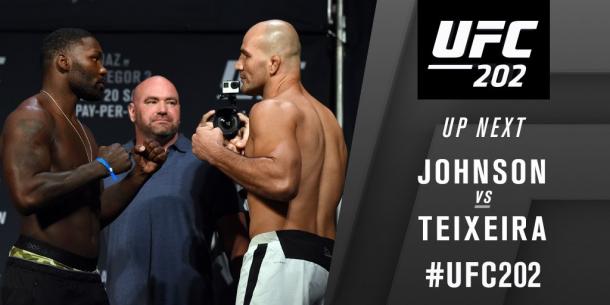 After that incredible fight, we move up to the Light-Heavyweight Division as Anthony 'Rumble' Johnson will face off against Glover Teixeira.
Cowboy Cerrone has just announced he wants to drop back down to Lightweight to take on the Champion, Eddie Alvarez. What a fight that will be!
OUTSTANDING! @Cowboycerrone TKOs @Rick_Story after a beautiful combination!