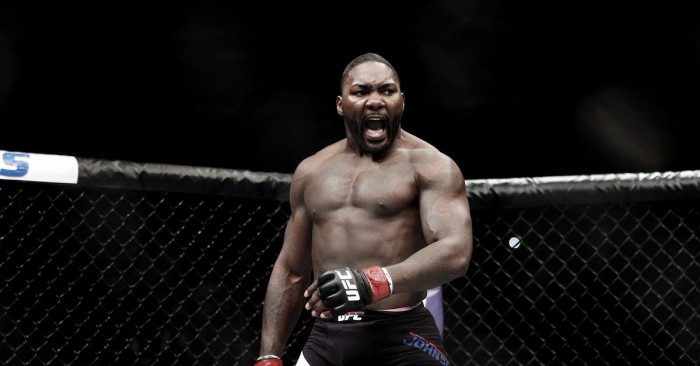 As the main event edged closer, fans were first blessed with watching Donald 'Cowboy' Cerrone at welterweight once again, which saw him defeat Rick 'the Horror' Story via TKO, before announcing that he would like to fight Eddie Alvarez for the lightweight title.
Cerrone looks his best at welterweight, but could a title fight at 155lbs be on the card? Cerrone certainly hopes so. He wants to make it happen at Maddison Square Gardens.
Light-heavyweight champion Daniel Cormier was amongst the fighters watching on in the crowd, whilst the number one contender fight between Glover Teixeira and Anthony 'Rumble' Johnson is definitely the one he had his eyes on.
The knockout power from Johnson is definitely something to behold, as MMA fans were treated to a 13 second knockout.
Donald Cerrone defeats Rick Story
Donald Cerrone is certainly a fan favourite on the MMA scene as a big cheer went around the T-Mobile Arena as the Cowboy emerged for his third fight at welterweight – a division that he looks more comfortable in
Rick 'The Horror' Story didn't get the same reception, but he also came into the fight on a three-win fight streak as Cerrone took the favourite down early on.
After dominating on the ground, Cerrone landed a number of leg kicks, whilst Story was in a position he didn't want to be in against the Cowboy – on the outside. Cerrone showed that he has so many weapons standing up, as a number of front kicks landed, before a straight left landed and rocked Story towards the end of round one.
Cerrone landed a beautiful combination to end the fight via a second-round TKO, which now sees the Cowboy 3-0 at welterweight.
Two quick right hands landed for Cerrone which saw Story go for the clinch, which was met by a head kick that rocked the Horror Story, who was unable to defend himself.
Following the victory, Cerrone told Joe Rogan that he fancies himself back down at 155lbs which could see him fight Eddie Alvarez for the lightweight title.
Anthony Johnson defeats Glover Teixeira
With Daniel Cormier watching on, both fighters had something to prove, as the winner would fight Cormier for the light-heavyweight title. Eyes descended on the Octagon for this fight as Teixeira showed his confidence by calling out Johnson for this fight.
What a fight the fans were treated too. It took Johnson just 13 finish Teixeira as a brutal uppercut sent the Brazilian out while he was still standing, before trying to wrestle referee Dan Miragliotta as he came back around.
No doubt about it, Cormier - Johnson 2 will be next.