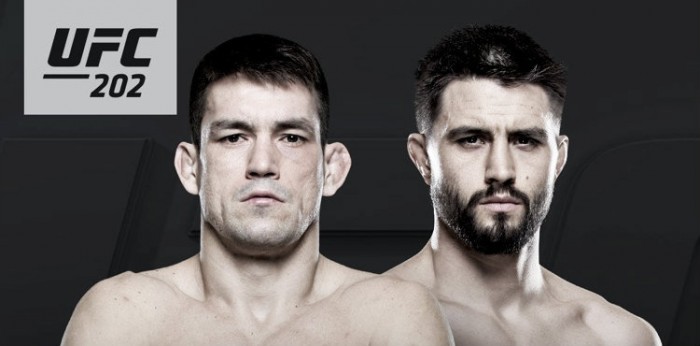 I hope you all enjoyed the night as much as I did. Although tonight's UFC event has finished. We still have plenty more content on the VAVEL.com website to keep you entertained, so make sure you check it out! See you soon! Goodnight!
In the co-main event, Anthony Pettis, making his featherweight debut, defeted Charles Oliveira via submission due to a guillotine choke and in the main event. Demian Maia masterfully put his Brazilian Jiu-Jitsu to use and defeated Carlos Condit via submission due to a rear naked choke in the very first round.
As quick as it started, it ended, so that is all we have time for tonight. We saw Jim Miller narrowly win his rematch against Joe Lauzon. We also saw Paige VanZant return to the Octagon with a spectacular knock-out victory against Australia's Bec Rawlings.
The win for Maia puts him in a very good spot to challenge the winner of Tyron Woodley and Stephen Thompson for the Welterweight title.
The choke wasn't locked in properly, usually the forearm has to be under the chin to stop oxygen and blood flow. But the choke was so tight across the chin, Condit had no option but to tap.
First round rear naked choke sees Demian Maia defeat Carlos Condit!
IT IS ALL OVER!
HERE WE GO!
Carlos Condit will have a height and reach advantage. Which he will have to use to stop Demian Maia from pressing and forcing a takedown.
The main event is up next as Demian Maia faces off against 'The Natural Born Killer' Carlos Condit.
Pettis and Oliveira began to stand up and Pettis managed to lock in a guillotine choke and pull his opponent to the ground, where there was only one outcome. Anthony Pettis has won his debut in the Featherweight Division!
Charles Oliveira is known for his incredible ground game, but he has just been choked out by knockout specialist Anthony 'Showtime' Pettis in the third round.
IT IS ALL OVER!
Round 2: Charles Oliveira has found a way back into this fight, by landing a couple takedowns and controlling Pettis on the ground. Not only that but when the fight was stood-up he has stifled Pettis' attempts and throwing more body shots.
Round 2: Pettis surely won that first round and will be looking to fight smart in round 2.
Round 1: Pettis has landed a couple body kicks with his vicious left leg which have visibly hurt Oliveira.
Round 1: Wonderful first round in the Featherweight Division for Pettis. His Brazilian opponent is only looking to take the fight to ground, but Pettis has worked a lot on his ground game during his training camp and is defending well.
HERE WE GO!
Both fighters are virtually identical where height is concerned but Oliveira will have a slight reach advantage.
Anthony Pettis - Charles Oliveira is up next! Showtime Pettis will be making his featherweight debut against a very dangerous opponent.
Paige VanZant took some time off to compete in Dancing with the Stars, the US equivalent of Strictly Come Dancing and she showed great dexterity when she landed that jumping switch-kick to her opponents head.
Incredible victory for Paige VanZant! She faked to throw a right kick and ended up landing a vicious left head kick which sent Rawlings tumbling into the canvas. A few hammer-fists followed and the fight was stopped. Awesome victory for the 22 year-old!
IT IS ALL OVER!!!
Round 1: Paige is known to be an aggressive fighter but she is taking this fight against the dangerous Rawlings slowly. Moving around the Octagon and picking her shots. VanZant has landed a few heavy leg kicks. Surely Round 2 will liven up.
HERE WE GO!
Rawlings will have a two inch height advantage but VanZant will have a slight reach advantage.
Next up is a fight in the Women's Bantamweight Division between Paige VanZant and Bec Rawlings!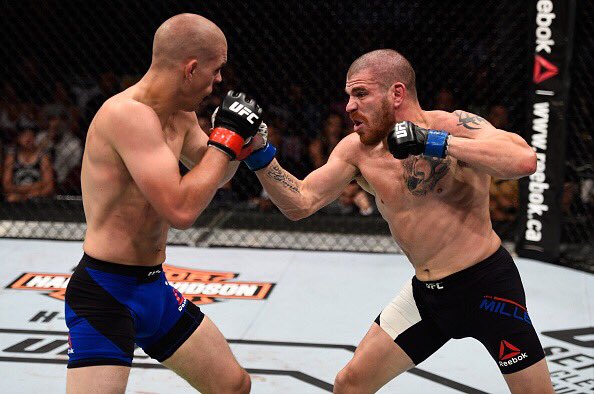 But when the judges call the winner by split decision, it shows how close the fight was, so credit to Joe Lauzon, he easily could've been given the win due to his excellent performance.
Boos rang around the Rogers Arena when Bruce Buffer announced that Jim Miller won the fight as many thought Lauzon should have won due to his superiority on the ground.
JIM MILLER WINS BY SPLIT DECISION!
Oh so close! With around six seconds on the clock, Lauzon tried to lock in an arm bar but Miller defended well and the klaxon stopped any chance Lauzon had of submitted Miller.
Round 3: Tremendous takedown by Lauzon, he's going to look to control the round on the ground and try to KO his opponent or make him submit in order to guarantee the victory.
Round 3: Only a minute into the final round and both fighters are standing and trading. What a way to kick-off the main card!
Round 2: No change come the end of Round 2, both fighters throwing heavy shots at eachother. Lauzon definitely had better defence and was countering well with multiple straight lefts. The round ended on the ground with Lauzon controlling posture and landing heavy elbows.
Round 1: Joe Lauzon has been the early aggressor here, forcing Jim Miller into the cage, but Miller is fighting very well on the back foot, landing swift combinations that are visibly hurting his opponent.
Round 1: Lightning fast start between the two fighters, both throwing bombs and when the fight ended up on the ground, Lauzon almost locked in a heel hook.
HERE WE GO!
Miller and Lauzon are in the Octagon and we are moments away from a much anticipated rematch between the two fighters! ?
Hello again everyone! Not long until the first main card fight, Joe Lauzon against Jim Miller.
There's no doubt that Demian Maia has one of the best jiu-jitsu techniques within the UFC, and you have to feel that his fight against Carlos Condit is his last hurrah at a division title, so to speak. So, how do you think this will go down? Follow VAVEL.com for the latest updates.
Anthony 'Showtime' Pettis also makes his featherweight debut against Charles Oliveira after losing a lightweight bout against Edson Barboza. There's no doubt that Pettis has dropped down to a competitive decision, but he could well excel at a lighter weight.
Paige VanZant also returns to the Octagon for the first time since a decision loss to Rose Namajunas in December 2015. The UFC princess has since featured on America's Dancing for Stars, but she says she's missed being in the UFC, because of the 'violence'.
During the week, Joe Lauzon told FOX that he's going to "make him bleed" and "give him a matching scar" just like Jim Miller did so in 2012.
Kicking off the main card is Joe Lauzon vs. Jim Miller 2. The previous fight between the duo saw it earn fight of the year in 2012, and it's clear as to why. The two went at it for the full fight, before a bloodied Lauzon lost via decision.
Maia vs. Condit is going to be no different. With a victory in the early hours of Sunday morning, Demian Maia could be given a shot at the welterweight title, which is no less than he deserves.
Last weekend saw fight of the year in Nate Diaz vs. Conor McGregor 2, which saw the Notorious one win via a majority decision, but there's no doubt that the two fighters gave it their all in the Octagon.
Hello and welcome to VAVEL.com's live round-by-round, fight-by-fight coverage of UFC on Fox: Maia vs. Condit and I, Ayden Hussain will be taking you through the entire main card. The main card is expected to start at around 0100BST, make sure you follow us for the build-up, which includes Joe Lauzon vs. Jim Miller 2.