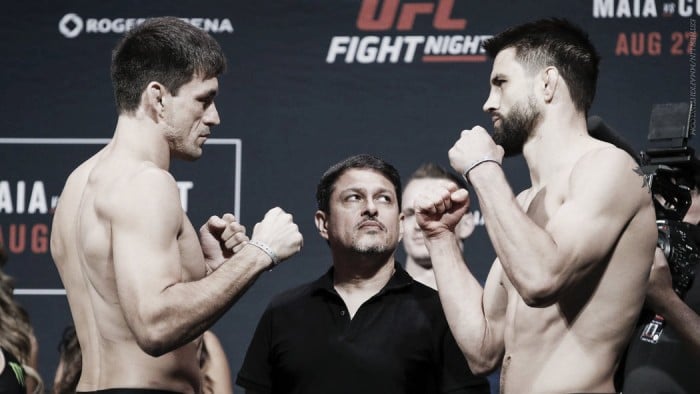 Demian Maia extended his unbeaten run in the welterweight division to six fights after defeating Carlos Condit via rear-naked choke in the first round, in what is his ninth submission win.
A visibly emotional Maia cried in the cage following his victory, as he knows this could well be his last chance at a title fight.
Anthony Pettis' featherweight debut made the co-main event of the evening as he faced up against Charles Oliveira, who stated he was "here to stay" in the UFC, but it was 'Showtime' Pettis who defeated his opponent with a guillotine finish in the third round, his second submission inside the Octagon.
Demian Maia defeats Carlos Condit via submission
Heading into this bout, Demian Maia knew he had to take Carlos Condit to the ground if he wanted to win this fight and put him in the running for a title shot in the welterweight division, which could be his last hurrah at 38-years-old.
And that's what Maia did, on his first attempt. Condit was in a bad position from the off, and Maia capitalised with a rear-naked choke submission inside the first minute.
Anthony Pettis defeats Charles Oliveira via submission
Anthony 'Showtime' Pettis dropped down to the featherweight division, making his debut against Charles Oliveira, who finished 19 of his 21 wins. Pettis dropped down to 145lbs after his defeat to Edson Barboza at UFC 197.
Submission artist Oliveira went straight in for the take down, battling Pettis for the opening minute, but the new featherweight contender defended well in the clinch. Pettis' devastating left leg knocked Oliveira to the ground midway through the first round. Landing two kicks to the body, the Brazilian dropped, but managed to hold on as Pettis went in for the TKO.
Oliveira was lucky to get out of that first round. It took the Brazilian a couple of seconds to stand up after the klaxon rang, and it looked as though he could have sustained a broken rib.
Pettis landed more kicks in the second round and despite blocking them to the head, Oliveira still looked rocked early on. With three minutes remaining, Oliveira managed to back mount Pettis, taking it to the ground, which could well work in the judge's favour after losing the first.
Oliveira recorded another successful takedown early in the final round, whilst a reversal from Pettis almost led to an armbar, but it was a guillotine that clinched the victory for Pettis in his featherweight debut.