Andy Murray arrived in New York for this year's US Open in the best form of his career.
Since July he has become Wimbledon champion for a second time and successfully defended an Olympic title in Rio. This, however, was a reminder that no one is invincible - not even Murray.
In sport the higher you climb the harder you fall, and that will make the Scot's quarter-final defeat to Japan's Kei Nishikori feel even more bruising, especially when the world number two was many people's favourite to win the tournament.
Perhaps the most surprising aspect of Murray's 1-6 6-4 4-6 1-6 7-5 defeat was the fact that it came in a deciding fifth set, territory where he usually flourishes.
It also came after the Brit had led by two sets to one, and this is the first time he has lost from that position since the 2012 Australian Open, when he was beaten by Novak Djokovic.
Nishikori is an elite player, the world number seven to be exact, however he had been comprehensively beaten by Murray at Olympics just a couple of weeks ago and had won just one of their previous eight meetings.
Mystery noise distracts Murray
That trend looked set to continue when Murray forced a break point at the start of the fourth set. It followed a brief rain delay which had caused the roof to be closed on the Arthur Ashe Stadium.
At 30-40 on the Nishikori serve there was a huge gong-like sound which echoed around the stadium. Umpire Marija Čičak called a let mid-way through the point, much to Murray's displeasure, and the Brit was never the same player after that.
He claimed that the same thing had happened in the opening set, and that he was told they would play on if it happened again - the argument continued throughout the fourth set.
Nishikori saw his opportunity and took it and Japanese's self-belief throughout was quite extraordinary. The sixth seed always looked like he believed that he could turn the match around, even when Murray had him on the ropes.
Nishikori's only victory over Murray had come at the World Tour Finals in 2014. Back then Murray's confidence was at an all-time low and he had failed to recapture his Grand Slam winning form following surgery on his back.
It was also the year that Murray split with his coach Ivan Lendl. The pair are back together now, however, and the Brit's results have significantly improved as a consequence.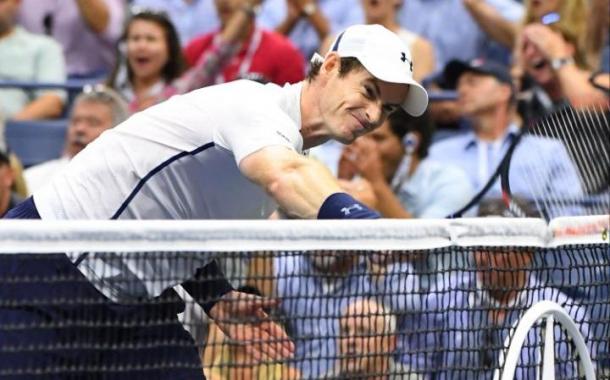 British number one makes an emphatic start
Murray almost lost his opening service game here, though, before winning five points in a row to hold from 0-40. That appeared to affect Nishikori, and Murray went on to take lead 3-1, breaking his opponent for the first time in the fourth game.
Nishikori's first serve percentage was dwindling below the 50 per cent mark and Murray regularly punished his opponent's second delivery. The Brit closed out the opening set in 35 minutes, holding to 0 and finishing with an ace.
Murray kept his momentum going with an early break in the second to give himself a 3-2 lead.
Roof closure switches momentum
His charge was, however, soon halted, as Nishikori broke back in the following game before a sudden rain shower caused the roof to be closed. The brief delay clearly favoured Nishikori, who converted his first set point when Murray was serving at 4-5.
They traded breaks at the start of the third, before a string of forehand errors from Nishikori allowed Murray to retake control. The Brit appeared to have adjusted to the indoor conditions after taking a two set to one lead. However, after forcing an early break point opportunity at the start of the fourth, the match began to slip away.
The mystery noise clearly disrupted Murray's rhythm and his first serve percentage dropped to an alarming 38 per cent in the fourth set.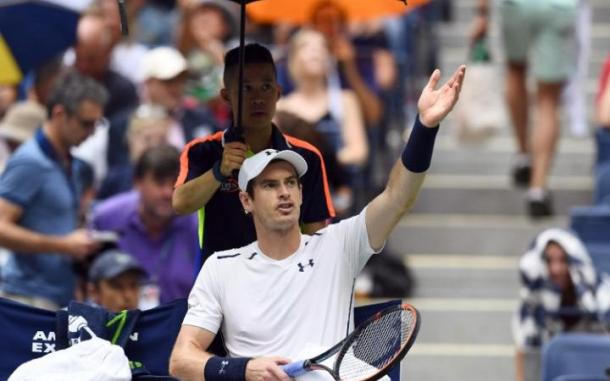 Nishikori holds his nerve
Still, huge credit must go to Nishikori, who returned empathically to level the match. The sixth seed twice went up a break in the fifth set but Murray pegged him back on both occasions.
History suggested that Murray would somehow find a way to win from that position. However, he lost his serve again at 5-5 when Nishikori came up with a superb volley at full stretch.
The sixth seed then held his nerve and served it out in the following game, sealing the victory in three hours and 57 minutes.