Novak Djokovic overcame humid conditions to reach the final of the US Open with a four set victory over Gael Monfils.
Djokovic, who has seen a number of his opponents retire on his route to the last four, appeared to heading for a comprehensive victory in what was at times was a bizarre semi-final.
The Serb took a two set lead in less than an hour as Monfils - often one of the games great entertainers - deployed some eccentric tactics, which included bunting the ball back in a listless manor.
It worked in phases, but not often enough to stop the world number one, who progressed 6-3 6-2 3-6 6-2 in two hours and 32 minutes.
Djokovic will now take on Stan Wawrinka for the title on Sunday, after the Swiss beat Kei Nishikori 4-6 7-5 6-4 6-2 in the second semi-final.
Terrible start for Monfils
Monfils, who was playing in his second major semi-final - his first since 2008, hadn't dropped a set in five matches in New York, however he couldn't have made a poorer start.
The Frenchman lost his serve in the second game of the match, in which he served two double faults.
After 20 minutes Djokovic had raced to a 5-0 lead, after an array of errors from his startled opponent.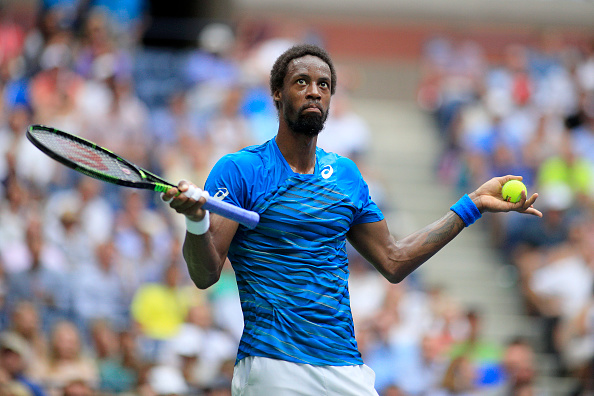 Strange tactics work for a while
At that stage Monfils appeared to have given up on the set and to many spectators he looked disinterested, as he languidly chipped the ball back into play.
Whether that was a deliberate tactic only he knows, however it appeared to unsettle Djokovic who began to struggle with the lack of pace.
Monfils claimed one of the breaks back before seeing two break points at 5-3, yet it proved too little too late as Djokovic eventually closed out the opener.
There wasn't much resistance from Monfils at the start of the second either, as Djokovic broke serve in the second game and quickly established a two set lead.
Monfils lost his serve again at the start of the third with another double fault and it took some booing from the crowd to kick him into gear.
He responded with a number of forays to the net and more aggressive tennis which threatened to take the match out of Djokovic's hands.
Too little too late from the Frenchman
The Serb required treatment on his shoulder at the end of the third, while the brutal conditions forced both players to pant for breath after every prolonged rally.
They traded breaks at the start of the fourth before Djokovic pulled away for the final time.
The Serb has now reached the final after spending less than 10 hours on court.