Team USA held their nerve on the crucial final day of the Ryder Cup as their team of experienced heads helped them cross the line to prevent their rivals from winning a fourth consecutive title.
The situation was clear at the start of the day. Team USA required five points to win, Team Europe seven and a half. The atmosphere was electric. If there was ever such thing as home advantage in a sport that travels worldwide, Davis Love's men certainly had it. Howeve, Team Europe have the nous and experience of winning in recent years after three consecutive Ryder Cup victories. Arguably one of the most exciting sporting events on the calendar had all the ingredients for a feast of top quality sports entertainment.
McIlory defeated but Stenson and Pieters strike back
That was certainly the case in the opening match on the course that took place between Team Europe's main man Rory McIlory and USA's Patrick Reed. The pair went toe to toe throughout the contest with some incredible golf. A match that breathed passion and class, there was nothing to choose between them as they both went five under par through the first eight holes.
Each time one of them sunk a long putt, the opponent would hit back as hole after hole was halved. Reed eventually found some clear air on 12 when McIlory found the bunker to open the door for the American to take the lead. The Northern Irishman was playing a round that sums up his year. Quality in parts, but wayward in others, as he missed two good opportunities to win holes on nine and 13, before a weak lay-up on 16 ensured he could not win the contest. Reed made a mess of 17 to allow McIlory a lifeline, but sealed the point with an excellent pitch on the final whole.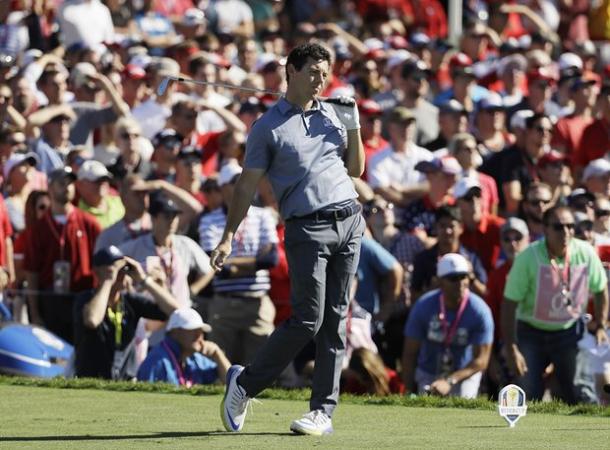 Jordan Spieth and Henrik Stenson offered an intriguing clash between two Major champions in match two. Spieth set the early pace with birdies to win holes one and five, though Stenson had stolen the third. The Swede really found his form in and around the turn as he blew Spieth away with birdies on eight, nine and eleven to take a two hole lead. Spieth did respond a hole later as Stenson missed a short putt, only to restore his two hole lead on 13. When Spieth found the water on 16 that was enough for him to forfeit the contest and allow Europe their first full singles point on the leaderboard.
Further back on the course, JB Holmes and Thomas Pieters struggled to find any sort of consistency between them. They both won four holes each, sharing just one on the front nine before the turn. Pieters did edge ahead with a birdie on eleven, before going two holes ahead on 14. Holmes missed a golden opportunity to stay in the contest a hole later, eventually proving costly as Pieters secured victory on 16.
Rose thwarted but Cabrera Bello gives Europe hope
There was nothing to choose between Rickie Fowler and Justin Rose, as the former kept nudging ahead only to be pegged back by the Olympic champion. The crucial moment came on hole 16 when Rose missed a putt and Fowler jumped on the opening as he rattled one in off the sides to lead by one with two to play. After halving 17, Fowler sunk a putt to win the match and earn another crucial point for the hosts.
One man who was really flying for Team Europe was Rafa Cabrera Bello, as he continued the form from Saturday's foursomes that saw him and Sergio Garcia hit back to half the contest from an unlikley position. The Spaniard won three unanswered holes on the front nine as he raced ahead of Jimmy Walker. Though the American was not finished for his competition as he mounted a comeback with wins on 10 and 12. That resistance was soon thwarted as Cabrera Bello struck back a whole later, before sealing a Team Europe point on 16.
MIxed fortunes for Garcia and Westwood
Phil Mickelson against Sergio Garcia and Ryan Moore's match against Lee Westwood followed very similar patterns in the early stages. The Europeans took an early lead on the first hole, only to lose two in a row and fall behind, before striking back around the turn.
Garcia did edge ahead on 11, only for Mickelson to sink a mammoth putt on 12 to draw level oncemore. 'Leftie' then took control on 14, though Garcia was back on level terms after 16. Westwood opened a two hole advantage before Moore struck back causing both matches to be decided on the final hole.
A tenth birdie of the round by Mickelson put the pressure on Garcia but he held his nerve to draw the match, finishing with nine birdies of his own. Moore sealed victory with his third consecutive hole win on 18, a point that was to confirm Ryder Cup success for Team USA.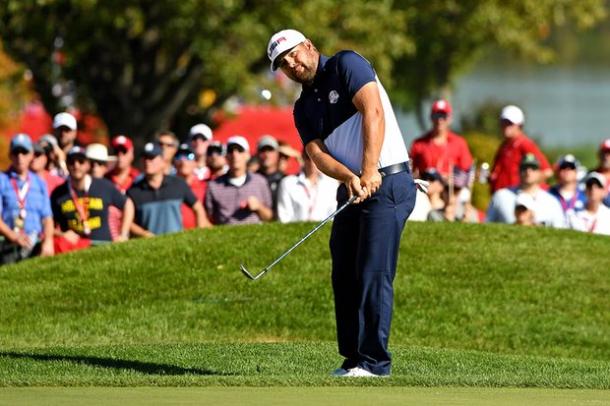 Team USA dominate in the second half of matches
Further back, promising starts for the European trio of Andy Sullivan, Chris Wood and Danny Willett disintegrated against their respective opponents Brandt Snedeker, Dustin Johnson and Brooks Koepka. After each of Team Europe took the lead, all three of the Americans had a spell of winning three or four holes within five at the end of the front nine.
Koepka won his match as early as hole 14 when a torrid week for Willett came to an abrupt end following a spell of six wins in eight holes for the American. Snedeker also completed his job with time to spare as he defeated Sullivan on hole 17. Wood showed some resilience with two hole wins against Johnson, but the Masters champion proved his quality as he won the match on the final hole.
Martin Kaymer showed some spirt for Team Europe as he came back from three holes behind against Matt Kuchar after a hat-trick of wins on five, six and seven. After a win on nine, Kaymer made three in a row himself between 13 and 15, eventually proving enough to earn his side a consolation point.
Zach Johnson took an early lead against Matt Fitzpatrick in the final match, before being pegged back to all square after eight. Though four wins in seven holes ensured that the American won the contest on hole 15, helping towards Team USA's 17-11 victory.