It's been an exciting week for UK fight fans as the UFC has touched down in Manchester ready to host what is expected to be mightily exciting event as UFC's first ever British champion Michael Bisping headlines UFC 204 as he defends his middleweight title against the experienced fighter Dan Henderson.
But away from the main event there are some fascinating match-ups in the shape of Ovince Saint Preux against Jimi Manuwa and then what could be a hugely exciting contest between Vitor Belfort and Gegard Mousasi.
Bisping headlines hometown gig as Champion
Whenever people thought of the 37-year-old Bisping there was always this tag of 'underachiever' or 'nearly-man' associated with the Clitheroe born fighter. But UFC 199 totally changed that perception after he knocked out his long time rival Luke Rockhold in devastating fashion.
After taking the fight on two week's notice many thought the then middleweight champion would have too much in the locker, but it was Bisping's night as he totally dominated the contest and was well deserving of his first round knockout.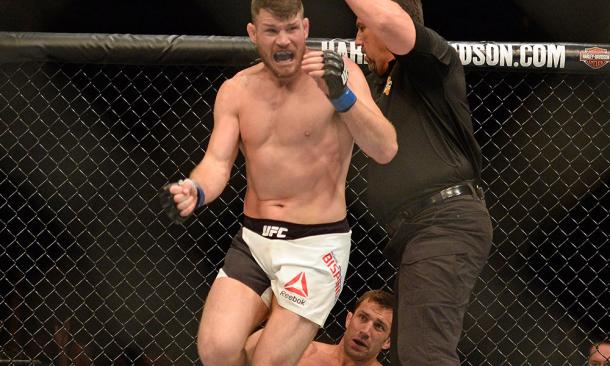 But as is the case in UFC, no two fights are the same and this Saturday it's going to be a completely different fight against the experienced Henderson. Big wins change athletes and the transformation in Bisping is clearly evident, at 37-years-old Bisping is looking in the best shape of his career and coupled with that confidence of being champion it's a deadly mix, and one that he hopes will serve him in good stead come Sunday morning.
Bisping might be the headliner, but his compatriots could steal the show
As mentioned UFC 204 has a feast of UK fighters on the card with the likes of Danny Roberts, Davey Grant, and Brad Pickett all on the card which will make for good viewing.
Former pro-boxer Roberts has a tough assignment against the unbeaten and hugely talented Mike Perry; the American has stopped everyone in his infant UFC career to devastating effect, so this will be no easy task for Roberts.
But with his pro-boxing background Roberts certainly knows how to strike, and that's what makes this bout so intriguing. Both guys will be looking for the knockout, and ultimately it will be a case of who hits the hardest.
Another interesting match is Pickett's Bantamweight fight against the Brazilian Iuri Alcantara; both are experienced fighters, and both hold impressive records; the Brit has won 26 fights, losing 11, and the South-American Alcantara has won 32 times, losing just 7 so it certainly makes for an intriguing contest.
There are other UK fighters on the card; Leon Edwards takes on the Russian fighter Albert Tumenov, and the aforementioned Grant takes on Damian Stasiak, again in the Bantamweight division.
Ian Entwistle was due to take on Rob Font, but because of complications during Entwistle's weight cutting he has decided he not in shape to take on the American, so that has been pulled from the card.
But despite that bout being pulled from the card UFC 204 promises to be such an exciting spectacle and although Bisping and Henderson might take most of the headlines come Sunday morning; you certainly can't overlook some of these upcoming UK fighters.
It's an intriguing card to say the least, there are some top quality match-up across the main events and the pre-lims but by the end of the night it could be the UK fighters rising highest and taking home plenty of plaudits.