Until then, stay tuned to VAVEL.com for top quality content. I've been Ayden Hussain and I hope you enjoyed tonight's UFC event as much as I have. Goodnight!
After a truly thrilling night in Manchester, Michael Bisping is still the UFC Middleweight Champion. UFC 205 is the next main UFC event where Conor McGregor will take on Eddie Alvarez in a lightweight title fight.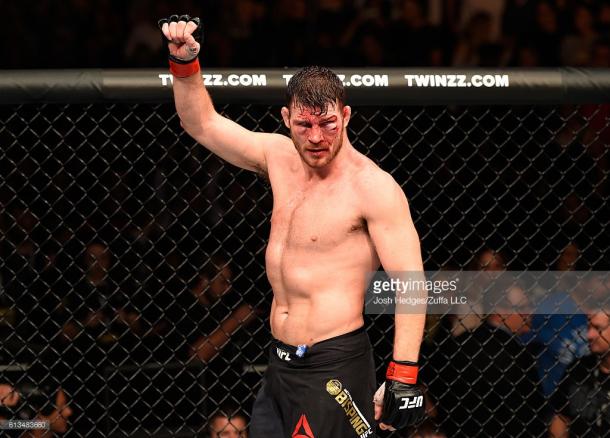 Dan Henderson has confirmed his retirement. What a fighter. A future hall of famer, no doubt.
After being dropped by two 'H-Bombs', Bisping still managed to win, a true champions performance.
48-47, 48-47, 49-46. Unanimous decision victory for Michael 'The Count' Bisping!
MICHAEL BISPING IS STILL THE UFC MIDDLEWEIGHT CHAMPION!
AND STILL!
Henderson won round 1, possibly round 2, but then Bisping won, 3, 4 and possibly 5 in my books. But it'll be interesting to see how the judges call it.
Round 5: A very average round, no 'H-Bomb' finish this time. Hendo did manage to land a takedown but could not land any significant strikes. The fight has gone to the judges.
Into the final round we go.
Round 4: Bisping being very careful in this round, not trying too hard. A good round for the champion once again.
Round 4: Henderson was caught in the groin area by a left kick. Timeout was called and Hendo took his time to catch his breath. The apparent time wasting was met by boos.
That third round was very impressive from Bisping. Just what he needed to turn this fight around.
Round 3: No knockdown this round. An excellent round from Bisping, he's throwing a lot of fakes and then following them with quick combinations. Bisping has also been landing a lot of body kicks which are taking the wind out of Henderson.
Onto round 3 now and the cut to Bisping's face does not look good at all.
Round 2: Bisping started to press Henderson and look to apply pressure, but the big right landed flush and sent The Count crashing to the floor once more.
Round 2: Another 'H-Bomb' dropped Bisping and now Hendo is on top!
Every successful strike Bisping lands is being met with rapturous applause.
The crowd is of course absolutely electric tonight.
Round 2: Bisping was very bloody at the end of the first round and his team didn't surpress the swelling. So now Bisping's face isn't in the best of conditions.
Round 1: A very cagey round from Bisping and throughout the round Henderson was looking for the 'H-Bomb' and he managed to land it toward the end of the round which sent Bisping tumbling to the canvas. Bisping somehow survived the following barrage of punches and now we are into round 2!
HERE WE GO!
Bisping will have a slight height and reach advantage.
Next up is our main event, Michael Bisping - Dan Henderson 2 for the title!
That win for Mousasi means he now has a massive 40 wins in his MMA career.
Mousasi landed a vicious head kick then followed it up with a barrage of punches. He managed to take Belfort to the ground and continued to batter his opponent until the referee had to step in. It was a tremendous performance by the Dutchman.
IT IS ALL OVER! MOUSASI WINS VIA TKO!
Round 1: A very good round for Gegard Mousasi, he landed a beautiful one-two which visibly hurt his Brazilian opponent. Mousasi has been dominating the octagon and applying pressure. Belfort has tried to launch off his back foot and land that famous left hand, but so far, to no avail.
HERE WE GO!
Vitor Belfort - Gegard Mousasi is minutes away.
Manuwa kept walking OSP down and landing swift jabs. Manuwa landed a vicious body shot which visibly hurt OSP. He then followed that up with a right and then a left which knocked out his opponent cold. What a win for the Brit!
IT IS ALL OVER! MANUWA WINS BY KNOCKOUT!
Round 1: Both fighters initiating the clinch on numerous occasions, but when the fight does enter the clinch, 'OSP' looks the more dominant fighter. Manuwa did try to lock in a guillotine choke from the bottom, but he didn't have the correct body position.
HERE WE GO!
Saint Preux will have a slight height advantage, but the weight and reach are virtually identicle.
Brit Jimi Manuwa has just entered the octagon, he'll be up against Ovince Saint Preux.
This is the first time the Polish fighter has been finished in his career. As for Struve, he now has the second most submission victories in the men's heavyweight division.
Omielanczuk took the fight to the ground but was dominated by his Dutch opponent. Struve locked in a very tight D'Arce Choke and Omielanczuk had to tap.
STEFAN STRUVE WINS VIA SUBMISSION!
IT IS ALL OVER!
Round 1: Excellent first round for Stefan Struve, he landed a few very good body kicks but his opponent was stepping beyond the guard and landing clean, heavy counter strikes. Struve took the fight to the ground and dominated every second until the klaxon.
HERE WE GO!
Daniel Omielanczuk is on his way to the octagon which means his fight with Stefan Struve is only moments away!
Mirsad Bektic was having success standing up, but he decided to take the fight to the ground and after some really great ground work, the Bosnian locked in a rear naked choke and Russell Doane tapped.
IT IS ALL OVER! A ROUND ONE SUBMISSION! BEKTIC WINS!
HERE WE GO!
We are moments away from our first main card fight, Mirsad Bektic - Russell Doane!
We then have the main event, Michael Bisping - Dan Henderson 2 for the UFC Middleweight title. The main card is due to start at 3am BST, so make sure you tune in then!
The final fight before Bisping - Henderson 2 is between former UFC Light-Heavyweight champion Vitor Belfort and Gegard Mousasi. This fight will take place in the men's middleweight division and with Mousasi recently winning his fight at UFC 200, the Dutchman will be looking to add 'The Phenom' to his already impressive list of victories.
We then drop down a weight class, into the men's light-heavyweight division as Ovince Saint Preux faces Brit Jimi Manuwa. Both fighters are coming off the back of losses and will be hoping to kick start a title charge tonight.
Stefan Struve then takes on Daniel Omielanczuk in the men's heavyweight division. Struve recently knocked out Bigfoot Silva in a mightily impressive 18 seconds, so the fight against his Polish opponent will be very interesting.
First up is a clash in the men's featherweight division, between Mirsad Bektic and Russell Doane. Bektic is unbeaten and he will be very confident that he can enter the Octagon and get the job done.
But before the main event, the main card features four other fights.
This title fight will be a rematch between the pair. The first fight was won by Henderson when he brutally knocked Bisping out with the legendary 'H Bomb' at UFC 100.
The future hall of famer has vowed to retire no matter the outcome so if he does win, the UFC will be in uncharted territory, as Henderson will vacate the belt immediately.
His opponent has won belts in PRIDE and Strikeforce but he's yet to win a title in the UFC, so 'Hendo' will be aiming to finally win a UFC belt on the final night of his magnificent career.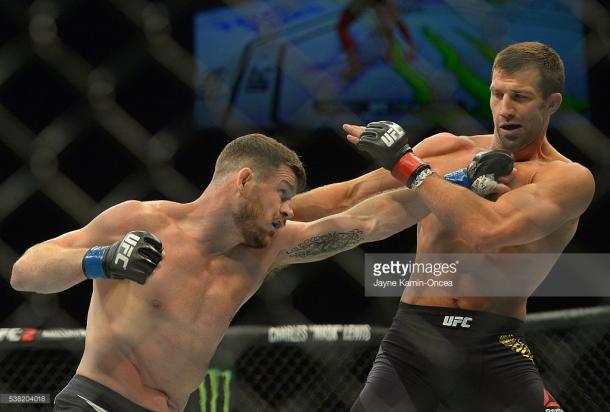 The Manchester Arena will be packed full of fight fans eagerly waiting to see their man defend his belt, which he won when he spectacularly knocked out Luke Rockhold at UFC 199.
Manchester is Bisping's home so their is no doubt the crowd will be on his side tonight.
Michael Bisping will be defending his UFC Middleweight title for the first time against veteran Dan Henderson. 'The Count' will be defending his belt in Manchester, England!
Hello everyone and welcome VAVEL.com's live UFC 204: Bisping - Henderson 2 fight commentary! My name is Ayden Hussain and I'll be running you through tonight's stacked card!