Manchester, England – As the Manchester crowd geared up for the main event – UFC 204: Bisping - Henderson 2 – they were shown a masterclass from Gegard Mousasi who defeated former UFC Light Heavyweight champion Vitor Belfort whilst Jimi Manuwa lifted the crowd with an impressive knockout against Ovince Saint Preux.
Gegard Mousasi defeats Vitor Belfort
A bout that consisted of two knockout artists was always going to be a special fight. With three performance of the night performances, Gegard Mousasi certainly impressed in the early exchanges in the first round. Heading into this fight against Vitor Belfort with a two win streak, Mousasi was always going to trouble his 39-year-old opponent, who did land some brutal hooks.
An aggressive Mousasi dominated from the off in the second round which resulted in another loss for Belfort, his second poor fight in a row by his standards. However, take nothing away from Gegard Mousasi who looked explosive from the beginning. A former LHW champion in Strikeforce, following his win against Belfort, Mousasi (now 35-6-2) says he would like to fight the greatest of all time next, Anderson Silva – who of course is without a matchup.
Jimi Manuwa defeats Ovince Saint Preux
With 13 wins via knockout, this definitely wasn't going to be an easy fight for Ovince Saint-Preux who came off a loss against Jon Jones. A striker and kickboxer, Jimi Manuwa got the home crowd pumped with a number of combinations, targeting the thighs and lower body of OSP.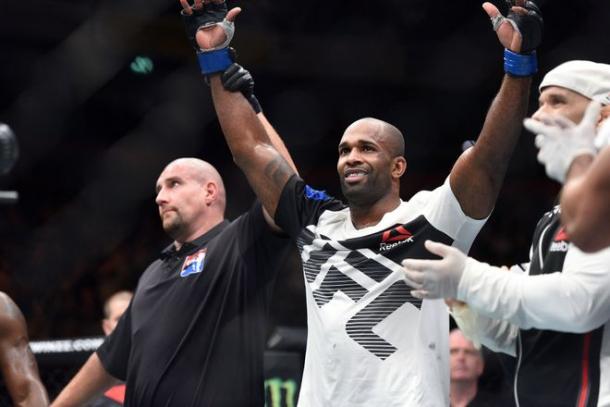 Fighting a guy who had an impressive takedown offence, Manuwa was able to counter at every opportunity. Saint-Preux will certainly be disappointed with this result by his standards. The two body shots in the second round seemed to slow Saint Preux down and following a right hand, OSP was stunned before a left hook sent him flying to the floor and before he knew it, it was over.