UFC President Dana White has said that Conor McGregor cannot keep both the featherweight and lightweight belts if he beats Eddie Alvarez at UFC 205.
McGregor (23-3) will be facing the current lightweight king at Madison Square Garden next month, and if he defeats Alvarez (28-4), the Irishman will become the first person in history to hold two belts from two weight divisions simultaneously.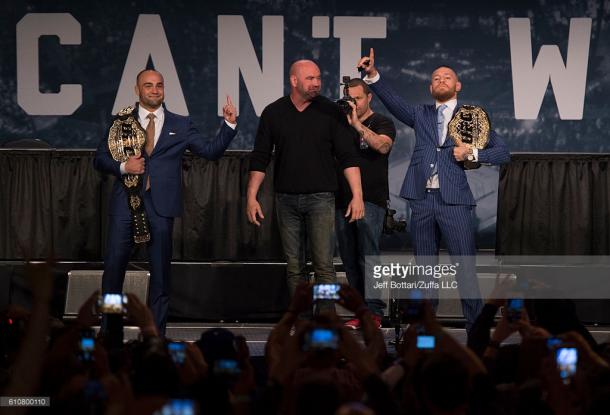 White says no to two belts at once
However, White has poured cold water over the idea of 'The Notorious One' defending both belts in the future, "If he wins, he'll hold two belts," he said. "Then he'll decide which one he wants to give back to me. He can't hold both."
Tying in with what the UFC President has said, even though McGregor will make history, he will end up holding back two divisions, "He can't hold both. He'll have accomplished this. Then he'll have to figure out which one he wants to give up. He can't hold up two divisions."
The fight against Alvarez will be the third fight the current featherweight champion will be a part of since his spectacular 13 second knockout win against Jose Aldo at UFC 194 and all three of those fights will be outside of the featherweight division.
During the UFC 205 press conference, the current featherweight champion said that when he defeats the lightweight champion and makes history, there will be plenty of room for both belts, "I'm going to wrap one on one shoulder, I'm going to wrap the other on the other shoulder, and you're going to need a f****** army to come take them belts off me."
It seems like the fiery 145lb king will be in no mood to adhere to the boss' rules and give up either belt.
McGregor is no stranger to controversy, after the events of UFC 202, he was been fined by the Nevada State Athletic Commission for throwing water bottles and drinks cans at Nate Diaz.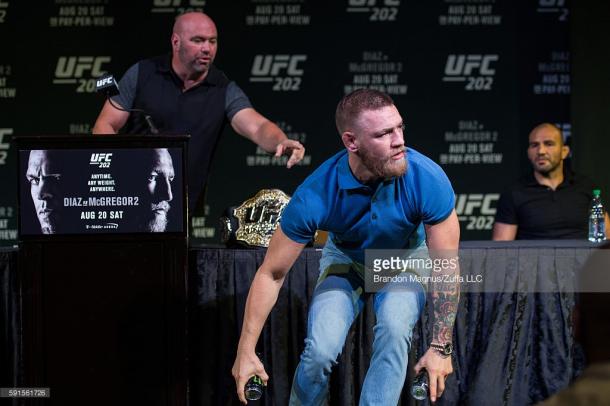 He was given a $150,000 fine as well as 50 hours community service. After the punishment was announced, Dana White revealed that Conor McGregor does not want to fight in Las Vegas any more, "I wasn't thrilled about it when it happened, and we did the best we could to contain it at the time, but come on," White said. "The other problem with that is Conor McGregor hit me yesterday and said, 'I don't ever want to fight in Nevada again. Ever.'
White continued to say, "Guess what? Conor McGregor doesn't need Nevada," White said. "He can fight anywhere. He can fight in Iowa. We can put his fight on an island off the coast of anywhere. This makes no sense for the state. It's just terrible."
With UFC 205 being held in New York City for the first time since MMA was legalized in the state of New York, it could be that UFC 202 will be the last Las Vegas based UFC event that 'The Notorious' Conor McGregor will be a part of.