 Outsiders Anthony Hamilton and Chris Wakelin ensured they will be part of an exciting set of English Open quarter-final matches that will commence on Friday in Manchester.
Barry Hawkins (16) v Ricky Walden (9)
Barry Hawkins had to work his way back into the contest after an electric start by Ryan Day. The Welshman made a break of 100, before being narrowly edged out by two points in the second frame. That close shave gave Hawkins the encouragement he was looking for as he raced to the next three frames, including an 89 contribution in frame four.
His quarter-final opponent will be Ricky Walden who made light work of 16-year old Yan Bingtao. The World number nine opened an early two frame advantage as Bingtao failed to pot a ball, before the youngster showed a brief spell of resilience when he won a tactical battle in frame three. Though a break of 115 reignited Walden as he went on to win the next two frames on his way to a 4-1 victory.
John Higgins (5) v Judd Trump (4)
Former World Champion John Higgins was in impressive form as he cruised past Tom Ford. Breaks of 59 and 99 gave him an early advantage, before Ford briefly broke the dominance. Though the experienced Scotsman was on hand to win the next two frames with further contributions of 87 and 114.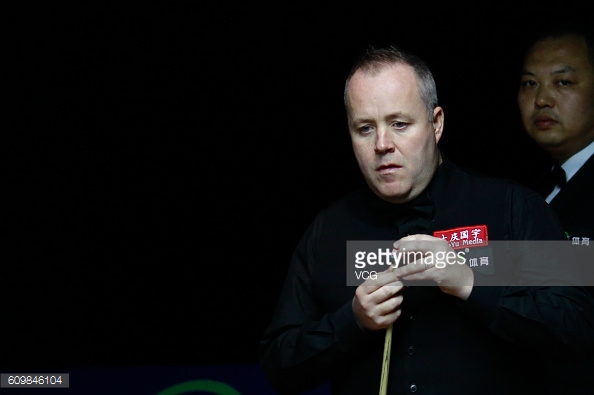 If Higgins is in good form, Judd Trump's can only be described as exhilirating. On the back of 11 wins in a row and after winning the European Masters last week, the World number four cruised to a whitewash over Mark Williams with a tactical masterclass.
Liang Wenbo (20) v Anthony Hamilton (104)
China's Liang Wenbo was pushed all the way by Ben Woollaston in their last 16 match. The World number 20 went two frames behind after Wollaston compiled breaks of 54 and 107. Yet the Englishman only scored ten points in the next three frames as Wenbo made contributions of 80 and 69 himself. Woollaston took the match to a decider but Wenbo held his nerve to progress to the next round.
His opponent will be Anthony Hamilton, easily the lowest ranked player left in the competition at 104 in the World. The outsider overcame an exciting contest against Jak Jones, ranked seven places below him. Jones held an advantage at 2-0 and 3-1 after breaks of 85 and 79, before Hamilton recovered with impressive contributions of 79, 96 and 80 to help him into the final eight.
Chris Wakelin (69) v Stuart Bingham (2)
Like Hamilton, Chris Wakelin recovered from 3-1 down to earn a surprise place in the quarter-finals. A break of 130 put him ahead against Xiao Guodong before the man from China won a hat-trick of frames. Yet Wakelin struck back with breaks of 62 and 65 on his way to an impressive win over a player ranked 20 places above him.
Stuart Bingham looked in good form when he got to the table against Rhys Clark, although the Scottish 22-year old missed a handful of chances to cause an upset. Breaks of 59, 82, 54 and 55 helped the World number two into the final eight, though Clark scored frequently throughout the contest but did not have the experience to formulate starts into major contributions.