As Kiki Bertens was set to compete in the Swedish Open, the Dutchwoman was asked about her year so far and more specifically her run to the French Open semi-finals, her doubles partnership with Johanna Larsson and her goals for the rest of the year.
On her dream run to the Roland Garros semi-finals
Coming into Paris, Bertens was unseeded and ranked outside of the Top 100, but she proceeded to knock off Angelique Kerber, Camila Giorgi, Daria Kasatkina, Madison Keys and Timea Bacsinszky on her way to the last four before falling in straight sets to Serena Williams. This was not seen coming as her best previous result was a fourth round appearance at Roland Garros in 2014. She talked about reaching her first Slam semi-final: "Yeah it was amazing. I didn't expect it. Winning the title and getting to Paris playing Kerber first round, it was really tough, but I was just going there, enjoying the moment and, yeah, like two weeks later, I was in the semi-finals".
On her confidence level prior to facing Serena
Bertens defeated two Top 10 players, a Top 15 player and a Top 30 player prior to the encounter with Williams. She commented on how she felt before she stepped onto PPhilippe Chatrier prior to the match: "Yeah, a lot of confidence. I think I was playing really well. Kasatkina was a tough battle. Physically, it was really tough, but I got through that match. Afterwards, I just felt really good. It was just keep on going, keep on playing my matches,it was keep on going good".
On the best match she's played in her career
The win in Nuremberg was her second career title, but her first since 2012. When asked the finest performance of her career, she said the following: "That's a tough one. I think you always have match that something is not going your way, but I think the match against Keys in Paris was really good. I played really good tennis. I had to serve for the first set and I didn't make it, but I still managed to stay calm and that was for me a real big thing because before (that match) it was pretty tough for me to do that and then I was finished and in the second set, I was closing it out in the right way".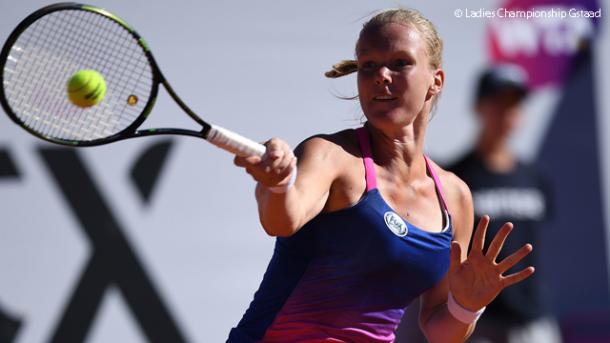 On her doubles partnership with Johanna Larsson
The Dutchwoman and Swede have six doubles finals together, winning four titles, most recently in Linz to add to the wins in Hobart and Bastad in 2015 as well as Nuremberg this year. She talked about why they've been successful: "We know each other so good like off the court also we got a lot for dinner and stuff so we are good friends and I think for us, it's like a really important thing. We just go on court, have fun in the doubles and of course we want to win, but it's also about the fun and I think that's the most important thing".
She also remarked that the doubles success helps her with her singles game: "Last year, I didn't think I had a good year in singles and in doubles, we did a really good job, so it also helps like now, this year it's going good and Johanna was struggling a bit (in singles), but still, we like playing doubles, it makes it easier".
On her favorite players to watch
When asked who her favorite players to watch were, she said the following for the WTA Tour: "Well, I must say, i'm not a big fan of watching tennis, so when i'm done with my day, I prefer to watch other things, but if I need to watch, I really like the game of Serena, how she's playing, how she's managing to just keep on winning and I think that's pretty amazing". As for her favorite to view on the ATP Tour, this was her answer: "I still like to watch (Roger) Federer".
On where she can improve her game moving forward
Bertens is known as a hard-hitting, aggressive player and she offered insight into where she thinks she can get better: "I think just to be more consistent. I think I showed already a bit like after Paris, third round at Wimbledon and finals last week (in Gstaad). It's going pretty well, but I think just physically and mentally, just getting ready every week and it's new for me now, but hopefully I can manage that for the whole year".
On her goals for the rest of the season
"Just gonna enjoy it. I don't so many points to defend anymore. Last year I did not so good, but we just try to make the best of every day, practice every day hard and have fun and then we see what happens".
Following the finals appearance in Gstaad, Bertens rose to a career-high 21st in the rankings on July 18th.