This week Ronnie O'Sullivan is quite simply unstoppable. After a third comfortable victory many punters will be looking no further than the multi-World Champion for the title of UK Champion.
Yet the Rocket's untouchable feeling caused him to deliver some damning comments after his third round victory, quotes snooker promoter Barry Hearn was quick to defend against.
"A nothing type sport"
O'Sullivan defeated Michael Georgiou 6-1 with five half century breaks in another short contest. It means that the number eight seed has now won 18 of his last 19 frames, scoring breaks exceeding 50 in 16 of those.
Yet the outspoken figure sparked controversy when he described snooker as "a car boot sale" when comparing its corporate image against more high profile sports. Adding that snooker is "a nothing type sport", O'Sullivan questioned the amount of prize money available.
However, Hearn was quick to protect the sport, describing the comments "as off the scale". The promoter revamped the sport and explained "the game of snooker has never been in a stronger position. Prize money has trebled in the last five years". He added "there are many, many sports that would cut their arm off to be in the position that snooker's in. We're on an upward trend". O'Sullivan will no doubt be delighted to take home the £170,000 prize money if he continues his form to win the UK Championship on Sunday.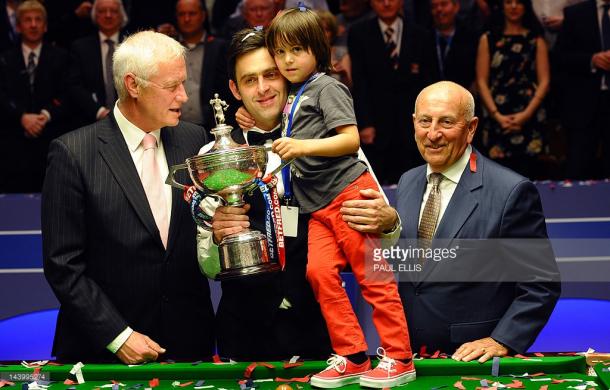 A number of big names will push Ronnie all the way
Fellow top ten players Mark Selby and John Higgins progressed to the last sixteen with comfortable victories, though Shaun Murphy had to rely on a final frame decider to defeat Dominic Dale who produced a rollercoaster performance.
Mark Allen also had to rely on the eleventh frame as he defeated a spritied Ryan Day in a tight tactical contest. Yet Ding Junhui was subjected to one of the biggest surprises of the day as he was thrashed 6-2 by an inspired Jamie Jones.
Number nine seed Joe Perry was stunned by Matthew Stevens ranked 41st on the snooker ladder, as the Welshman recovered from 1-0 and 2-1 behind to win 6-2. Mark Williams also produced a thrilling comeback as he responded from 5-3 down against Ricky Walden to defeat his neighbour in the rankings after five half century breaks throughout the match.
David Gilbert and Oliver Lines defeated higher ranked opponents in Ali Carter and Jimmy Robertson respectively, whilst Liam Highfield progressed to the last sixteen as the lowest ranked player at number 97.