It was advantage Team Europe after a thrilling first evening of Mosconi Cup action resulted in the hosts holding a 4-1 overnight advantage against their American rivals.
Home crowd spurs the Europeans on
A 2,000 strong crowd at Alexandra Palace were in good voice as they cheered the reigning champions on to a substantial lead at the end of day one. If Team USA were lacking confidence after just one Mosconi Cup victory in the last decade, they were certainly not going to find their enthusiasm propelled by the raucous home crowd indefinitely against them.
The nerves seemed to get the better of the visitors in the traditional team match that opened the event. Skyler Woodward failed to take advantage of having ball in hand, whilst USA could also claim a bad run of the balls. Faced by the particularly inspired Mark Gray from Bourne in South Lincolnshire, Europe took a comfortable 5-2 victory in the opening contest.
5-2 is the magic scoreline
USA turned to the experienced Mosconi Cup duo of Shane van Boening and Rodney Morris to get back on terms in game two. Yet faced by Gray and Albin Ouschan, they came unstuck as Gray in particular continued his excellent form. The American pairing both missed a handful of opportunites, with van Boening looking surprisingly nervous. Despite trailing 2-1, the European duo accelerated and ran away with another 5-2 success.
A similar scenario was to play out in the first singles match when the World's top player Nils Feijen took on Mike Dechaine. Feijen made an uncharacteristic mistake to fall 2-1 behind, before again using the energy from the crowd to take four straight racks in a third 5-2 win. There was nothing spectacular from the Dutchman, just a measured display of precision potting and positioning, whilst Dechaine could count himself unlucky with some of Feijen's missed pots turning into unintentional snookers.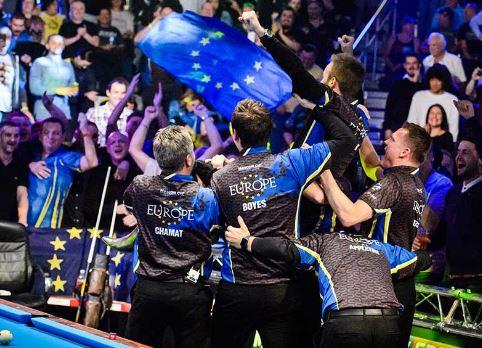 USA flirt with a comeback
Game four saw Justin Bergman and Skyler Woodward take on Darren Appleton and Jayson Shaw. The American pairing could have easily lost motivation after falling 1-0 behind but held it together to produce an inspired display and get USA on the board. The visitors barely let their opposing duo back to the table as Bergman in particular showcased his talent.
USA would have hoped to build on this with van Boening in the final match and keep themselves in touch overnight. Yet the experienced campaigner showed a sense of nervousness oncemore as he let slip another 2-1 lead to eventually lose to Appleton 5-3. America's main man will have to refocus before a crucial second session on Wednesday evening.
The results from session one
Europe 5 – 2 USA
Gray / Ouschan 5 – 2 Van Boening / Morris
Niels Feijen 5 – 2 Mike Dechaine
Shaw / Appleton 1 – 5 Woodward / Bergman
Darren Appleton 5 – 3 Shane Van Boening