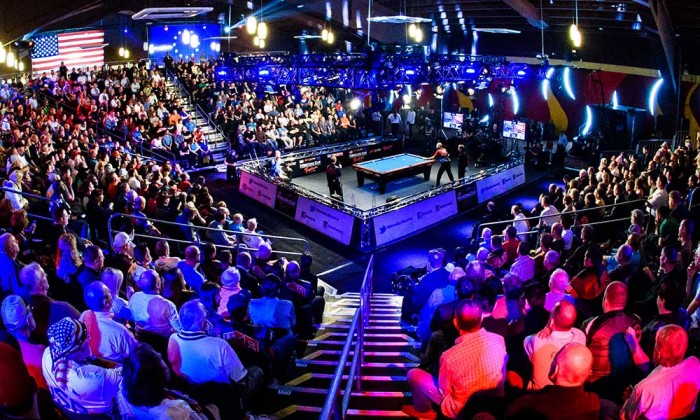 Those pool fans who bought tickets to the final day of the Mosconi Cup may be left disappointed as Team Europe secured a five point lead, requiring just four points to retain the trophy once again.
The hosts are that far ahead that the tournament organisers made the controversial decision to postpone the final doubles game in an attempt to see the competition continue into Friday.
Van Boening woes continue
Shane van Boening looked nervy during the opening session and those worries seemed to resurface in the first doubles match of day two. With USA facing a chance to go 2-1 ahead, van Boening misjudged a crucial positioning shot for Skyler Woodward who ultimately missed the pot. Mark Gray and Nils Feijen took advantage and have proved difficult men to peg back and that was to be the case oncemore as the European duo went on to record a familiar 5-2 scoreline.
The buck then passed to Rodney Morris to attempt to bring USA back into contention. The experienced campaigner leaned on his knowledge and years of high quality cueing to edge out Jayson Shaw. The European representative fought hard but was defeated 5-3, as Morris celebrated with a victory dance, more in an attempt to silence the fanatical crowd rather than celebrate victory. The score? 5-2 once again.
Match of the tournament thus far?
Justin Bergman and Mike Dechaine were arguably two of USA's best players in the opening session and went one rack up against Darren Appleton and Albin Ouschan. The Europeans recovered to go 3-1 ahead before USA had a chance to draw level at 3-2 and with a chance on the 4-ball to clear up. Dechaine scratched and Europe extended their lead to 4-2.
Yet the impressive Bergman was not finished as he produced a spectacular three rail escape and pot to give USA a chance and then followed up with an impressive plant for the 9-ball that took the game to the first deciding rack of this year's competition. As a tactical battle ensued, it would be Appleton who produced an incredible escape shot to open up the table for the Europeans. They took advantage and sent the hosts four points ahead oncemore.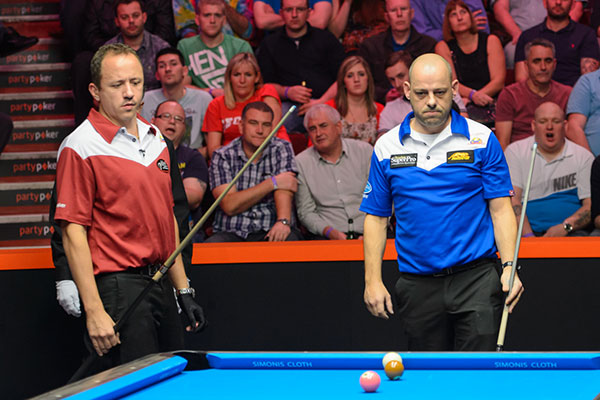 Gray wins again before a controversial decision grabs the headlines
That incredible final point clearly took it's toll on American wildcard Bergman. The 29-year old failed to find any kind of rhythm against an inspired Mark Gray. He spent the majority of the match trying to find his way out of safety positions, whilst Gray lived up to his 'Granite' nickname and showed nerves of steel as he picked off ball after ball. Gray even had the confidence to pose for selfies after the fifth rack, just minutes before he completed a 5-1 drubbing and secured his third win from as many matches.
It was at that point the tournament organisers decided to postpone the doubles match between Feijen and Appleton against van Boening and Dechaine, sparking an outrage on social media sites. Disgruntled fans took to Twitter to ask promoter Barry Hearn for a refund as the evening's entertainment was abruptly halted.