Born on June 7, 1995, Luke Bezzina is considered as one of the most promising athletes on the Mediterranean island of Malta. Bezzina has been setting the pace since a very young age, and he has never looked back since.
Gradually, he started to put up impressive performances on local platforms and it was just a matter of time before he started to be in the mix at international level, representing his birth nation.
He has been involved in various prestigious appointments abroad, with his last appearance being in last summer's Rio 2016 games, where he was involved in the 100m event.
VAVEL and Gianluca Lia took some time to sit with him and discuss his experience in Brazil, while also sharing his thoughts and ideas about athletics in Malta and across the globe, and also discussing his current pre-season at Loughborough University, the first time away from the Maltese islands.
When and how did your passion towards athletics start?
"I started practising athletics at the age of three, alongside other sports including basketball, swimming and gymnastics. Yet, I always shifted my attention towards athletics and at the age of 13, I decided to choose athletics as my sole sport and put all my attention on it. I was under the guidance of a Croatian coach, Zeljko Aras and I feel that I am improving year by year."
In what events do you participate?
"My forte are 60m indoor, in which my personal best is 6.92, achieved last year in Loughborough, 100m and 200m outdoor races, where my personal bests are 10.67 and 21.80 respectively. This season, I am focusing on outdoor training, as both categories differ in their necessities during training sessions, as I am targeting to perform at my best during the Games of the Small States of Europe.
"Also, later on next year I'll be participating in indoor races, in Loughborough and London, if we do qualify for the European Indoor Championships. As a young athlete, I feel that I cannot miss any international assignments, because they can all serve as a learning curve for me. Meanwhile, in the near future I would like to focus on indoor track, in order to improve my 6.92 seconds time. Moreover, I am also leaving the door open to another category at outdoor racing, preferably 400m, but just for fun. 100m and 200m categories will still remain my primary objectives."
In recent years, indoor athletics has increased in its prestige. Your thoughts?
"It has always been prestigious, but I think the breakthrough was when Richard Kilty of Team GB, won the gold medal in the World Indoor Championships back in 2014, surpassing better-ranked athletes, therefore it attracted more young athletes to take a chance in it."
Next year you will be participating in the Games of the Small States of Europe. Your aims as a nation?
"Indeed. They will be hosted by San Marino, between the end of May and beginning of June. They are always a fundamental appointment in our calendar, as they are a way of measurement against other nations on our par-level. I will be participating in the 100m and 200m events.
"In my honest opinion, I think the level has improved in recent years, especially the likes of Iceland and Cyprus who are doing very well. Moreover, I eyeing to participate in the European Team Championships, U-23 European Championships and World Championships."
Your most prestigious appointments at national level?
"Well, the National Championships are the most important and sometimes, we also do participate in international meetings held in Malta, where athletes from the likes of Iceland and United Kingdom are involved. In the recent National Championships, I surpassed my record twice in a row. Prior my race, my personal best was 10.87, but in the semi-final and final, I ran in 10.67 and 10.68 respectively."
Your most prestigious appointments at international level?
"The Baku Games in Azerbaijan, last year, which were the first European Games, the FISU Games held in South Korea, in 2015 as well and the European Junior Championships in Rieti in 2013, besides Rio 2016 naturally. As an athlete, I feel that all these tournaments have created a sense of awareness in me that I am performing as time goes by, and I am still on course to reach my peak. Also, the level of Maltese athletes is improving, therefore I have to keep my competitive edge at the very best."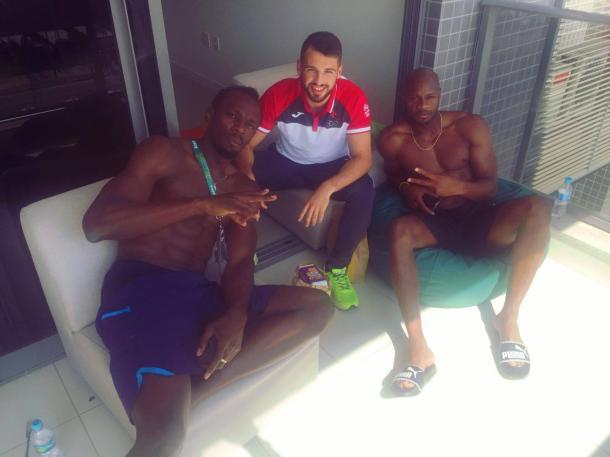 Your typical day in the United Kingdom?
"A bit demanding, but yet less demanding than the routine back in Malta, since I eliminated the work part for now. Basically, I wake up at 7:15 in the morning, having slept around eight hours. Afterwards, I immediately go for a 10 minute jog followed by a stability or core-workout or else I hit the gym.
"Either way, I always do my usual 90 minute workout prior breakfast. Then, I get into studying and hopefully, when I finish my exams, I will start researching a bit about the body anatomy, as considering that I am athlete, it is fundamental for me to be familiar with the human body. In the evening then, I go for my three hour session, divided into warm-up, runs and a gym session."
How is the level of training at Loughborough?
"To start with, this is my first pre-season away from the Maltese islands and I am really looking forward to see the results at major tournaments. I am under the guidance of a coach affiliated with the British Athletics, and I feel very confident that I can get better with him at the helm. Here, they make use of the latest science technology and every coach is familiar with it, as they attend meetings in order to learn its usage.
"For example, I have been working on hip rotation due to a back pain which I had and from which I have recovered very well. Also, Honestly, the UK has nothing to envy the United States and it is not a sole case that Team GB have reduced the gap within the United States in the last Olympic Games."
Your training schedule is very demanding. In what way you motivate yourself?
"It is not easy for me. In fact, my alarm is a motivational speech which helps to me ignite that bit of adrenaline in the morning. Moreover, I also stick my personal targets on the wall, to remain self-motivated throughout the day."
How does athletics fulfil its role in social life?
"It plays a key role in my life. First and foremost, as a traveller, I like it because I travel a lot, which helps me meet new people and embrace new cultures. Then, it keeps me self-motivated, self-disciplined and naturally fit. Also, I remain mentally competitive both in sports and in my studies, as it helps to me keep chasing my targets."
To conclude with, what are your aims for the future?
"Two principal aims: Tokyo 2020 and becoming a semi-professional athlete, at least."