After an extensive Christmas break, snooker's top sixteen players are preparing for a return to major action in the Masters invitational tournament at Alexandra Palace. Yet one player in particular was close to pulling out before the tournament began on Sunday.
"It could be a case of potting some balls and hurrying up"
2015 World Champion Stuart Bingham was beginning to get twitchy and not because of the nerves building before his First Round match with Joe Perry on Monday. The World number two admitted on Thursday "I still haven't got an answer" when posed the question of what he would do if his wife gave birth during the tournament. Bingham joked "it could be a case of potting some balls and hurrying up" as the pair waited for their third child".
Yet Bingham announced via his Twitter account on Saturday evening that his daughter had been born and quoted a clip of the Rocky film that saw the boxer witness the birth of his son before racing to a bout. Bingham explained "not as dramatic and not a boy and I'm not quite Rocky but Ally Pally here I come".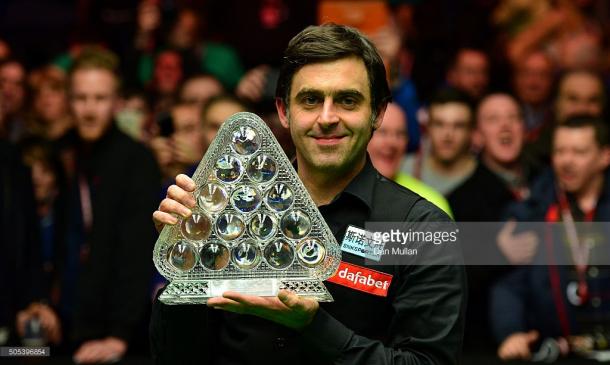 Wilson believes "I am capable of winning it"
Meanwhile 25-year old hotshot Kyren Wilson was never going to miss the tournament for the sixteen best players in the World. He explained "it's a great achievement to qualify and I want to try to enjoy it and treat it like just another tournament, even though it's not. I want to do myself justice".
Preparing for his maiden appearance, Wilson admitted he was ready for the Christmas break after a poor run of form at the end of 2016. "I think that was good for me, I had some quality family time and it was nice to unwind and relax".
Ranked number 16 in the World and after just edging a place at the invitational tournament, Wilson is ready to go for broke this week. He added "I'm the youngest player there and the lowest ranked, so a very big underdog. But although I am newcomer, I like to think I am capable of winning it. There's no point in thinking otherwise".
The Masters begins on Sunday afternoon with the schedule as follows:
1 [England] Ronnie O'Sullivan [1] v [China] Liang Wenbo [12] - Sun 15 Jan 2pm
2 [Australia] Neil Robertson [8] v [England] Allister Carter [13] - Tue 17 Jan 8pm
3 [England] Judd Trump [5] v [Hong Kong] Marco Fu [14] - Tue 17 Jan 2pm
4 [Scotland] John Higgins [4] v [Northern Ireland] Mark Allen [10] - Mon 16 Jan 2pm
5 [England] Stuart Bingham [3] v [England] Joe Perry [9] - Mon 16 Jan 8pm
6 [China] Ding Junhui [6] v [England] Kyren Wilson [16] - Sun 15 Jan 8pm
7 [England] Shaun Murphy [7] v [England] Barry Hawkins [11] - Wed 18 Jan 8pm
8 [England] Mark Selby [2] v [Wales] Mark J Williams [15] - Wed 18 Jan 2pm