Ronnie O'Sullivan survived an early scare from Joe Perry as he responded with seven consecutive frames and fought off a mini-revival to retain the Masters trophy and win it for the seventh occasion in his 25-year career. It takes him ahead of everyone else in that department after previously sharing the record number of Masters' wins with the great Stephen Hendry.
Joe Perry opens a shock early advantage
Perry came into the match with less rest but all the momentum after an epic comeback to defeat Barry Hawkins in the second semi-final on Saturday evening. The number eleven seed picked up where he left off as he jumped on a missed O'Sullivan pot to formulate a break of 72 and take first blood. The Rocket looked out of sorts as he complained to the referee about noise coming from the practice room, before a foul in the second was punished by a frame-winning 53 to give Perry a 2-0 lead.
A break of 58 by the crowd favourite proved to be enough for O'Sullivan to pull a frame back in the third, but he missed out in the fourth as a possible three-figure contribution broke down. Perry again took advantage as he made 74 to go 3-1 ahead at the mid-session interval.
The turning point
It would have been easy for Perry to get carried away and dwell on his seven frame wins from the last eight he had played since going 5-2 behind against Barry Hawkins. Though he returned to the table with inspired form as he made the first century break of the final with an excellent 115. O'Sullivan was clearly flustered and a miss on the black in the sixth frame gave the 80-1 outsider from the start of the week a chance to go 5-1 ahead. Though Perry had a momentary lapse in concentration as he missed a red down the cushion and O'Sullivan duly struck back. It was to prove the turning point in the contest.
A tactical battle ensued in frame seven before and after O'Sullivan made 61. Perry required two snookers to keep in with a chance and he worked hard as he did in similar circumstances against Hawkins, though this time could only manage one as he eventually conceded the frame. It left an important final frame of the afternoon session as O'Sullivan drew first blood with 55 but offered a lifeline for Perry as he missed the blue. Though an unnerved Perry saw his break halted early on as he missed the black and ended the session level after being three frames ahead.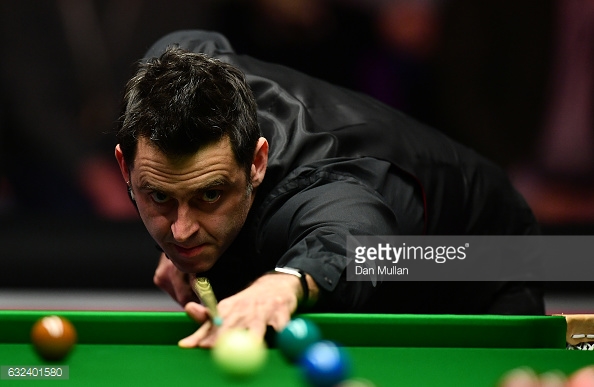 The Rocket ignites
Perry had arguably started the afternoon session with the momentum, but the pendulum had arguably swung in the favour of O'Sullivan for the evening edition. A tense and tight ninth frame began proceedings as you sensed another important outcome. After numerous misses by both players, O'Sullivan eventually came out on top to go ahead for the first time in the contest.
That edgy encounter ignited the Rocket as he made 68 in less than seven minutes, before finishing the frame off with 56 as Perry could not force a tight ending. O'Sullivan then made 47 in frame 11 but a flustered Perry again could not take advantage of a slight opening and fell three frames behind. The outsider then saw a break fall apart in the twelfth and was duly punished by a speedy 85 as O'Sullivan recorded seven consecutive frames to go 8-4 ahead at the interval.
O'Sullivan holds off mini-revival to win record seventh Masters title
From 4-4 to 8-4 in an hour and the contest looked out of sight for Perry. Yet he never gave up in the semi-final when everyone had written him off and he offered a mini-revival. It began with a brave 117 and was duly followed by 92 as he pulled two frames back and offered a brief sight of an epic comeback.
O'Sullivan had the first chance to formulate a noteworthy break in frame 15 but it broke down early on as Perry was afforded another opening. Yet Perry missed a simple red and O'Sullivan duly took advantage at the second attempt with a break of 112, his first century of the match and only his third of the tournament.
As O'Sullivan fought with a rough tip, Perry continued to fight against the odds. Both players missed opportunities in frame 16 but Perry continued to keep his head just above water with a break of 53. Eventually his valiant efforts came to an end, as one missed pot too many allowed O'Sullivan to edge the frame on the back of a tactical battle and seal his record seventh Masters title.