 Ronnie O'Sullivan is undoubtedly the highest profile name in the sport of snooker. Recognised for his unprecedented talent and outspoken nature, the Rocket is a man every journalist wants to interview... to the point that he is the solo star that is almost untouchable at pre-tournament media events.
Yet the 41-year old multi-World Champion has left interviewers practically lost for words this week. A man who has been flirting with media duties at major tournaments after falling in and out of love with the game, taking a stance against potential future colleagues of his.
O'Sullivan protests despite no disciplinary action
O'Sullivan has spent this season criticising tournament protocol and a lack of earnings in the sport but his most recent outburst has come in the wake of a disciplinary hearing.
After winning the Masters in January, O'Sullivan complained about the performance of a match official and the role of a photographer who was accused of putting the former World number one off his stride. Yet after explaining his actions no further action was taken against the Rocket.
However, O'Sullivan has used two interviews to give surreal reactions in recent weeks. Speaking to ITV, he composed a robot voice to answer questions. That was then followed by one-word answers and a rendition of Oasis' Wonderwall to the BBC.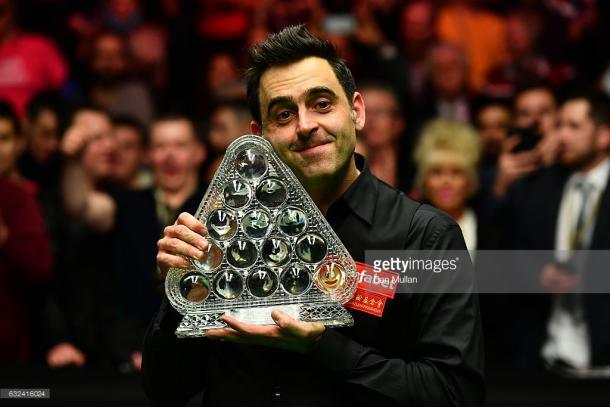 "I'm not sure he is doing himself any favours"
World Snooker Chairman Barry Hearn concluded the two different visuals presented by O'Sullivan. Hearn suggested the Rocket's antics were "hilarious but I'm not sure he is doing himself any favours".
Hearn added "he has every right to make any comment through the appropriate channels and they will be listened to. But the appropriate channels are not in the public media", as the pair's rock relationship looks set to continue.
So where does this leave snooker and O'Sullivan? Some may find it amusing and the edge the sport requires to boost viewing figures. Others may question this latest move and argue that it makes the 41-year old and the sport look childish. Though many would argue that the Rocket will be better off focussing on his snooker and overcoming an inconsistent spell in his game.