World number 54 Rory McLeod suffered a first round hangover after his exploits to dismiss pre-tournament favourite, Judd Trump. The 46-year old failed to hit the same heights in the last sixteen as he was hammered 13-3 by fellow qualifier Stephen Maguire who progresses with a session to spare.
McLeod blown away
Holding a 6-2 overnight lead, Maguire wasted little time in getting back to work on McLeod. He set his stall out with an excellent 114 break in the opening frame before winning a tactical contest to extend his lead to 8-2.
McLeod was potting but could not put a telling contribution together. He earned a frame back in the eleventh only to watch Maguire compile breaks of 61 and 90. Even when McLeod did formulate a 60 it still was not enough to win the frame. A 57 from Maguire in what was to be the penultimate frame helped the Scotsman to five consecutive successes to ease to victory in just sixteen frames.
Guodong hangs in there
Reigning Champion Mark Selby looks set to join Maguire but did not have it all his own way in the second session against Xiao Guodong. With that match also at 6-2 overnight, it looked poised to possibly take the same route as Maguire against McLeod.
Yet Guodong came out flying with breaks of 89 and 131 to win two of the first three frames. Both players scored half-centuries in frame twelve with Selby's 68 enough to earn him another frame. He then took another two in succession before Guodong reflected the feat at the end of the session to leave the game 10-6 going into the final session.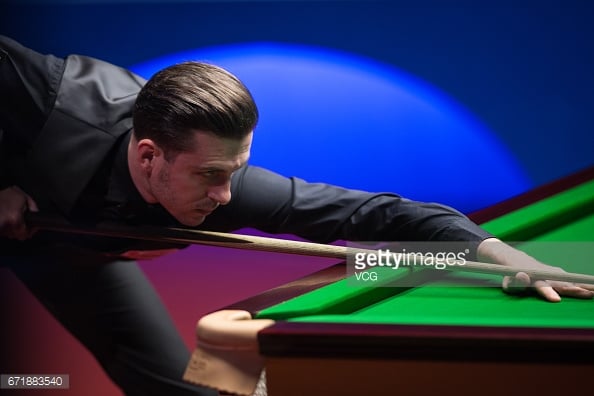 The Hawk threatens to fly away before Dott fights back
Barry Hawkins found his feet to hold a clear advantage against former World Champion Graeme Dott after a shaky start. Dott took the opening two frames as he continued his fine form that saw him progress through qualification and the first round. Yet breaks of 50, 54 and 91 helped Hawkins to five of the next six frames, though Dott was scoring well with formulations of 51 and 64 himself.
Unfortunately, the Scotsman took some time to settle in the second session. He lost the first four frames without Hawkins scoring past 50 until Dott made 57 in frame eleven only for the Hawk to make 70. Frame thirteen provided some respite for Dott who made a break of 65 to end a run of nine frame losses in the last ten, before following it up immediately after with breaks of 59 and 105. However, Hawkins held his nerve to win a pivotal final frame to lead 10-6 overnight.
Fu set to go all the way again
Neil Robertson against Marco Fu looked to be a close contest on paper and it proved to be exactly that in the first two sessions. That was despite the Thunder from Down Under threatening to drown Fu as he won four of the first five frames with breaks of 105, 62, 62 and 90. Yet Fu produced one of the comebacks of the opening round after recovering from 7-1 down and set about responding by winning the final three frames of the session with contributions of 118 and 60.
Neither player could then establish any real momentum in the second session as the pair exchanged the first four frames with Fu scoring 109 and 64, whilst Robertson made 91. Fu did manage to take the lead for the first time straight after the interval as a break of 72 allowed him to lead for only the second frame in 32 of this year's competition. However, a break of 58 helped Robertson regain his advantage with the next two frames, only for Fu to draw level at 8-8 overnight.